Education
4 looming concerns before the Boston Public Schools budget hearing
Here's what's known ahead of Wednesday night's public budget hearing.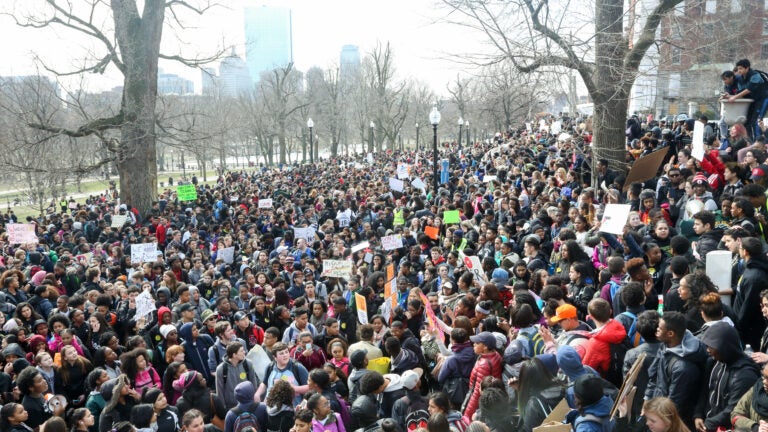 It's decision time for Boston Public Schools officials: Which programs are on the chopping block?
Last week, more than 3,600 teenagers flooded the streets to protest impending public school budget cuts. Afterward, Mayor Marty Walsh announced that high schools would be spared some of the controversial cuts.
"We're pretty happy that something has been done and our voices were heard,'' said Jailyn Lopez, a sophomore at Snowden International High School who helped organized the protests. "But now what about the younger children? What about our siblings? That's still a major issue for us.''
The anticipated budget for Boston Public Schools is $1.027 billion, which is an increase of $13.5 million over last year's budget. But that's not enough to cover $38 million in rising costs or a decline in state aid.
Walsh has increased public school funding by nearly $90 million since he took office, but some officials, including city councilor Tito Jackson, say that isn't enough.
"The city of Boston is receiving $95 million in new revenue year over year, according to real estate tax assessments and new development records,'' Jackson said. "I believe that money should go directly to our schools.''
An updated version of the budget will be presented at a hearing Wednesday night. Here are four looming concerns:
1. Elementary and middle school students will be disproportionately affected.
Boston public schools calculates its annual budget by allocating dollars to students rather than to programs, buildings or schools. Each student's value varies based on his or her grade level, educational needs and learning challenges.
The district made changes to the formula in light of the budget cuts, and originally planned on giving high schools less money for every student. But after the protests, the mayor announced high schools will now receive the same amount of money as last year.
To fund the gap in the high school reimbursements, the city is putting some of Superintendent Tommy Chang's strategic initiatives on hold. Many of these initiatives were geared toward K-8 students, including an "Excellence for All'' pilot program for 4th graders that would emphasize personalized learning while preparing students to work on Common Core standards at their own levels of readiness.
Fewer dollars will be allocated for the K1 early education program, which serves children who will be 4 years old by Sept. 1. In a letter to school administrators, Chang said "the majority'' of the program will remain, but what will be lost is not yet clear.
2. Early childhood care centers may have to reduce their hours.
In his State of the City address, Walsh encouraged the public to stand up for early education and touted the city's pre-kindergarten program as proven with closing the achievement gap. But as of Friday, Boston's five early childhood education centers — which serve children as young as three years old — are facing up to $1.3 million in additional cuts, according to Delince Louis, a member of the West Zone Early Learning Center school site committee.
"I find it very disconcerting,'' Louis said. "Not only because the city and the mayor have said what a priority early childhood is to them, but because our school in particular will need to eliminate surround care.''
Surround care encompasses the city's programs offered to students both before and after school. If West Zone is faced with large cuts, the school day will end around 2:30 p.m., as opposed to 4:35 p.m., Louis said.
"It would put parents, including me, in a difficult position of what to do with their kids,'' Louis said.
3. Special needs students will suffer.
Schools will receive less money to support students with autism, as well as those who are emotionally impaired.
The decrease in reimbursements has led some parents of special needs children to fear their children will be disadvantaged, said Carolyn Kain, chair of the Boston Special Education Parent Advisory Council. The silver lining is that Chang's long-term investments in special education will remain in the upcoming budget, she said.
"There isn't enough money to go around,'' Kain said. "And it's hard to push back when we know how much some of these investments are needed.''
She pointed specifically to increased modeling, in which a school administrator acts out a desired behavior for a student with special needs, and inclusion, which allows students with special needs to spend most of their learning time in general classrooms.
"At this point, a good portion of special needs students are being educated away from their peers,'' she said. "With an investment in inclusion, they'll have more opportunities and won't be isolated.''
4. Even with additional funding, high schools will still be affected.
High school deficits could translate to a loss in programs, including Diploma Plus, an alternative education program at Charlestown High School that helps disadvantaged teenagers catch up to their peers.
The initial shortfall at the high school was $600,000, said Sung-Joon Pai, director of the school's ELL Programs and Diploma Plus. Even with the restored weights for per-pupil funding, he said the school is still facing a deficit. Diploma Plus, for example, costs $500,000 to run.
"With a decrease in funding for students with autism and those who are high risk, we still don't have enough money to keep it going with the way the budget stands,'' he said. "The bottom line is, the weights won't change unless the size of the pie changes, and the mayor is the one who can increase the total pie.''