Schools
College admissions decisions are coming out, and so are the 'welcome to campus' Snapchats
Colleges are now launching Snapchat campaigns to welcome students to campus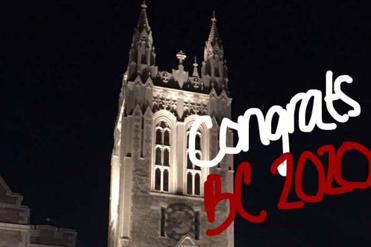 Less than 30 minutes after Boston College emailed its first wave of admissions decisions Thursday night, the social media team uploaded a video to its Snapchat account. The clip showed Baldwin, the school's mascot, standing in the hockey rink and waving to the camera.
"Welcome BC2020!!!'' the Snapchat said.
That's when the Snapchats from soon-to-be students came streaming in.
In some snaps, teenagers shrieked. In others, they smiled toothy grins and showed off brand new Boston College sweatshirts and hats. They received Snapchats back from Baldwin, who gave them a thumbs up and welcomed them to the college.
"This is the first year we've done a Snapchat-centric welcome,'' said Melissa Lesica, the university's social media manager. "It's much different than the polished Facebook post you saw that went up this morning. It's more personal.''
Now, more than ever, teenagers are using Snapchat to communicate with their prospective colleges, asking questions about life on campus and sharing their excitement once they're accepted, Lesica said.
"For a while, we would tweet at students after their acceptances,'' she said. "But now there's definitely been a shift so that someone has to be behind the switch running the Snapchat account to give one-on-one feedback.''
Lesica said she thought Snapchat was primarily for conversations between friends, which is why Boston College didn't immediately adopt it as part of the school's social media strategy. BC finally launched its account in October 2014 and now averages 1,700 to 2,000 views per post. Lesica and a team of 10 student "social fellows'' snap from spring break trips to Miami, from backstage at speaker events, and from their daily walks around campus.
BC isn't alone in using Snapchat to connect with prospective students. Boston University launched its profile on the day of the first blizzard in January 2015, and averages 4,000 views per post.
Emily Truax, a digital engagement associate at BU, said she targets prospective and current students, but her favorite use of the platform has been on admissions decision day.
"Last year, we worked with the admissions department to send congratulatory videos, artwork and photos to admitted Terriers ,'' she said. "And someone in the admissions department just happened to be a Snapchat artist. They drew an incredible Boston-themed picture.''
The finger-drawn masterpiece featured a Boston terrier, a hockey stick and puck, the Citgo sign and the Prudential tower with the message "Congrats! Go BU!'' Truax said the university received dozens of hand-drawn snaps in return.
Students have a month to make their decisions after they receive their acceptances. Last year, the university set aside an hour to do a Q&A, where students typed questions and a member of the admissions team would write a response on a white board or record a 10-second video response.
"They sent in pictures of their faces and typed 'what's the average GPA needed,''' she said. "We set aside an hour, and ended up answering questions for close to four.''
BU plans on creating more Snapchat art when decisions go out Saturday, and will hold another Q&A mid-April. Over at BC, Lesica and the team of students will spend the next week uploading a series of videos to welcome prospective students. Baldwin is also ready to send more personal messages, too.
"The costume is sitting in my office,'' she said. "It's a nice little extra to feed into the excitement.''