Schools
Boston School Committee approves controversial budget
The vote came after more than two hours of tearful testimony.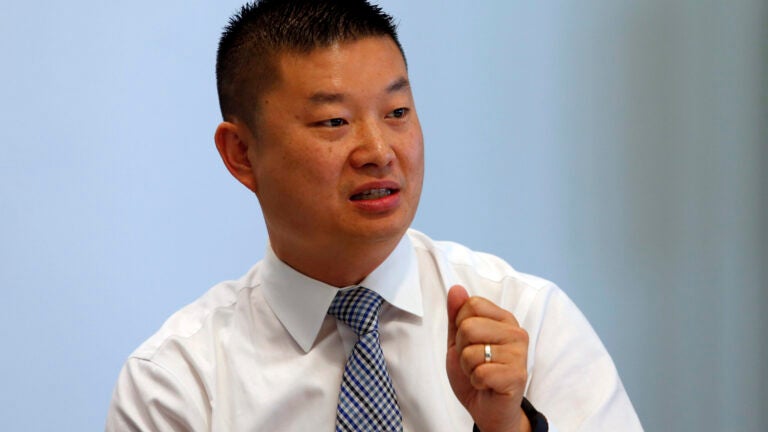 Before the Boston School Committee approved the contentious $1.027 billion budget Wednesday night in a 5-2 vote, they listened as Sera Tapia, a freshman at Boston Latin Academy, broke down in tears.
"You're trying to take away the way students learn, like the [Individualized Education Program] that I have for traumatic stress," she said between sobs. "As you can see, I'm one of those little people. I'm one of those kids that need help, and it's not fair that you guys want to cut and take that away."
Tapia was one of 34 people who testified before the committee Wednesday in a last ditch effort to dissuade them from voting for the budget. Many who testified, as well as other onlookers, booed when the budget passed.
Before the meeting began, Superintendent Tommy Chang said he was confident, putting emphasis on the word as he said it, that the budget represented the district's values of equity, coherence and innovation.
But many who testified disagreed. Keith Magni, a teacher at Boston Community Leadership Academy and parent of a Boston public school student, said taking away money from schools in a district that primarily serves students of color would widen, rather than close, the achievement gap.
"Choosing to cut $32 million from a budget that serves mostly students of color is institutional racism," he said. "A vote for this budget says black lives don't matter."
A Boston Public Schools librarian was one of many speakers to also emphasize this point, and cited a recent Boston Redevelopment Authority report that discussed how Boston's economy is divided by race, class and education.
"Boston is one of the most unequal cities in the country," she said. "We're a growing majority, minority city. And with this budget, we're saying people of color do not have the right to say anything about their lives."
The committee members nodded along with much of the testimony, and many expressed concern that the budget would hurt some of the most vulnerable students. But they also acknowledged that their hands were tied. The committee's chairman, Michael O'Neill, said that if the members declined to vote for the current budget, the initial budget, which was presented on February 3, would be sent to city council instead.
The initial February 3 proposal differed from the current budget in a few important ways. Most notably, after a massive student walk-out earlier this month, $6 million from Chang's long-term investments was reallocated to restore planned cuts to the weighted student funding formula at the district's high schools. But high schools will still face cuts — especially those with large numbers of special education students.
In her testimony, TechBoston Academy senior Tabitha Kast-McBride said she feared the PATH program, which provides psychological and academic support to students who need additional assistance, wouldn't exist under the new budget.
"If it weren't for this program, I might have dropped out because of the amount of anxiety and depression I deal with in the classroom," she said through tears. "What we actually need is more programs in our school like PATH, not less."
Boston Public Schools calculates its annual budget based on a "Weighted Student Funding'' model, which allocates dollars to students rather than to programs, buildings or schools. Each student's value varies based on his or her grade level, educational needs and learning challenges. The budget includes a $5 million decrease in special-education funding for children with autism, emotional impairments, and those who have unidentified disabilities, which will impact overall school budgets.
The Diploma Plus Program, an alternative education program at Charlestown High School that helps disadvantaged teenagers catch up to their peers, was in danger of being eliminated because the school has a high number of special needs students. But Chang announced at the meeting Wednesday that the program will be funded thanks to the backing of Liberty Mutual, which he said has been a long-time partner of the district.
To accommodate the remaining $32 million deficit, the revised budget includes a $10 million reduction from the transportation budget, which will come in the form of streamlined operations. The district will also cut $13.2 million from its central office's school services, which are activities that take place at school level and are paid for by the central department. These include partnerships with outside organizations, such as City Year, educational programs during school vacation weeks and the district's early hiring program.
The school committee will now send the budget to the city council for a final vote later this spring. Sabina Tapia, the committee's student representative who doesn't have voting privileges, promised the fight isn't over.
"I know every member of this committee would vote no if they could," she said. "When you're given systems that don't work, you can only do so much. It's on all of us to find alternatives. Students still have time to make their voices heard, and I will be that voice, too."
After she got teary-eyed, her sister, Sarah, who spoke at the beginning of the meeting, and Tabitha, came to stand behind her. Tapia dried her eyes and continued.
"I know my sister will be facing these cuts next year, but I know Boston and Boston won't just let these cuts be," she said. "We have to give these students hope. I think as a city, being able to press our mayor and say 'yes this is unjust' is what we have to do."