Schools
How Boston's budget cuts are affecting this high school
A look inside Boston Community Leadership Academy.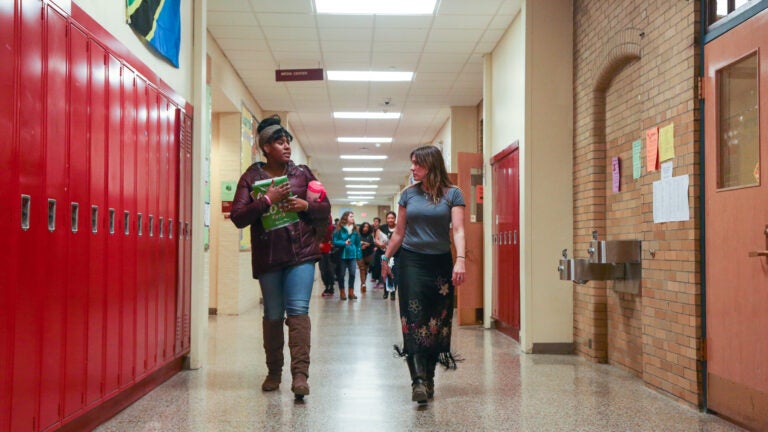 For the past two months, dozens of seafoam green signs plastered on walls, lockers and doors at Boston Community Leadership Academy have reminded teachers and students of their mission: "Save BCLA."
But Thursday, the morning after the school committee passed the contentious $1.027 billion budget, the signs seemed to be a glaring reminder of what they weren't able to do.
"There's no way to explain how I feel about it to be honest," said freshman Evelyn Vasquez. "It just really sucks. All these adults on the school committee and in the mayor's office already had their moment to shine when they were young, and we won't be able to because they're taking away what we need the most."
After a massive student walk out, officials decided to restore some funding cuts to the high schools, but BCLA will still need to cut $500,000 from its budget next school year, according to figures from the city's finance office.
The deficit is the result of a few factors. The school serves a high number of special needs and emotionally impaired students, who will receive less money under the weighted student funding formula next year. The school's budget is also affected by a decreased enrollment, which was capped by the district at 90 new students next fall. The budget is also impacted by the rising teacher salaries under negotiation this year.
The district determines each school's budget based on the weighted student funding formula, which allocates dollars to students rather than to programs, buildings or schools. Each school then determines how to spend those funds.
At BCLA that means cutting every class not mandated by state law, according to math teacher Grace Evans, who sits on the school's budget committee. There will be no theater or AP biology classes next fall. The district will budget for half a position for a gym/health teacher, and an AP World History course will run if more than 25 students enroll. There will be no "strategies for success" class, which helps ninth graders adjust to life in high school by teaching them how to balance homework with jobs and extra-curriculars. There will be no writer's workshop or numeracy classes for 10th graders, which help prepare them for the MCAS exams. There will be no college readiness class for juniors to prepare them for the SAT or teach them how to apply for financial aid so they can avoid massive debt after college.
"We're measured on our performance on the MCAS exams," Evans said. "These cuts take away all the supports that help students take those exams."
Just hours after the vote, signs of the cuts were foreshadowed around the school. Students walked past the empty library, which will no longer have a librarian next year. In the hallways, teachers stopped to check in with Brittany Wheaton-Calloway, the school's leadership coordinator, whose last day is Friday.
"Three days after I got back from maternity leave, I found out they needed to cut the position," she said. "So I started looking for other jobs. I'm going to be working in the Boston Public Schools central office as the director of global programs."
Without Wheaton-Calloway, the school, which has a mission "to develop the capacity for leadership in all students, empowering them to make positive contributions to our communities," will no longer have someone in place to ensure this happens. BCLA will suspend its Leadership Scholars Program, an in-school, year-long civics class for some of the school's most promising leaders, as well as its community days, when the entire BCLA population leaves the building to complete service projects across the city.
"The leadership office is like the mecca of information at BCLA," Wheaton-Calloway said. "We are constantly flooded with students everyday because they need guidance in regards to the opportunities that are available in the city. We help students start and sustain student clubs, we help them get jobs, we help them forge strong relationships with several community service sites and we help them feel great about what they are doing."
Helping BCLA students feel empowered is central to the school's mission because of its demographics. More than half of the students are not native English speakers, half are "economically disadvantaged," and 22 percent have disabilities. The leadership initiatives teach these students how to plan for their futures.
"BCLA has had a really big effect on my life," said senior Aliyah Jackson. "The teachers are there and know how to help me when I get stressed out because I have to work and live with a single parent so I have to take care of my family. People will say teens don't have real problems because we don't have to worry about paying bills, but we do have obligations, and everyone here has understood that and helped me plan for my future."
A large banner in the front hallway serves as a reminder that the school was recognized as a Bronze Medal winner in U.S. News and World Report's "America's Best High Schools" in 2009. The same year, the school won the city's Thomas W. Payzant "School on the Move" prize, which highlights the less publicized achievements of schools that are making progress toward closing the achievement gap for students.
The school's graduation rate is higher than the district average, with 80 percent of students graduating in four years, compared to the district average of 66.7 percent. The attendance rate is also higher than the district average, which sophomore Thasin Ahmed said is because of the smaller class sizes.
"With the smaller classes I have a better connection with the teacher," she said. "There's more one on one time. I usually get nervous around a lot of people, but I feel like I can ask questions. And it's less distracting, too."
But that will change next fall, when BCLA adjusts its schedule to run on five periods instead of six. Teachers will lose one of their planning and meeting periods. Fewer periods also mean class sizes will increase.
"We need that time to coordinate with other teachers, and it has to get done so it just means we're going to have to spend more time outside of school," Evans said. "Students have a better experience when we're healthier adults who have time to communicate. When teachers are isolated, the quality of instruction suffers because the climate suffers."
BCLA is one of the more highly desirable schools in the district, senior Bilal Lafta said. About 510 students applied for the 90 open slots next fall, and he was once one of the students who wanted to transfer in.
"These extra programs are why I transferred to BCLA in the first place," Lafta said. "I went to a charter school my freshman year and all they cared about were test scores. I felt like a lab rat. At BCLA, I took AP classes and did community service, which looked really great for college applications, but also made me love this school."
Now, some students are considering transferring out of the school because its distinguishing features will cease to exist after this year. Vasquez said she's considering going to a school outside of the Boston public school system that will give her the education she needs to move forward in life.
"It's come to the point where people in our school are no longer sad or scared, we're mad," she said. "It's frustrating because we're a leadership school and used what we learned. We walked out and went to meetings, but our movement wasn't loud enough for them to understand. Now, well, we don't have a voice."
Correction: A previous version of this post said there will be no gym, health or AP history classes. The post has been updated to reflect that BCLA will budget for half a position for a PE/health teacher, and could have an AP history course pending enrollment.