Education
Mass. Senate unveils new charter school bill focused on 'better education for all students'
The Reform, Innovation, and Success in Education Act addresses transparency, admission and retention of students, funding, and the cap.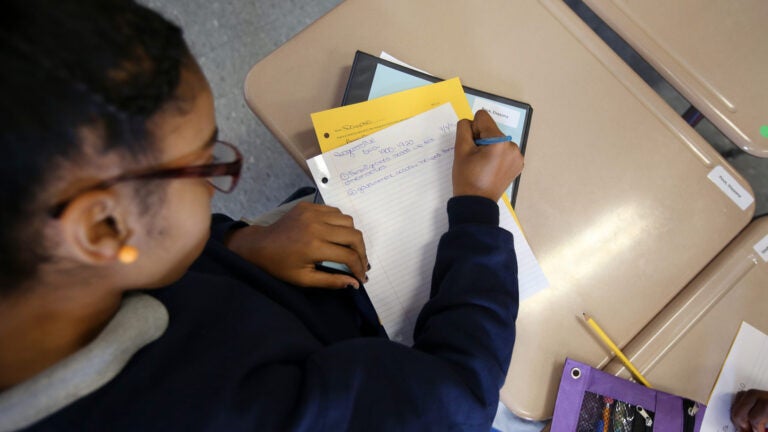 A working group of senators on Thursday unveiled a new charter school reform bill that they say will improve transparency, feature more equitable funding, and provide more choice for parents. The bill comes in the wake of Gov. Charlie Baker's $1 billion proposal, which focuses primarily on increasing the number of charter schools allowed in the state.
"This bill lays the groundwork for replication of best practices both among charters themselves and between charters and districts," said Sen. Sonia Chang-Diaz, chair of the joint education committee. "Ninety-six percent of our kids in Massachusetts are educated in district schools. Four percent are educated in charter schools."
Chang-Diaz said the Reform, Innovation, and Success in Education Act, which also costs $1 billion, creates a brand new class of charter schools by incorporating a "smart cap." Charter schools serving high-risk populations—which include students who have dropped out and are returning to school, are pregnant or raising families or who are homeless—will not have a limit on the number of enrollment seats.
The new Senate bill also increases the share of a low-performing district's budget that can go to charter schools. The current cap on funding is set at 18 percent, and it will increase by 0.5 percentage points each year until it reaches a maximum of 23 percent.
That funding, however, depends on the state fully reimbursing public school districts for the students who choose to attend charter schools. The state is supposed to reimburse the district for those costs, but has historically fallen short. In Boston, the state's reimbursements covered less than half of the district's charter school expenses last year, shorting Boston Public Schools $18.6 million in promised funding.
The new bill aims to level the playing field by ensuring public schools and charter schools aren't pitted against one another, Sen. Karen Spilka said in the press conference. Beginning in 2019, the increase in funds will be directly tied to state reimbursements to public schools. If the state funds 50 percent of the promised reimbursement, for example, then the planned increase in charter school funding would be cut in half.
Under the act, Horace Mann and Innovation schools can be counted toward the net school spending cap, but they will not be limited by it. Whereas the state's 72 Commonwealth charter schools are fully independent of the local school district, Horace Mann schools must be approved by a host school district, the local teachers union, and the Department of Elementary and Secondary Education. By allowing districts to decide whether to count these schools toward the spending cap, the bill allows for more seats in innovation classrooms, and gives districts the chance to replicate successes across many types of schools, Chang-Diaz said.
The proposed act would create a system where students simultaneously apply to charter and district schools. All students would be entered into the lottery to attend a charter school, but can opt out of accepting the position if it's offered to them. This ensures that special education, minority, and other students have an equal opportunity to attend a charter school if desired.
Because some charters have been shown to impose harsher discipline on students of color and those with special needs, the act called for more transparency, and requires public disclosure of finances, policies, contracts and board meetings.
The Senate will debate the bill in full next week.