Education
Mass. Senate votes in favor of 'compromise' charter school bill
The vote came after hours of tenuous debate.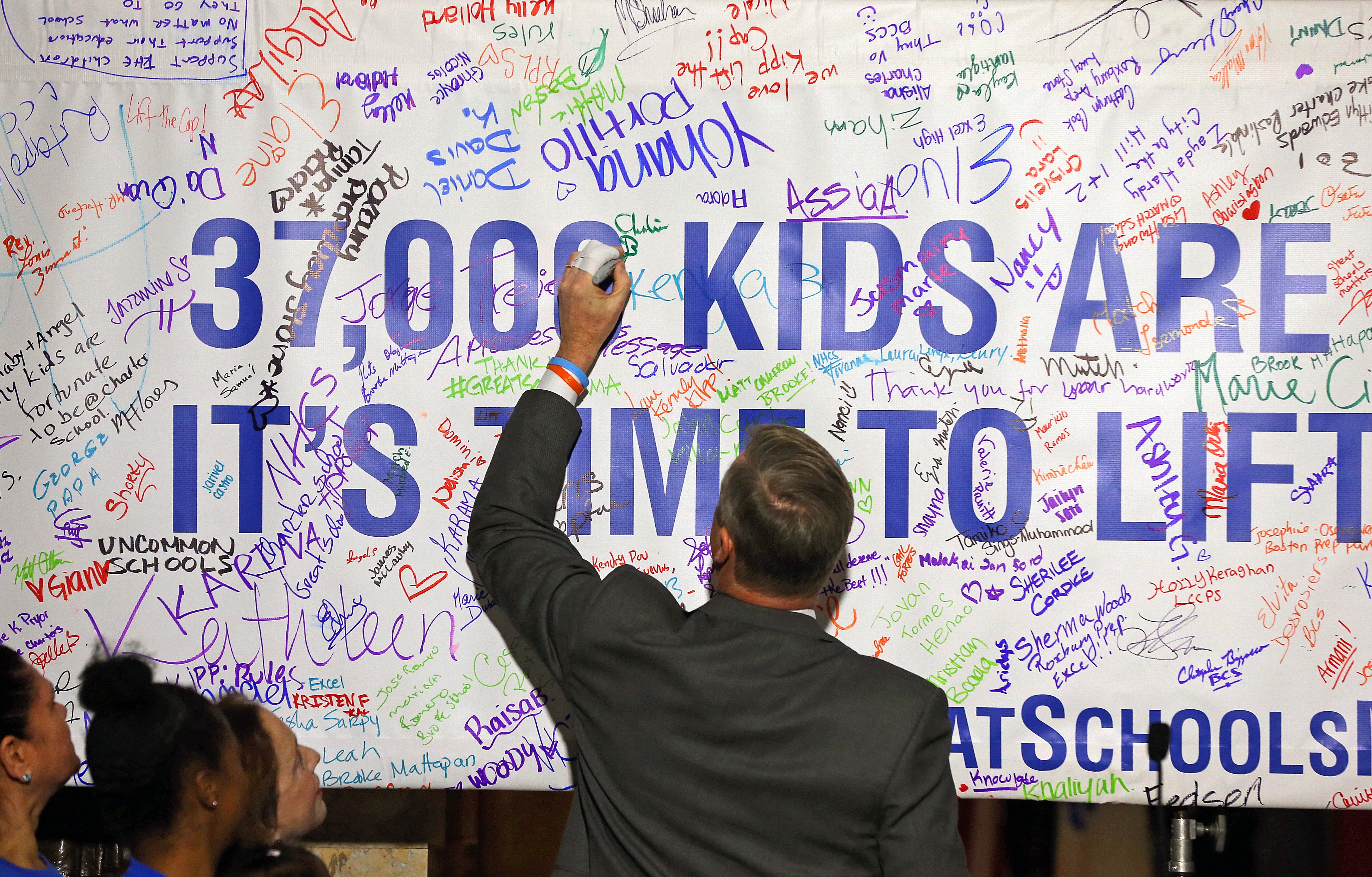 After more than five hours of tenuous debate over a charter school reform bill, the state Senate voted in favor of the act Thursday evening by a margin of 22-13.
When it was unveiled last week, the Senate working group stressed how it would provide "better education for all students," not just the four percent of Bay State students who attend charter schools by improving transparency, featuring more equitable funding, and providing more choice for parents. The bill came in the wake of Gov. Charlie Baker's $1 billion ballot proposal, which focuses primarily on increasing the number of charter schools allowed in the state.
The state has 81 charter schools that enroll about 40,000 students. Charters operate free of many of the constraints on district schools, and maintain autonomy over teacher hiring, and the structure and length of the school day. Supporters praise how charters close the achievement gap for low-income black and Latino students, with studies identifying Boston charters as the highest-performing in the country.
But critics have long complained that charters don't enroll students who take more resources to educate, including those with special needs and English Language Learners. They also say that they drain money from districts because public school dollars move with students to whatever school they attend.
Now that the Senate has voted in favor of the bill, it will move to the House. House members are likely to work off a version of a bill it passed two years ago, sponsored by Rep. Alice Peisch, the House chair of the Joint Committee on Education. That bill calls for a comparable increase in the charter cap, but instead of allowing the increase to happen over 10 years, the it would take place in five.
Like the Senate bill, the House bill includes new autonomy for lower-performing district schools to determine whether Horace Mann and Innovation schools can be counted toward the net school spending cap. The House bill, however, does not include the various new accountability restrictions that the Senate bill does.
If the House passes its own bill, House and Senate members would form a committee to create a compromise measure.
Gov. Charlie Baker's bill is also still in play. But passing that legislation won't be an easy road either. During debate on the Senate bill, state Sen. Michael Rodrigues proposed replacing the Senate bill with the governor's proposal. The amendment, which mirrored Gov. Charlie Baker's approach to charter school expansion, was voted down, 5 votes to 30.
"Ultimately, we do not need a ballot initiative on this," Sen. Stan Wolf said just before the vote. "I think we can solve it in this building."