Schools
Four Harvard students arrested during divestment protest
They staged a sit-in at the Boston Federal Reserve building.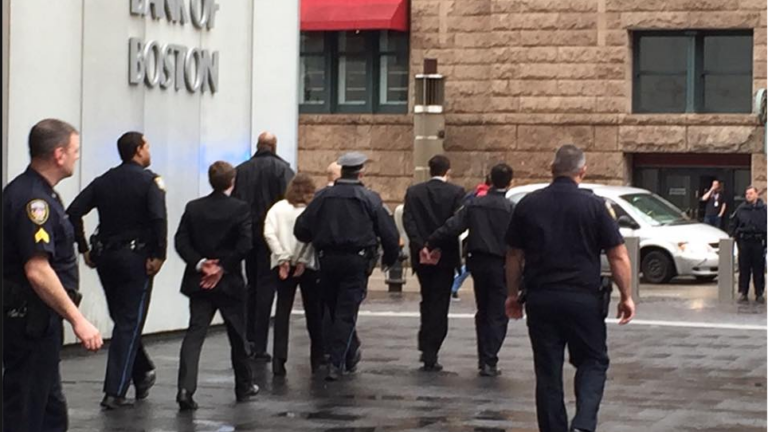 Four members of the student activist group Divest Harvard were arrested Tuesday afternoon after they staged a sit-in at the Boston Federal Reserve. The group was protesting Harvard Management Company's recent decision to invest in a private equity fund that supports struggling oil and gas companies.
After learning of the investment in February, members of Divest Harvard sent an open letter to Stephen Blyth, Harvard Management Company CEO, and requested a meeting to discuss their concerns. As of Tuesday morning, they had received no response, which is why they decided to hold the rally, according to a press release.
The group's rally began around noon with four members occupying the lobby of the building, which houses the management company. More than 30 students, faculty, and alumni held a rally outside of the building while the four students sat inside, said Divest Harvard member Jasmine Opie, who was not arrested.
"It was a dynamic atmosphere," she said. "Outside, we had speakers talk about the importance of divestment. Inside, the students asked to meet with the management company, and when they were told no, they said, 'we're gonna stay.'"
Harvard spokesman Jeff Neal did not comment directly on the arrests, but did issue the following statement.
"Like many peer institutions, Harvard is already acting on climate change through research that occurs across disciplines and throughout the world; through teaching and learning, by providing our students with the tools to confront this issue for generations to come; and on our campus, where we have already reduced our greenhouse gas emissions by more than 20 percent," he said in the statement.
Boston Police spokeswoman Rachel McGuire confirmed that officers were dispatched to the building after they received a report that four individuals were causing a disturbance. After being told numerous times that they would need to leave the building, she said they were placed under arrest for trespassing.