Schools
Newton schools superintendent, Jewish groups denounce behavior of protestors at meeting on prejudice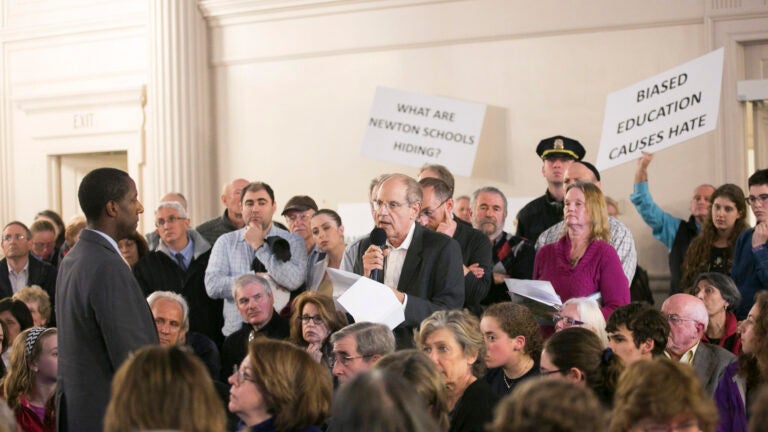 Newton's superintendent of schools denounced the "uncivil" behavior of activists at a community meeting on prejudice last Thursday in a faculty-wide email Monday. His statements targeted a group of protestors who hijacked the meeting, which officials held to tackle discriminatory behavior in the community, and attempted to steer the conversation exclusively toward anti-Semitism in the schools.
Last Thursday, Newton Mayor Setti Warren, school officials, students, faculty, and parents gathered to discuss two incidents of anti-Semitic graffiti found at a Newton school in March as well as other instances of prejudice as well as racist and homophobic attitudes at the school. Some in attendance criticized those who brought up issues of marriage equality, race-relations, and accommodating those with disabilities, arguing that the meeting should focus on anti-Semitism rather than "equal values" in general.
Superintendent David Fleishman said the meeting was held to foster a "community discussion to ensure Newton is a welcoming and inclusive place" but quickly "turned into a display of disrespectful and uncivil behavior," according to The Boston Globe. He also acknowledged those who were "particularly insensitive toward a Newton parent who courageously shared a story of racism faced by her son," calling out those who reportedly heckled an African American woman after she stood up to speak out against an instance in which a racial slur was directed toward her son.
Anti-Semitism in the school district came to the forefront after a middle school principal reported that someone had written "Burn the Jews" on the wall of a boys' bathroom. He later came under fire once parents discovered it was the third incident of anti-Semitism at the city's school this year. Parents and students expressed outrage that the other two had gone unreported.
Following the raucous meeting, two Jewish organizations — global Jewish advocacy group AJC Boston and the Jewish Community Relations Council — released a joint statement Monday condemning the insensitivity shown by those at the meeting.
"To our dismay, a group of activists – who have been identified in the media as members of the Jewish community – disrupted the proceedings," the statement said.
While the groups echoed the concerns expressed by the activists and acknowledged the need to eradicated bias in school curriculum, they denounced the protesters attempts to disregard the struggles other minority students face.
"In a multi-cultural multi-faith society like our own, the struggle against anti-Semitism does not take place in a vacuum," the statement said. "It is part of a larger struggle to build respectful tolerant communities where citizens not only tell their own story, but are able to listen and have empathy for the struggles of others."
While some in attendance wanted to focus solely on specific issues and biases, students spoke of the importance of uniting to combat prejudice as whole. In a letter published in The Boston Globe, Warren praised the positive attitudes and efforts put forth by students in the face of anger and resistance from the community's adults.
"I do want to highlight how impressed I was with our young people who spoke out last night, emphasizing that building alliances among all groups is the most effective way to combat prejudice," Warren wrote. "They displayed remarkable maturity and stayed to engage in further conversation with others after the meeting ended. They represent hope for the future."
On the same day as the "uncivil" meeting, students at Newton North High School released a music video calling on their peers to join together against anti-Semitic and racist sentiments in the school district, incorporating the various instances of prejudice into one fight.
"The wonderful display of thoughtfulness, empathy and compassion shown by Newton students and faculty was compelling," Fleishman wrote in the email. "Our students openly shared their experiences and spoke passionately about their efforts to address all types of discrimination."