Education
Some Mass. college kids are risking arrest in the name of the environment
The divestment movement has escalated in recent weeks due to a coordinated effort on college campuses in Mass. and beyond.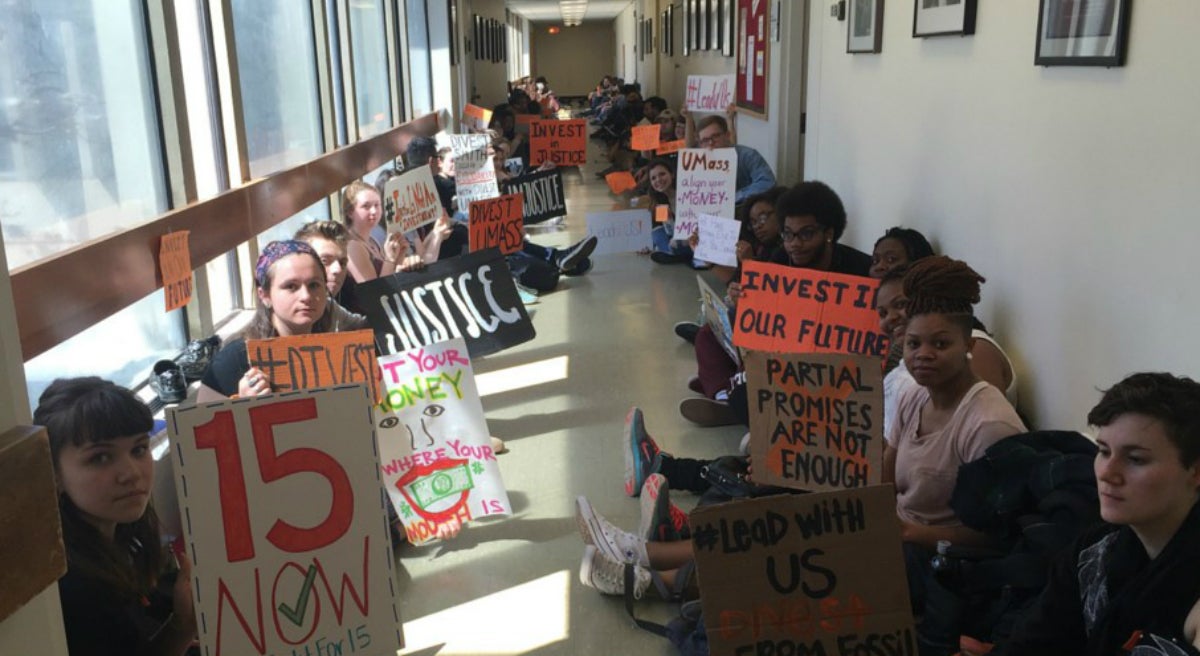 As they lined both sides of a hallway in UMass Amherst's Whitmore Administration Building last week, dozens of students chanted "Ain't no power like the power of people, 'cause the power of people don't stop."
But the chants stopped when UMass police officers entered the building.
"The building is closed," an officer said. "The courtesy that has been extended to you by the administration to stay in the building after closing time is over. If you stay in the building after this warning, you will be subject to arrest."
Most demonstrators from the UMass Fossil Fuel Divestment Campaign immediately put their backpacks on and looked toward the exit. But 19 of them stayed and were arrested on charges of trespassing. The night before, 15 students were arrested on the same charges.
The students are part of the campus's divestment movement, which aims to slow climate change by stigmatizing investments in fossil fuels. The effort began at Swarthmore College in 2011, and has since spread to more than 500 campuses nationwide, said Lindsay Meiman, a spokeswoman for 350.org, an environmental-action organization. Only a handful of schools have committed to divesting, including Hampshire College in Amherst.
"Specifically on this campus, Divest UMass has been around for three, almost four years," said Mica Divas, a member of the group. "Divestment as a movement is about so much more than institutional change. It's about a shift in values that we have and hold, and giving power to students and community members."
The #first15 students getting arrested for protecting our collective future and demanding Umass #divesttherest from all fossil fuels! #LeadWithUs #keepitintheground #divest #SitAtWhit #DivestTheRest Divest Harvard

Posted by UMass Fossil Fuel Divestment Campaign on Tuesday, April 12, 2016
April is a month of escalation for student divestment movements, many of which are tracking their efforts on Twitter by using #LeadWithUs, said Varshini Prakash, regional networks coordinator for the Divestment Student Network.
Research shows that divestment has little visible effect on financial markets. But, as the UMass students pointed out, they see the university's investments as promoting "racism, classism, sexism and other systems of oppression." The divestments are symbolic, which is often why students have a hard time convincing administrators to change them.
Divestment leaders take their cues from the anti-apartheid movement of the 1980s, when college students spent years picketing, demonstrating and conducting sit-ins to raise awareness of the role the U.S. played in southern Africa. Ultimately, more than 180 universities, including Stanford, Harvard and Yale, agreed to divest in whole or in part their investments in companies that did business in South Africa.
"We use tactics directly from the anti-apartheid struggle," said Austin Williams, a member of Northeastern's divestment movement, which also escalated its action with a sit-in that started Thursday. "And that isn't just Northeastern, it's colleges as a whole. I would also say we're a very well-networked movement in terms of how we communicate with each other."
The individual movements learn from each other in order to better customize movements to their own campuses. Last year, Harvard students blockaded a central campus building, during the week-long protest, which they called "Heat Week." The effort made national headlines, and attracted high-profile speakers including Prof. Cornel West. But, in the end, Harvard President Drew Faust held firm in her stance against divesting.
"I don't think that divestment is an appropriate tool, because I don't think the endowment should be used for exerting political pressure," Faust said in September. "It is meant to fund the wide range of activities that the University undertakes."
At MIT, students knew they had to take a more subtle tack than their neighbors at Harvard.
"We wanted to tread the middle ground a little bit and try a less obstructive tactic, which was to sit in the hallway where administrators would have to see us every day," said Ben Scandella, a member of Fossil Free MIT. "That way we could peacefully remind them of their obligation and responsibility and broad support our campaign fostered."
That peaceful reminder ended up coming every day for 116 days, becoming the longest divestment sit-in in history. The students and administrators eventually reached an agreement, but the university still declined to shed fossil fuels from its investment holdings. MIT will, however, set up a climate action committee where one member of Fossil Free is guaranteed a seat, and will also take additional steps toward carbon neutrality on campus.
In a much shorter demonstration, Northeastern students took a cue from nearby campuses and began a sit-in Thursday. They demanded a timeline for engagement of their Board of Trustees on the issue of fossil fuel divestment, including an expectation of when a vote will occur. Williams said the sit-in was intended to last until either a compromise is reached, or building closure or threat of arrest is served. But the students ended the sit-in the same day.
Northeastern spokesman Matthew McDonald did not directly comment on divestment, but did say the university encourages the exchange of ideas on campus, provided there is no disruption to the university's operations.
At UMass, President Marty Meehan told students Thursday that both the Board of Trustees and UMass Foundation would vote on the issue in June, thus putting an end to the divestment movement's demonstration.
"We're so, so excited," said Mica Davis, a member of Divest UMass. "We hadn't originally planned for the sit-in to last two full weeks, but the way the community showed the university that the issue was important to them kept us going. We wanted concrete action steps and that's what we got."
But she also said Divest UMass will keep advocating for divestment until they see results.
"A lot of us will be showing up in June to hold them accountable to having this vote," she said. "We made sure they know the fight doesn't end here."