Education
Just 37 percent of U.S. high school seniors are college ready, national report card shows
Students in the Northeast performed slightly above the national average.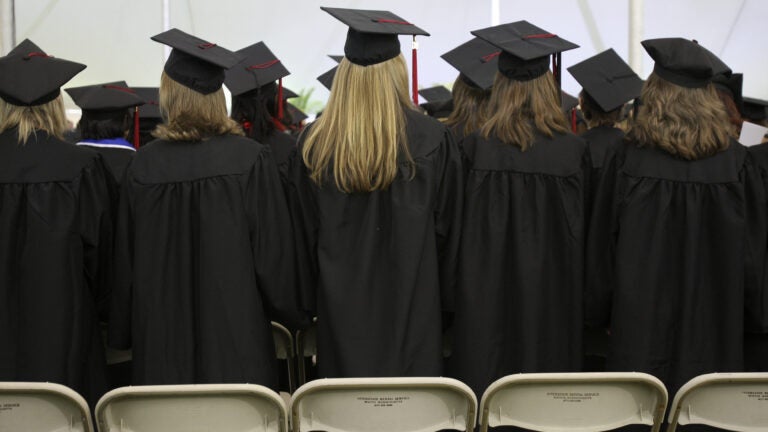 High school graduation rates in the U.S. are at an all-time high, but the outlook isn't great for high school seniors once they leave the classroom. The National Assessment Governing Board's "Nation's Report Card," released Wednesday, found that high school seniors have shown no improvement in reading skills, and their math performance has slipped since the last time the test was given in 2013.
In even more grim news, the 2015 test results suggest that only 37 percent of seniors are academically prepared for college math and reading course­work.
"The governing board is pleased that graduation rates are increasing across the country, but at the same time not pleased that we're not making the academic progress that we need to so there's greater preparedness for post-secondary, for work, for military participation," said Bill Bushaw, the board's executive director.
The report card, known more formally as the National Assessment of Educational Progress, is considered a more reliable measure of student performance over time. Unlike state tests, which have fluctuated because of the Common Core, the federally funded report card's consistent measurements can be traced back to 2005 for math and to 1993 for reading. This year's test results are based on a nationally representative sample of thousands of 12th-grade students from 740 schools, both public and private.
Overall, only 25 percent of students performed at a proficient level or above in math during their senior years. More than a third—38 percent—showed "below basic" math skills, which is the lowest score given by the association. In reading, 37 percent of students performed proficiently or above, while 28 percent showed "below basic" reading skills.
The test found that the average math score was 152, on a 300-point scale. The average score for reading was 287 on a 500-point scale. Because the grade 12 test was a national sample, there are no state-specific results available. The test did make region-specific data available, and the Northeast scored an average of 156 on the math test and 290 on the reading test.
And, if history tells us anything, it's that students in Massachusetts fare better than the national average. In 2013, 12th graders performed 9 points higher than the national average on the math test, and six points higher on the reading test.