Schools
University of New Hampshire regrets buying a $17,570 dining hall table
The table cost almost exactly as much as one year's in-state tuition.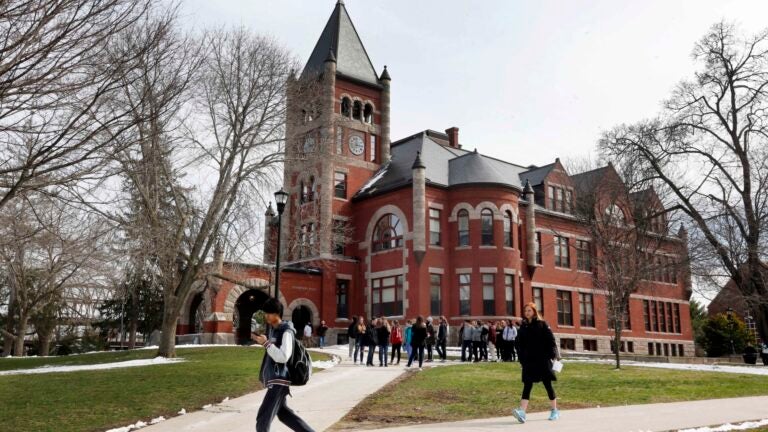 Someone at the University of New Hampshire thought buying a $17,570 dining hall table was a good idea. It would allow UNH dining staff to demonstrate healthy cooking techniques for students — not to mention the fact that it features a flashy top with LED lights.
But, just weeks after its installation, the university admitted that spending so much money on a table probably wasn't the best idea.
"Purchasing a custom-made chef's table for the recently renovated Holloway Commons costing thousands of dollars should not have happened," said university spokeswoman Erika Mantz. "Steps have been taken to ensure it is a mistake that won't be repeated."
The custom chef's table was added to the university's Holloway Commons Dining Hall, which reopened in January after a $10.5 million renovation. The table, which seats 16, was not part of that project. Instead, Mantz said it was funded through the Hospitality Services budget.
https://www.facebook.com/unhdining/videos/10153925048471187/
Dining hall operations director Jon Plodzik told the university's student newspaper, The New Hampshire, that the $17,570 price included "delivery from the workshop in Chicago, which we considered reasonable for a custom piece of furniture made exclusively for UNH."
Soon after the table was delivered, The New Hampshire reported that the LED light display wasn't working. The Union Leader spoke to a student who sat at the table when it was operating correctly, and she didn't seem impressed.
"I ate at it once," Maddie Dombrowski told the paper. "It lit up. I ate my food, and I left."
Other students, noting that the table cost almost exactly as much as one year's in-state tuition—$17,624—took to social media to voice their concerns.
"UNH says $17,570 table in dining hall was a mistake" SO THATS WHERE MY TUITION MONEY IS GOING

— Cynthia (@sydneeeeeyj) April 28, 2016
Just found out UNH spent $17,500 on one table in the dining hall. It's fine though, I'm not drowning in debt

— James Marsh (@Jrmarsh44) April 22, 2016
im gonna be in debt for the next 7 yrs of my life but good news UNH spent 17 grand to put a light up table in the dining hall!!!!!

— Marissa Bair (@marissa_bair) April 22, 2016
The university has consistently been named one of the most expensive public colleges in the nation, but Mantz said it takes pride in its "long track record of fiscal responsibility."
"Having a chef's table was a good idea in that it allows the dining staff to interact with students, demonstrate healthy cooking techniques and share nutrition education," Mantz said. "But much less money should and could have been spent to achieve the same outcome."