Schools
Vermont college once run by Bernie Sanders's wife will shut down
While Jane Sanders was president of Burlington College, the school took on $10 million in debt for an ambitious real-estate deal.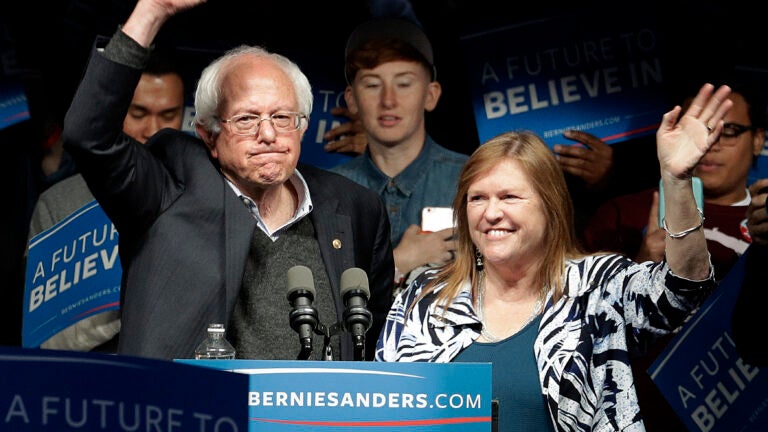 Burlington College—a small, alternative liberal arts school in Vermont once run by Jane Sanders, the wife of Vermont Sen. Bernie Sanders—announced Monday in a press release that it will shut its doors, citing "insurmountable" financial hurdles.
School officials confirmed in a press conference Monday afternoon the college will close by May 27, after its bank refused to renew a line of credit, amid years of financial trouble and property debt. The school's 70 students and 30 staff members were notified of the impending closure Monday, President Carol Moore said.
Jane Sanders was the president of Burlington College from 2004 to 2011.
In 2010, under her direction, the college made the $10-million purchase of 33 acres of waterfront property and buildings (previously owned by the state's indebted Catholic Diocese) overlooking Lake Champlain in the hopes of growing the school's student population.
As the Burlington Free Press reported, there was a question at the time how the less-than-200-student school with an annual budget of $4 million could afford the purchase. At the time, it did so through two multi-million-dollar loans.
Sanders resigned in 2011, after reaching a settlement with the school's board of trustees, citing a difference over the college's direction and future.
In 2014, Burlington College was put on two-year probation for its financial problems by a regional accrediting agency. In 2015, the school sold 27 acres of its lakeside property to a local developer.
Officials said Monday that they had paid off all but about 2.2 million of the original loans and reduced operating costs 80 percent, but the decision by the People's United Bank to pull their $1-million line of credit forced their decision to close the school.
In the press release Monday, the school directly linked its financial struggles to the 2010 property purchase.
"Burlington College has struggled under the crushing weight of the debt incurred by the purchase of the Archdiocese property on North Avenue," the release said.
Asked Monday if Sanders was at all culpable for the closure, Moore said she had no comment.
Asked if the 2010 purchase was a mistake, Moore said "you can't be a Monday Morning quarterback," as the school had envisioned higher enrollment growth in order to manage the debt. Even at its peak, the student population never escaped the 200s.
Following the college's Class of 2016 commencement ceremony this past weekend, Moore and Coralee Holm, the college's dean of operations and advancements, called Monday's decision "heartbreaking."