Schools
Meet 8 Boston-area students with super-cool plans after graduation
Here's what's next for a student who was on a reality singing competition and a 'Boston Strong' co-creator.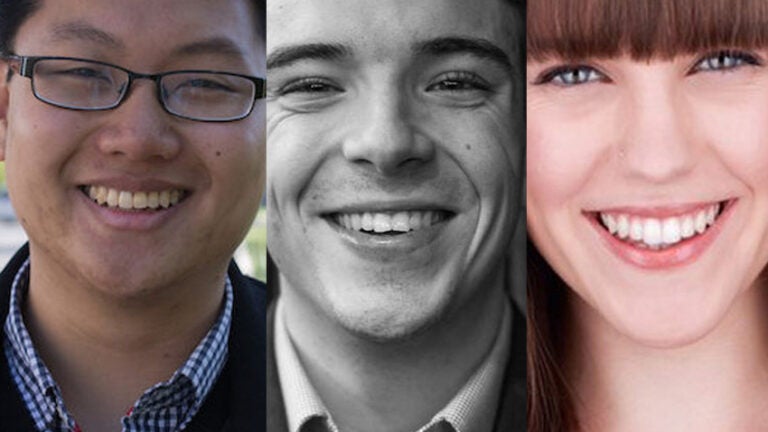 They've auditioned for American Idol, started international social media campaigns, and harvested crops on sustainable farms. Some of them are entering the "real world" with jobs lined up; others have direction but looser plans. But despite their varied interests—and whether they're heading to Rockland, Maine, to work as a butcher's assistant or New York City with hopes of making it big on Broadway—these eight class of 2016 graduates have two things in common: They've all called the Boston area home for the past four or so years, and they have some of the neatest post-grad plans around.
Anna Hymanson, Tufts University '16
Butcher's assistant
"When I first tell people I'm going to be a butcher's assistant, they're like, 'Anna, are you sure you want to do that?' It's important to recognize that I'm doing it because I want to fully understand what it means to be part of a sustainable food system. That's why I'm going to spend this summer in Rockland, Maine, working with a whole animal butcher as his apprentice. I'm going to be doing a whole slew of different things: sausage making, smoking, charcuterie, working with the entire pig and seeing how [the butcher] breaks it down. After so much sitting and thinking for four years in college, I'm excited to get my hands dirty and be part of that system in a way that's really physical."
Joy Ngiaw, Berklee College of Music '16
Composer's assistant
"I'm [already] in LA working as a composer assistant for Jeff Russo, who did the music for Fargo and a lot of other TV shows. He has a team of three other assistants and an in-house engineer, so we work to make his life easier by keeping the studio running so he can focus on writing music. It's nice to observe and learn how he manages his work and a crazy schedule. I wanted to become a composer because, when I was younger, I couldn't remember what a movie was about, but I could remember what the music was doing and the feeling. I wanted to give that to people, so in addition to being Jeff's assistant, I'm also a freelance composer on the side and writing my own music."
Chris Dobens, Emerson College '16
Social media contractor
"My freshman year, I went with my RA to create a shirt to help with raising money for the victims, survivors, and families of the Boston Marathon bombings. We wanted a mantra similar to 'Army strong' or 'Country strong,' and when we were thinking of names, came up with 'Stay Strong, Boston Strong,' which we cut down to 'Boston Strong.' It's been an unreal experience, and it's kind of turned into Boston's equivalent of the 'I heart NY' shirt. But I'm not as involved with the direct process anymore. I'm going to be working full-time at 451 marketing in Boston on the social media team. I think the shirt helped me get in the door to get an internship, and then being there for two semesters got me the job."
Richard Balagtas, Boston College '16
Fulbright Fellow
"I've been awarded a Fulbright grant for research in the Philippines, which is a continuation of my senior thesis examining organ trafficking and how the government of Philippines has handled transplant tourism. They've been successful in mitigating it, which is good and bad. It's no longer as common, but other countries that don't have as strong of a government are struggling to handle trafficking. My hope is to create a comprehensive examination on what the Philippines has done to help other countries."
Maya Keleher, Boston Conservatory of Music '16
Actress
"I'm going to be moving to New York in June to pursue that whole working-actor lifestyle. I signed with an agent, Abrams, which represents big names in film and television. It happened quickly. An agent came to my school to do a workshop, and I got the chance to sing for him and introduce myself. I emailed him after to thank him for the feedback, and he asked me to come in for meeting. Once I get to New York, they'll let me know when they have auditions for me, but, of course, I have to do all the work once I get into them."
Marynee Pontes, Tufts University '16
Marketing assistant for a Ghanaian fashion company
"I'm moving back to Ghana for about a year. I studied abroad there and, for the first part of summer, I'm going to be a program advisor for [the] Tufts-in-Ghana program, which is what I did. Then I'm going to work for a social enterprise fashion company called Studio 189, which is a local fashion company. All of the products are made in Ghana, all designs are by local designers, and a huge part of their business is to educate and empower their workers. It's a growing company so I'm going to be involved in everything, but mostly sales and marketing. I'm planning to stay for a year minimum, but I'm open to staying longer."
Allie Gressler, Boston University '16
Art history student at the University of Oxford
"I've been accepted into the one-year master's program at Oxford to study art history and visual culture. I've always had a connection to England, and I spent one semester in London during my undergrad. I got to visit Oxford, and I love the environment there. The program has 20 students and it's theory focused, so philosophical ideas applied to art. Then when I come back, I'm probably going to get my Ph.D. I want to be a professor."
Casey McQuillen, Berklee College of Music '16
Touring singer and speaker
"When I was accepted to Berklee College of Music, my old music teacher invited me back to my middle school to give a songwriting class to a group of eighth graders. I sang three original songs and went through and told stories of why I wrote those songs. A lot of the kids were really affected, so my teacher suggested I do the presentation for the whole eighth grade, then the whole school. The 'You Matter' tour grew organically from there, but it really picked up after I was on American Idol. Now I use that experience in the show. I talk about the way everyone perceived the experience, and how great it must have been, but that I knew I had already been cut. I couldn't give that away because the episode hadn't aired yet, but I was in a position where every single person I had ever met was congratulating me for the fact that I was definitely going to win. I use that experience to talk about the fear of failing in front of everyone, but how I learned the only person who viewed it as a failure was me. I've given my show in more than 100 Massachusetts schools and will continue to do so."
The interviews above have been edited and condensed.