Schools
Watch Simpsons actor Hank Azaria address Tufts graduates in character, make fun of Boston University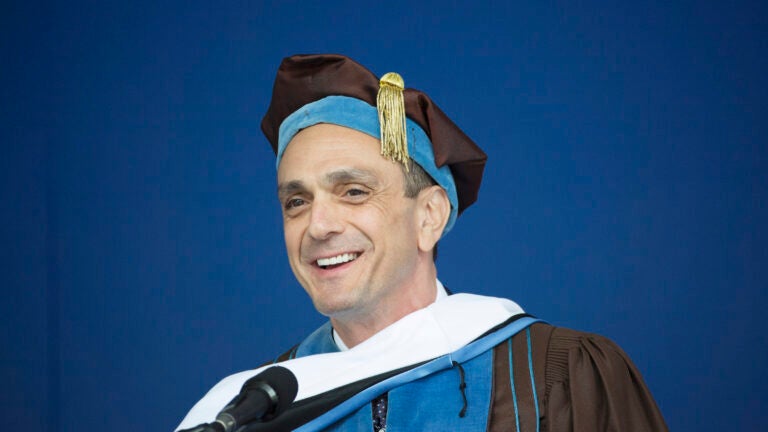 Even if you don't recognize Hank Azaria's face, you surely recognize his voice. Or, perhaps, voices.
And at the end of his Tufts University commencement address Sunday, the Emmy-winning actor and comedian, famous for voicing a slew of Simpsons characters, put a couple of those famous roles to work.
After a few questionable words of advice courtesy of Chief Wiggum, Azaria employed the voice of Moe the Bartender to take a good-humored shot at another area college.
"I didn't have the benefit of a fancy, highfalutin education," he said. "I went to BU."
The audience of roughly 3,000 Tufts graduates, along with their families and friends, roared in laughs and applause, prompting even Azaria himself to crack with a brief chortle.
"Yeah, at least Tufts has a campus," he said. "I majored in not getting hit by cars on Commonwealth Avenue."
Azaria then transitioned into an Indian accent for his character Apu, the Hindu owner of a convenience store on the Simpsons.
"Tufts students and myself, we have very much in common. We both worship an elephant," he said, later adding, "Remember, please children, that in life, there is nothing that is not so disgusting that it cannot be sold on a heated roller at a nearly criminal mark-up."
Azaria began his college career at Tufts in 1981 and marched with his graduating class in 1985, despite being two credits shy of earning a diploma. He eventually received his Tufts degree, majoring in drama, in 1987, after he had moved to Los Angeles and earned his remaining credits at UCLA.
The one-liners at the expense of Tuft's surroundings continued, with Azaria's voice-over character Horatio McCallister, the ever-quotable Sea Captain.
"Kids remember, the sea is a cruel mistress, but Medford is worse, so you'll be fine."
Azaria was even self-deprecating at times, as he told the graduates (in the voice of Comic Book Guy) that "Life is like the Star Wars movies."
"Some of it is great, some of it sucks, but you have no choice but to sit through all of it," he said. "Very similar to the commencement speech you are listening to right now."
But Azaria saved his own voice to deliver the central message of his speech Sunday: the value of not being afraid to be one's true self, particularly in front of others.
Recalling personal experience, Azaria said it wasn't until he embraced himself that his professional career became interesting, though he added he wasn't advocating for people to ignore their peers and environment.
"Just please be honest with yourself about what you think and how you feel about all of that, what you like and dislike, what angers you or scares you or saddens you or inspires you or delights you," Azaria said. "Those feelings are called your instincts, and you ignore them at your own peril."