Schools
Boston Latin students release new video claiming school climate hasn't changed
The first video spurred an investigation by the U.S. Attorney's office.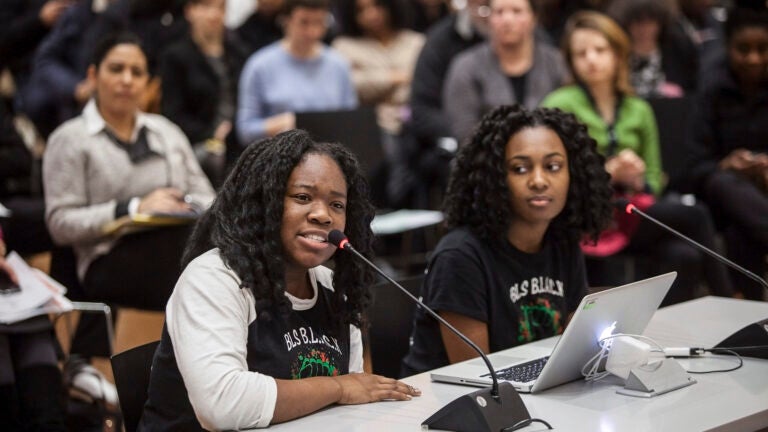 Boston Latin School students Meggie Noel and Kylie Webster-Cazeau marked Martin Luther King Day by releasing a video that called attention to the racism they experienced every day at Boston Latin School. The video spurred an investigation by the school district's Office of Equity, as well as a separate investigation by the Civil Rights Unit of the U.S. Attorney's office.
But in a new video released Sunday night, Noel, Webster-Cazeau and nine other members of the student activism group B.L.A.C.K. at BLS (Black Leaders Aspiring for Change and Knowledge), specifically called out the school's headmaster, Lynn Mooney Teta, and said the school climate has not improved.
"The administration needs to know this movement has not died down and it will continue to push forward even after we leave," Noel said in the video.
During the course of the video, which runs less than two minutes, the students discuss how they believe the school's response has been inadequate in the months since the original video. They say there have been no mentions of their campaign, #BlackAtBLS, in assemblies about race, and that "random facilitators" have been brought in to handle discussions about race, none of which made a difference in the classroom environment. They also say Teta has failed to show up for lunchtime conversations on race.
"We're supposed to have meetings with LMT at our lunches, and at these lunches Black at BLS wasn't even mentioned," one student said in the video.
"Lunch is only 22 minutes," Webster-Cazeau chimed in, implying that this isn't enough time to talk about the scope of the issue.
The district released a statement that commended the students for voicing their concerns about race and standing firm in their values.
"Boston Public Schools is committed to fostering a safe and welcoming learning environment at all schools, including Boston Latin School, and continuously examines ways to improve cultural proficiency and close opportunity and achievement gaps," the district said in a statement.
The district also emphasized how it has taken steps to improve its cultural proficiency. The school has provided opportunities for students, faculty, and families to engage conversations about race, diversity, and social justice, has improved procedures to report bias-based incidents, and has instituted mandatory professional development on cultural proficiency, according the statement.
Boston Public Schools also expanded seats in its "Exam School Initiative" program to target more students from traditionally under-represented schools. And in March, Albert Holland was appointed as Special Assistant to the Superintendent to work with the school's leadership to better create a safe and supportive learning environment at the school.
The students from Black at B.L.S. did not immediately respond to a request for comment about these initiatives.
This week, the school is sponsoring a mandatory series of workshops titled "BLS Talks about Racism." The series will last from Monday through Wednesday, and will include simulations intended to spark dialogue about issues of equity, racism and bias.
In the meantime, the group's members told students to use the Twitter hash tag #WhereIsLmt, for Lynne Mooney Teta, in addition to #BlackAtBLS, to keep promoting the movement.