Schools
Emmanuel College group issues list of demands after 2 professors are denied tenure
This is the second time in three years that students have raged against tenure decisions.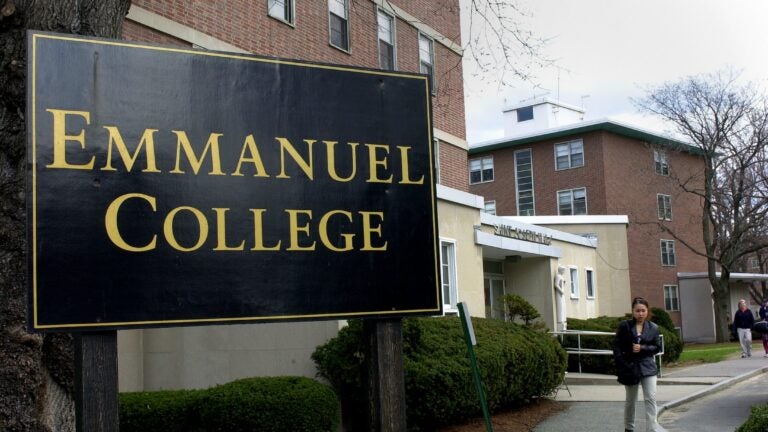 When Marcie Paez found out her favorite Emmanuel College professor, Dr. Jeffrey Fortin, was denied tenure, she knew it was time for the SAINTS to come together again.
SAINTS, or Students Acting for Institutional Transparency, was founded in 2014 after Emmanuel denied Professor Christopher Craig's tenure and declined to renew Professor Christina Kulich­-Vamvakas' contract. Although the group formed in response to these decisions, its long-term goal was for students to have input in every aspect of the college's academics decisions, with a specific focus on the promotion and tenure process.
"As a school that is so community based, having student input is essential," Paez said. "Students have no idea what's going on behind closed doors except for the fact that we're losing professors we care about."
Those professors ended up leaving the college and Paez said the school didn't improve transparency. But she's hoping this time will be different.
"Once I found out Dr. Fortin and Dr. Claire Mehta were denied tenure, I wanted to do something, I thought it was the perfect time to reignite the issue," she said. "We're constantly asking faculty and staff for our input to be taken into consideration, but students can't give input until they know what is happening."
SAINT's immediate goal is for Fortin and Mehta to be given "serious reconsideration to receive tenure in the light of their denial." Fortin and Mehta both denied requests for comment, citing the ongoing appeals process.
In the long-term, the students want more input into the tenure process, issuing a series of demands Thursday. They're demanding that the college create a student forum in which they can openly discuss the qualifications of professors up for promotion and tenure. They also want at least three non-voting student positions on the Faculty Promotion and Tenure Committee to relay student concerns.
They groups demands that student evaluations to contain a section where they can relay information pertinent to tenure decisions. Right now, Paez said the only way students can give feedback about professors is through course evaluations, which she said are flawed because they focus more on the course content than the professor.
"In most classes you do the work you need to do to get the grade you need to get," she said. "But Profesor Fortin is the kind of professor that wants to make students be successful in the classroom. He's gone out of his way to make us think about voices in history that haven't been heard, and that is hard to reflect on the current course evaluation."
Meghann Soby, a recent graduate who worked closely with Mehta during her time at the school, echoed these concerns.
"I never had her as a professor, so I couldn't tell the administration how she had a huge influence on me and helped me figure myself out," Soby said. "She has a real passion for what she does and the campus community, even if students aren't in her courses."
If the college does choose to deny a professor from receiving a promotion or tenure, Paez said the SAINTS demand a statement as to why, as well as the opportunity to react.
Sister Janet Eisner, the president of Emmanuel College, will review the appeals of the professors. She will also meet with the SAINTS group next week, according to Bob McDonald, a spokesman for the university.
"We are aware of the petition by the SAINTS group, which the College is reading and considering carefully," McDonald said in an email. "We have already assured the concerned students that we are highly attentive to the thoughtful points of view being expressed on matters related to faculty promotion and tenure."
If the administration fails to comply with the listed demands by June 6, the group said it will contact media outlets and alumni, as well as conduct a sit-in in Eisner's office, though Paez said that wouldn't occur until the fall semester.