Schools
Boston students launch new version of 'Know Your Rights' app
The updated version allows students to directly report incidents where schools violated their rights.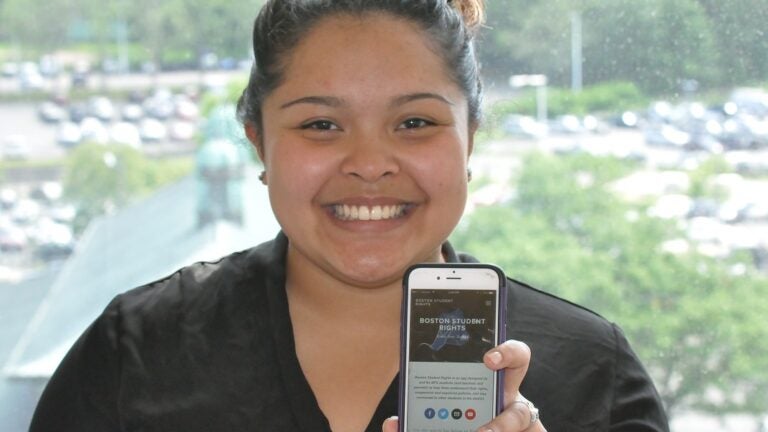 When members of the Boston Student Advisory Council launched the "Know Your Rights" app last spring, they wanted to do their part to decrease harsh disciplinary practices by listing information from the school's code of conduct in a clear and interactive form. The app, which is the first in the nation dedicated to protecting students' rights in discipline processes, received recognition from the White House and has since been downloaded more than 5,000 times.
But after instances of racism surfaced at Boston Latin School this past winter, the council wanted to do even more with the technology they created. They unveiled the '2.0' version Monday afternoon, which council member Keondre McClay said is intended to empower students to report violations of their rights.
"After students didn't feel like the district handled the instances of racism at BLS, we wanted to give them the tools to work directly with the school, who also said they'd work with us to make sure our concerns were being heard," the sophomore at Edward M. Kennedy Academy for Health Careers said.
Now, by clicking a button within the app, students will be redirected to the Boston Public Schools "Code of Conduct Grievance Form," where they can receive step-by-step instructions about how to handle incidents where their rights were violated. Once the complaint is filed, the form says someone from the Office of Equity will respond within three days.
"A lot of big district language used by officials doesn't make sense to kids," McClay said. "We wanted to make it clear so even middle schoolers could be informed, too."
The council members are a group of elected student activists working to address student-identified issues in the district. They launched the app because they wanted students of color, especially those from low-income backgrounds, to have access to their rights because they're often faced with high rates of suspension and expulsion.
McClay said the app connects students with support and legal services if they do face punitive action. It also addresses less serious matters, such as what to do if a cell phone is taken away.
"It's an amazing thing to help students protect themselves," he said. "Students don't care about pulling out rule books and trying to sift through them, but with this app the power is in their hands."
The app is available for Android on Google Play, and can be accessed on any device through visiting its website.