Schools
Bowdoin College rips Malcolm Gladwell for 'manipulative' report on its food
Suffice it to say that Gladwell and Bowdoin are in a bona fide food fight.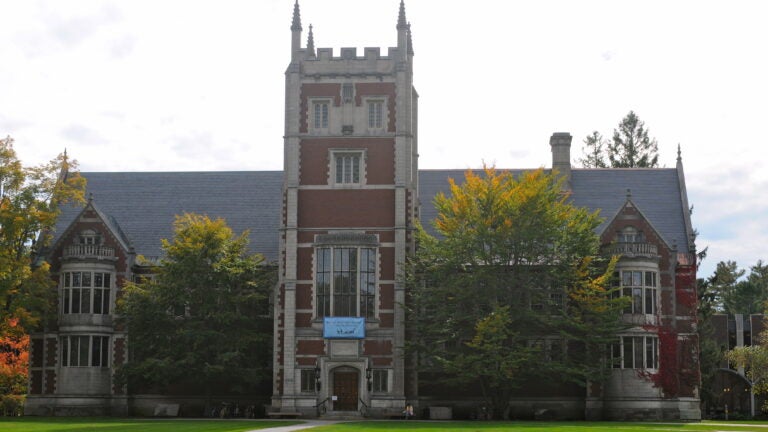 Malcolm Gladwell does not want you, your kids, or your friends to go to Bowdoin College.
Bowdoin, in turn, says Gladwell and his podcast producer took a "manipulative and disingenuous shot" at the Maine college and its well-regarded food and dining services.
The culinary clash started when Gladwell, The New Yorker writer and best-selling author, published his "Revisionist History" podcast. The episode, titled "Food Fight," argued that private liberal arts colleges that spend money on food do so at the expense of financial aid for poorer students.
"The food at Bowdoin is actually a problem. A moral problem," Gladwell says. "This episode is about what it takes for a poor kid to get a good college degree. And strange as it may sound, campus food at a place like Bowdoin is a big part of that problem."
In the episode, Gladwell contrasts Bowdoin, with its lobster bakes, venison, and overall delicious food, against Vassar, whose soggy pizzas leave a lot to be desired among students.
Yet Vassar ranks 8th on a New York Times index of college accessibility and affordability, as 22 percent of its students receive a Pell grant. Meanwhile, Bowdoin ranks 51st on the index, as just 12 percent of its students receive a Pell grant.
That, Gladwell argues, is not a coincidence.
"Vassar has terrible food. Bowdoin practically has a Michelin star," he says. "Why? Because Bowdoin doesn't spend nearly as much on financial aid as Vassar does."
Gladwell ends the episode by arguing that universities, which do not pay taxes, should spend more money on financial aid than on appeasing the tastes of its wealthier students.
"If you're looking at liberal arts colleges, don't go to Bowdoin, don't let your kids go to Bowdoin, don't let your friends go to Bowdoin, don't give money to Bowdoin, or to any other school that serves amazing food in its dining hall," he says. "Atrocious fresh fruit is a small price to pay for social justice."
That conclusion brought a sharp response from Bowdoin on Thursday, defending its "longstanding, unwavering, and unassailable" commitment to full financial need for all admitted students.
The response also took aim at the "disingenuous approach" of Gladwell and his show's producer, who interviewed Bowdoin's dining provider but did not speak to its financial aid officials.
"Malcolm Gladwell's podcast 'Revisionist History' (aptly named) takes a manipulative and disingenuous shot at Bowdoin College that is filled with false assumptions, anecdotal evidence, and incorrect conclusions," the school wrote.
Bowdoin argues that its food services are self-sustaining and do not take money from other revenue streams that would otherwise go to financial aid.
"This healthy food that Bowdoin provides is part of a longstanding tradition and a point of pride at the College, not, as Gladwell suggests, some recent marketing tactic to attract privileged students used to such fare," Bowdoin writes.
The podcast also brought a series of criticisms from Bowdoin graduates, including Deray Mckesson, a leader in the Black Lives Matter protest movement. He referred to Gladwell's report as a "sham."
.@Gladwell, there are many fair critiques of Bowdoin. But saying "the food is good therefore the college isn't focused on equity" is a sham.

— deray mckesson (@deray) July 15, 2016
In response to the backlash, Gladwell took a series of shots on Twitter at his critics, though they didn't address the criticism itself.
In retrospect this week's episode of https://t.co/2Mqc5Dwr4V should have included a trigger warning for Bowdoin grads.

— Malcolm Gladwell (@Gladwell) July 14, 2016
https://twitter.com/Gladwell/status/753726953157455872