Education
Seeking an apology, local college alumni burn belongings to protest sexual assault policies
The women plan to burn one item a week until their alma maters #JustSaySorry.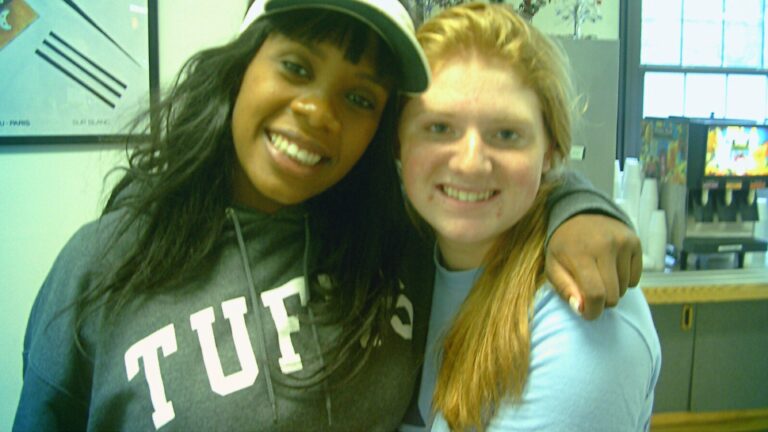 A gray Tufts sweatshirt was the first item of clothing Wagatwe Wanjuki excitedly purchased after learning she had been accepted to Tufts University. Then a senior in high school, Wanjuki wore it constantly.
But she recently tossed the sweatshirt onto a charcoal grill and set it on fire during a livestreamed Facebook video. The symbolic act launched the #JustSaySorry campaign, an online crusade being waged by two sexual assault survivors who plan on burning one item a week until their former alma maters apologize for failing to prevent sexual violence.
The video, which has been watched thousands of times, has inspired a slew of posts on social media from sexual assault survivors and their allies.
Wanjuki, 29, said she was sexually assaulted multiple times in 2008 by a fellow student with whom she was in an abusive relationship. When she tried to report him, she said the university told her their legal counsel didn't have to take action. Her grades began slipping. In the summer of 2009, she was forced to withdraw from the university due to academic concerns.
As the sweatshirt went up in flames, Wanjuki said: "I'm not proud to wear the sweatshirt of an institution that refuses to acknowledge that I exist, that survivors should be helped."
She also knows the problem isn't unique to Tufts. She's running the #JustSaySorry campaign with Kamilah Willingham, a rape survivor who graduated from Harvard Law School in 2012. The pair founded Survivors Eradicating Rape Culture, an organization dedicated to preventing sexual violence by eliminating its root causes, because they felt black women were on the margins of the fight against gender-based violence and wanted to do something to change that.
Willingham, whose story was recently chronicled in the documentary The Hunting Ground, burned her Harvard Law School admissions letter Tuesday. But first, she decided to torch a pair of Harvard sweatpants. In a piece for the feminist magazine The Establishment, she said that Wanjuki's video made her wish she'd kept more Harvard Law school attire so she could burn it now.
https://www.facebook.com/eradicaterape/videos/1678864242433088/
"I was not valued, and, as a Black woman at Harvard Law, there was seemingly nothing I could do to prove that I deserved for my school to stand by me when I was so brazenly degraded," she wrote in the article. "So I'm burning my Harvard sweatpants. And until and unless they apologize, I'll burn anything else that I have that suggests Harvard Law School is a school worthy of being celebrated—a school with integrity."
Robb London, a spokesman for Harvard Law School, declined to comment.
Kim Thurler, a spokeswoman for Tufts, said the university can't comment on individual cases like Wanjuki's. But she did stress that the university has made significant changes and enhancements to its sexual misconduct policies in recent years.
Thurler said the university no longer has a statute of limitations for lodging complaints and has created a formal, confidential, university-wide complaint process that prohibits retaliation against those who report incidents of sexual misconduct. Tufts has also expanded training on sexual misconduct for all students, faculty and staff university-wide, she said.
Wanjuki decided to ignite the shirt—rather than throw it in the trash—to show survivors that it's okay to be angry about what happened to them.
"I feel the burning is a great statement in terms of creating space for people to say how they feel and show it," she said. "As survivors, we're constantly told what we should be doing. I wanted to use this action to show that it's okay for survivors to be angry with what's happened to them in a way that's not going to be harmful to others."
Last week, Wanjuki burned her Tufts rule book that she kept from when she was a student. She said it was easier than burning the sweatshirt because she didn't have as much sentimental value attached.
"To have a school continue to ignore me and pretend I don't exist is dehumanizing," she said. "It replicates the impact of being sexually assaulted and them betraying me when I was on campus."
Wanjuki and Willingham plan to continue burning one item associated with their former schools—from T-shirts to student loan bills—each week until their universities apologize or they run out of items to burn.
"Sadly," Wanjuki said. "We'll probably run out of stuff first."