Schools
Here's what the Wheelock College-Boston University merger actually means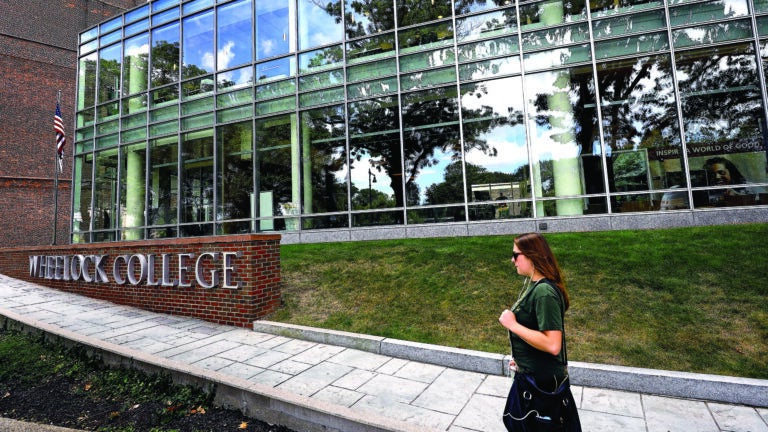 Get news as it happens. Sign up for Boston.com's email news alerts here.
It's a done deal: Boston University and Wheelock College have agreed to merge.
The two schools had said in August they were exploring the possibility of a "merger." However, a more accurate description of the agreement announced Wednesday may be that BU is absorbing its financially struggling, 130-year-old neighbor.
How the merger works
According to a press release Wednesday, the merger will take place June 1, 2018, and will give BU ownership of all of Wheelock's assets and liabilities.
Under the agreement, Wheelock's School of Education, Child Life and Family Studies will be combined with BU's School of Education to establish BU's Wheelock College of Education and Human Development. Wheelock President David Chard will serve as interim dean of the new school from the date of the merger until July 1, 2020. Chard will report to BU Provost Jean Morrison.
In a letter to the BU community, Robert Brown, the school's president, said the newly created school is the "cornerstone" of the merger and that BU will support "new faculty positions and expanded programming at WCEHD" with increased funding.
"The additional resources we plan to deploy gives Boston University the opportunity to commit with renewed energy to our long-standing efforts to promote quality early childhood and K–12 education as the foundation for the prosperity and stability of our city and the nation," Brown said.
In the press release, officials from both institutions said the newly created college would be mutually beneficial. Chard said WCEHD provides an opportunity to focus on innovation in education, which he said his college hasn't had the resources to do. BU officials said Wheelock's strengths in early education and continuing teacher education complement the School of Education's clinical education, doctoral education, and research programs.
The programs offered through Wheelock's other two schools will be "integrated" into similar existing programs at BU.
"There is a great deal of work to be done, including some difficult decisions about the scope and organization of the combined college and the integration of other programs of Wheelock College into Boston University," Brown said Wednesday. "However, we are confident that the results will be worth the effort."
According to the press release, Wheelock's endowment will be absorbed into BU's endowment and managed by the university's investment office. However, income from Wheelock's endowment will be devoted to support WCEHD. Donor restrictions will also be honored, while unrestricted donations will go toward WCEHD.
What it means for students
The roughly 1,000 undergraduate and graduate students at Wheelock will be able to continue their studies at BU — in some shape or form.
Beginning in the fall of 2018, officials say Wheelock students "in good standing" will be offered the opportunity to transfer into existing BU programs, continue in new, "select Wheelock programs" at BU, or enroll in transitional programs that BU will "teach out" so they can complete their Wheelock course of study.
According to Wednesday's press release, BU will honor the tuition rates and financial aid packages of current Wheelock students, so that their net tuition will be the same as the cost of attending their old school (though tuition may increase with inflation). Brown wrote that, beginning in 2018, all new students will be admitted through BU, "using our standards and processes."
Applicants to WCEHD following the merger will be subject to BU's requirements, tuition rates, and financial aid strategies.
"WCEHD students will be part of BU's student body, will complete the same general education program, and will have access to the same educational and cocurricular opportunities as other BU students," officials said.
Wheelock alumni will be treated as both alumni of WCEHD and BU.
What it means for staff
Here come those aforementioned "difficult decisions."
It's unclear whether layoffs may be forthcoming for Wheelock faculty and staff, but BU officials certainly alluded to the possibility Wednesday.
Officials say a "process" has been agreed to for determining the titles and responsibilities of tenured Wheelock faculty, who will transfer to BU. However, the "continuation" of non-tenured faculty members will be decided "on a case-by-case basis," according to the needs of BU's relevant academic units.
Wheelock's administrative and operational functions will also be merged into the equivalent units at BU.
"The University will offer Wheelock staff appropriate positions where it is practical to do so," Brown said.
What it means for Wheelock's campus
"Many of you have likely walked past or through the Wheelock campus," Brown wrote Wednesday. "The proximity to our campus is one of the attractive attributes that we took into account in our early review of the merger opportunity."
Wheelock's main campus is located along the Fens, less than a mile south from BU's campus. Brown says the "current plan" is to use the school's campus for BU academic programs.
In June, The Boston Globe reported that Wheelock was selling at least two buildings and reviewing the programs it offered. According to the Globe, the school has been facing an annual operating deficit of more than $2.5 million in recent years, decreased student enrollment, and a shrinking endowment.
Officials said Wednesday the school was projected to lose $6 million in the fiscal year of 2018 on a total operating budget of $30 million.
Wheelock solicited proposals for mergers from 60 other higher-learning institutions across the country. BU was one of six who responded.
"President Brown and I have discussed our intent to support Wheelock students and alumni during this transition and welcome them as part of the Boston University community," Chard said in a statement Wednesday. "Moreover, we both want to create a college of which our entire community can be proud."