Schools
An MIT student's tragic suicide has some asking whether schools can be held responsible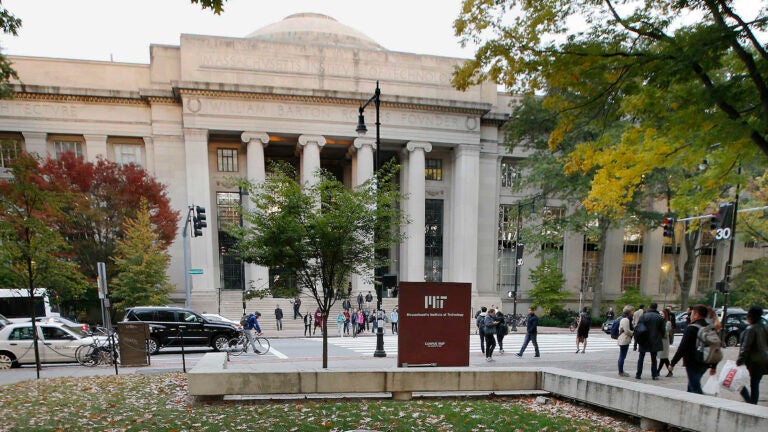 BOSTON (AP) — Han Nguyen was consumed by depression and struggling to stay afloat at one of the world's most prestigious universities. His mental health continued to decline until one day, moments after a professor confronted him about an offensive email, the 25-year-old jumped from the top of a campus building to his death.
Nguyen's suicide has sparked a contentious legal battle headed to Massachusetts' highest court over whether schools can be held responsible when students take their own lives. The case is being closely watched by colleges and universities, who say a decision against the Massachusetts Institute of Technology would place an unreasonable burden on untrained employees to stop suicides.
"It would be groundbreaking," said Gary Pavela, a consultant on law and policy issues in higher education and author of a book about legal questions surrounding student suicides. "It would cause alarm in higher education," he said.
The student's family says his death was preventable and that the school had a legal duty to use reasonable care to protect him from harm. Nguyen's professors and other MIT officials knew he was a suicide risk, but failed to get him the help he needed, an attorney for Nguyen's family argues.
Months before Nguyen's death, a professor encouraged his colleagues to pass him or they might have "blood on their hands." Moments before Nguyen jumped, the professor "read him the riot act" over an email Nguyen sent to another MIT official that they deemed inappropriate, court records say.
"Academic freedom is not a license to needlessly and recklessly endanger students known to be at risk of death with impunity; and this court should not allow it to become one at institutions that routinely admit students — many with mental health issues — as young as their mid-teens," attorney Jeffrey Beeler wrote in court documents.
Beeler declined to comment and said Nguyen's family didn't want to speak to the media.
MIT says the school wasn't aware of the severity of his condition and he was treated by outside professionals and refused on-campus resources. None of the nine professionals who treated Nguyen while he was at MIT believed he was an imminent risk of killing himself, the school says.
"Mr. Nguyen's suicide was a tragedy. That does not warrant a legal conclusion that MIT or any individual associated with MIT had a legal duty to prevent it," attorneys for the school, two professors and one dean named in the lawsuit say in court documents.
MIT, which refused to answer questions about the case, said in a statement it "remains committed to the well-being of its students, offering a robust network of support resources, including comprehensive mental health services."
Nguyen's family attorney disputes the idea that the man didn't want help and has accused MIT of blaming the victim.
No state supreme court has ever found that colleges and universities have a legal duty to prevent student suicides, MIT's attorneys say. Courts have generally been reluctant to do so because, among other things, suicide is an impulsive act that's difficult to predict, Pavela said.
A Massachusetts trial court judge ruled in 2005 that an MIT housemaster and dean could be held responsible for the death of a woman who lit herself on fire in her dorm room. But Elizabeth Shin's case, which was later settled for an undisclosed amount, never reached the state's highest court.
The Supreme Judicial Court will hear arguments in Nguyen's case on Tuesday after a lower court judge tossed the lawsuit last year.
A group of 18 colleges and universities — including Harvard University and Boston College — is urging the court to reject the case, saying a decision in favor of the family could have devastating consequences.
Fear of liability may cause professors and others without mental health expertise to overreact to concerns, which in turn could discourage students from coming forward with their problems, the schools say.
Dr. Paul Appelbaum, a psychiatry expert at Columbia University, agrees.
"To the extent that you heighten every resident assistant's sensitivity to the risk of suicidality, with the threat of liability hanging over them, they are far more likely to over predict, over intervene, see it where it's not," Appelbaum said.
The Nguyen family attorney and their supporters — including the Massachusetts Academy of Trial Attorneys — say the schools' concerns are baseless.
Beeler, in his filing, said he merely wants the court to affirm that the duty to provide reasonable care "extends to the ivory tower as it does every other civilized corner of the Commonwealth."
Thomas Murphy, chair of the amicus committee of the Massachusetts Academy of Trial Attorneys, says a jury should get to decide whether MIT was negligent and caused Nguyen's suicide.
"Maybe the school can convince them that they didn't cause (Nguyen's suicide) and it was going to happen anyway," he said.
___
Follow Alanna Durkin Richer at http://twitter.com/aedurkinricher. Read more of her work at http://bit.ly/2hIhzDb