Schools
Mount Ida College officials may face subpoenas from panel on closure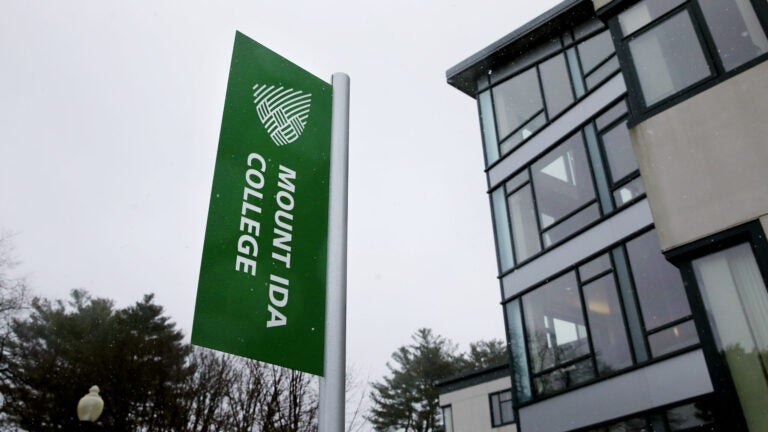 BOSTON (AP) — Top officials of a Massachusetts college that recently closed its doors declined to appear before lawmakers at an oversight hearing on Wednesday, prompting the head of the panel to warn it might issue subpoenas.
Mount Ida College, a small, private school in suburban Boston that traces its history to 1899, announced last month it was shutting down after the spring semester and that its assets and physical campus would be purchased by the University of Massachusetts-Amherst in a $75 million deal.
The chair of the Senate Post Audit and Oversight Committee, Democratic Sen. Kathleen O'Connor Ives, said it was "very, very disappointing" that the college's president, Barry Brown, and chief financial officer, Jason Potts, did not accept invitations to testify. While Brown had previously told the panel he would not be attending, Potts had been expected to testify but informed the committee otherwise on Wednesday, Ives said.
The panel would consider issuing subpoenas and holding a second hearing, she said. There was no immediate response to efforts to reach the officials through the school.
The chair of Mount Ida's unpaid board of trustees, Carmin Reiss, was left to answer pointed questions from committee members who pressed her on whether students or faculty at the school were misled about the extent of the school's financial distress that ultimately led to its demise.
"What baffles my mind is that neither the leadership of Mount Ida nor the board of trustees disclosed the financial problems to the students," said Republican Sen. Dean Tran, suggesting that if more information had been offered in recent years it may have influenced decisions by students whether to attend or continue studies.
Reiss said the school never tried to deceive anyone. She said Mount Ida had legally required and publicly available financial audits, but did not broadcast its situation to prospective students.
"Did we go out and announce, 'Hello, interested students, we're teetering on the brink of insolvency, but come on in?' No, we didn't do that because we believed we had a plan that was going to mean the college was going to survive and continue into the future," said Reiss.
Mount Ida struggled for years with enrollment and student retention and its costs chronically outpaced revenue, Reiss told lawmakers. The school's last, best hope for survival had been for a merger with nearby Lasell College, but that failed when trustees determined Lasell's final terms were not a viable option to protect Mount Ida students, she said.
On April 6, the school announced the arrangement with UMass-Amherst, which intends to use Mount Ida's campus to facilitate internship programs in the Boston area otherwise not available to students attending the western Massachusetts campus. UMass said it would not use taxpayer money for the deal.
Most Mount Ida students have been offered transfers to UMass-Dartmouth, but that school does not offer some specialized programs taught at Mount Ida.
"I feel betrayed, lost and heartbroken over what has happened in the last month," said Colleen Moroney, who was finishing her junior year in the school's dental hygienist program. "Right now I feel discouraged and not sure if I'll even be able to finish my education."
Another Massachusetts school, Regis College, has agreed to accept students in dental hygiene from Mount Ida, pending regulatory approval.
Moroney and several other students told lawmakers they had not been made aware of how serious the school's financial plight was until they received an email from school officials that it was closing.