Schools
UMass Boston's search for a new chancellor suddenly collapsed and now everyone is pointing fingers
All three finalists for the beleaguered university's top job withdrew their names from consideration.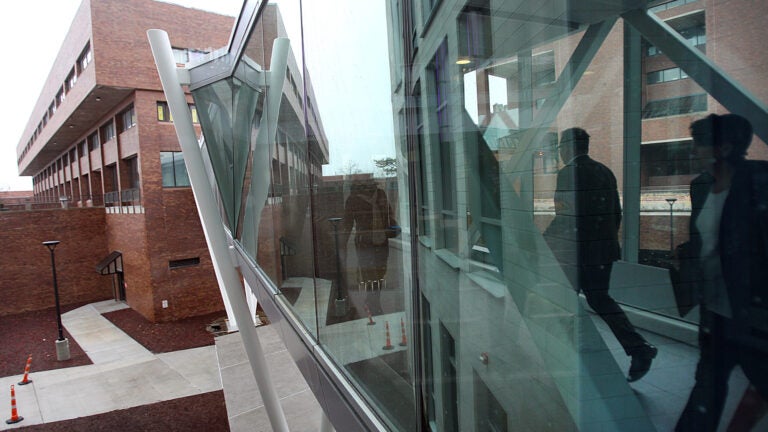 UMass Boston's search for a new chancellor has come to an "unceremonious" end, but the fallout appears to be just beginning.
UMass President Marty Meehan announced Monday that all three finalists to become the 16,000-student university's new chancellor had withdrawn their names from consideration, after UMass Boston faculty publicly questioned their qualifications.
"Over the weekend, all three candidates informed me of their extreme disappointment with those actions and that they were no longer interested in being considered to lead the campus as chancellor," Meehan said in a statement posted on the UMass website.
Meehan's statement has led to another round of stakeholders casting blame at each other, as the majority-minority research university on Columbia Point goes without a permanent leader for the indefinite future.
Seriously though, everyone is pointing fingers. Here's how we got here.
Lots of blame to go around
After considering 195 different candidates over seven months, the UMass Boston search committee announced three finalists to be the school's next chancellor earlier this month: Kathy Humphrey, a senior vice president at the University of Pittsburgh; Peter Lyons, a vice provost and dean at Georgia State University; and Jack Thomas, the president of Western Illinois University.
Meehan said the three college administrators were "exceptional finalists" capable of leading UMass Boston to "achieve its tremendous potential." The school's faculty disagreed.
In a statement last week, UMass Boston faculty ripped both the search process and the ultimate selections. The group, reportedly representing the concerns of 200 faculty members, said they were boxed out of the search process (the 15-person search committee had just two faculty representatives) and said that "none of the final candidates have demonstrated that they are sufficiently qualified."
According to the Chronicle of Higher Education, the marginalization of faculty input has become "a very common controversy" as colleges look for new leaders, due to a number of reasons, including the questionable, widespread use of search consultants.
"It is not surprising to us that a search so mired in process problems yielded a pool of candidates that do not have the skills, experience, or values that are needed to lead our unique, growing, and developing university," said the faculty's statement, which called on Meehan to reopen the search process and invite new applications though a process that "fully involves all UMB stakeholders."
Following the outcry, UMass officials announced that they would delay a planned vote on the new chancellor last week. And then on Monday, Meehan announced the search was off, after all three finalists withdrew. The former U.S. congressman said he was "mortified" to see the candidates' commitment and credentials so publicly questioned.
"I know the majority of you do not support the sensationalized critiques of these candidates' professional and academic qualifications and accomplishments," he wrote in his statement to the UMass Boston community.
Henry Thomas III, the chair of the search committee, released his own scathing statement, calling the public criticism from the "small segment" of UMass Boston's more than 1,000 full- and part-time academic faculty members "unprofessional," "unconscionable," "disrespectful," "shameful" and "mean spirited." Thomas even suggested the race of the faculty group was a factor.
"We find it particularly appalling that a faculty council representing a majority-minority campus but lacking a single African-American member would visit such disrespect and calumny on one of the country's few African-American sitting college presidents, a top African-American female university leader and an academic administrator from an institution that graduates more African-Americans than any college or university in the country," he said.
Faculty members are not backing down.
"We were reprimanded and disciplined as if we were wayward children who dared question his authority," Heike Schotten, a political science professor who will chair the faculty council next academic year, told The Boston Globe, in response to Meehan's criticism of the group.
"Over and over again the president and the board has forced us to go to the press because they won't speak to us," Zong-Guo Xia, a UMass Boston geography professor, told CommonWealth magazine. "We for the life of us can't get Marty Meehan to acknowledge us as a faculty."
In an interview with the Globe, Xia summarized the faculty's issues with each of the three finalists:
Xia said the UMass faculty's concerns about Jack Thomas included the no-confidence vote taken by Western Illinois faculty earlier this year, which questioned his leadership as university president.

Kathy Humphrey had experience in student affairs, but little academic leadership and scholarship that would be required to run a research university, Xia said.

And while Georgia State University has been an "aspirational peer university" that UMass Boston would like to emulate, the faculty felt Peter Lyons overstated his leadership in the school's turnaround.
Additionally, Schotten called Thomas' statement "shocking, outrageous, and a sidestepping of the issue."
"He basically accuses us of anti-black racism, all of which I find to be outrageous behavior on his part. I don't remember Mr. Thomas once speaking to faculty, talking to us, reaching out to us, having a conversation with us," she said in an interview with WBUR.
But at the same time, UMass Boston's student leaders are upset with faculty for effectively shutting down the school's chancellor search. In a statement Monday, the undergraduate student government said they were "left shocked and disappointed" by Meehan's announcement and, somewhat ironically, criticized faculty members from excluding their input.
"The faculty were the ones that disrespected the 16,000 students that they serve by depriving them of a permanent leader without consideration," the student government group tweeted Monday.
Katie Mitrano, the student body president, said she was "disappointed, disgusted, and infuriated by the actions of the faculty."
"I honestly don't think they took into account any student perspective," Mitrano told the Globe. "Those personnel were so qualified and so ready to lead, and [for the faculty] to disrespect them in that matter is disappointing."
The backdrop
This latest ordeal comes as UMass Boston tries to address a host of continuing troubles.
The chancellor search was spurred on by the resignation last April of former Chancellor J. Keith Motley, who led the university for 10 years. But as the Globe reported when Motley stepped down, UMass Boston faced "a deficit of up to $30 million, declining enrollment, overdue construction projects, and weakening fund-raising" — not to mention a massive, crumbling underground garage. Recent budget cuts, including layoffs, reportedly cut the school's yearly deficit to $5 million.
Before and after Motley's resignation, many in the UMass Boston and the local black community felt he was being scapegoated for the university's myriad of problems, noting that the UMass system's board of trustees oversees and approves large-scale construction and budgets on each of its five campuses.
More recently, the UMass Boston community was incensed by the sale of Mount Ida College — a now-defunct private college in Newton — to UMass Amherst. From student leaders to interim chancellor Barry Mills, the acquisition was taken as a slight and an encroachment on the Dorchester campus' territory.
"It has been painful to watch our campus crumble and hear about students finding it increasingly difficult to afford to come here, but now it is just plain insulting as UMass leaders decide to purchase a new campus in the Boston area and do nothing to assist the campus that is already here," UMass Boston student Madelin Walker said.
The deal led to a vote of no confidence in Meehan from the UMass Boston Faculty Council.
With the faculty now having killed the search for a new chancellor, Boston Herald columnist Joe Battenfield wrote Tuesday that the UMass president is facing "the biggest crisis yet of his three-year tenure."
"Meehan is used to nasty infighting — he was a member of Congress — but not even then did he face this level of dysfunction," Battenfield wrote, later adding, "Faculty and staff feel they've been unfairly targeted, and until Meehan addresses that, there's likely more nastiness coming."
So what does come next?
The school holds its commencement this weekend, which has the potential for some interesting scenes, and Meehan says Katherine Newman, the UMass system's senior vice president for academic affairs, has agreed to serve as interim chancellor going forward.
After speaking with search committee consultants, Meehan said Monday that reopening the search "would be a futile exercise" right now. The reason? According to Meehan, it's the faculty that bears the most blame.
"The search just completed was both exhaustive and comprehensive. Every avenue was pursued. Both traditional and non-traditional candidates were considered. There is no untapped pool of talent awaiting a call," he said. "But perhaps more significant, the very public way this search came to an end, with three finalists all withdrawing in the face of public opposition from members of the campus, renders a new search untenable at this time."
Perhaps the only one not pointing specific fingers are the local elected officials. Asked for his assessment of Meehan's work as UMass president, Gov. Charlie Baker deflected Tuesday.
"I'm disappointed about the whole way this thing has played out," Baker told reporters, as MassLive reported.
The governor also said he hopes Newman, the new interim chancellor, would "be able to give the students the clarity and the consistency that they said they were seeking, irrespective of whatever the board decides to do with respect to the search process."
Boston Mayor Marty Walsh, who has floated the idea of having the city takeover UMass Boston, said he hopes that, having improved their financial situation, the school can find someone forward-looking, whenever they restart the search process.
"Now it's about how do you lay down a foundation for the future," Walsh said. "I think what we need at UMass Boston is a visionary, somebody who can think about the future and what that school should be and continue to grow the school."