Schools
UMass president says local colleges are facing an 'existential threat'
"New England is, unfortunately, ground zero."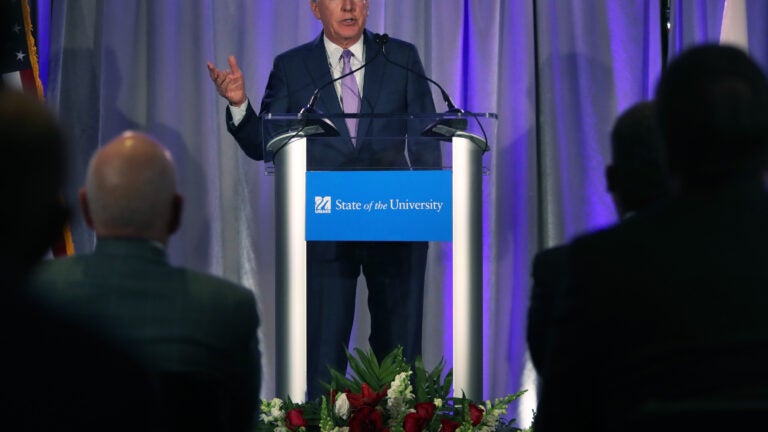 As yet another small New England college bites the dust, UMass President Marty Meehan is sounding alarms that an "existential threat" could soon cripple higher education across the region.
According to Meehan, local colleges are facing a demographic crisis. After the United States saw its college student population explode during the second half of the 20th century, overall enrollment has begun to decline in recent years — across the country and in school-saturated New England. In 2016, more than two thirds of private colleges and a majority of public colleges failed to meet their enrollment goals. Declining enrollment means declining tuition revenue — which in turn is increasing the financial pressure on colleges, particularly small schools.
And it's about to get worse.
While the recent dip in enrollment — and subsequent row of local college closures — has been attributed to a number of factors, experts say the enrollment trends are set to fall off a cliff. The reason is that the 2008 recession resulted in a historic downturn in the U.S. birth rate — effectively lighting the fuse of an 18-year time bomb for American colleges. Studies estimate that nearly 2.3 million fewer babies were born in the United States between 2008 and 2013, and the birth rate has continued to drop since then.
According to Meehan, the decline will result in a 32,000 to 54,000 decrease in the number of college-aged students in New England beginning in 2026.
"Make no mistake — this is an existential threat to entire sectors of higher education, and New England is, unfortunately, ground zero," the former Massachusetts congressman said in his State of the University speech Monday night.
Some experts predict that anywhere from 25 percent to even 50 percent of private colleges will close over the next decade. Several small schools in Vermont, most recently Southern Vermont College this week, have already announced plans to close. In Massachusetts, Newbury College will shut down this spring, while last year saw the abrupt closure of Mount Ida College and Wheelock College's absorption by Boston University.
As a large, public institution, the five-campus UMass system has more resources to weather the demogrphic crisis, but Meehan still wants to position the university to attract a new pool of students: adults.
In his speech Monday night, Meehan announced a plan to create a new online college for adult learners that he envisions will compete with the likes of Southern New Hampshire University, which has ridden online courses to become one of the biggest schools in the country.
"Over the next several years, there will be four to five major players in online education with strong regional footholds, and we intend to be one of them," he said.
Around 15,000 of SNHU's more than 100,000 enrollees are estimated to be Massachusetts residents. Meehan suggested that UMass's online college should be able to attract students from that pool. The new school would scale the university's ability to provide workforce training amid a changing economy, while any net revenue would be returned to the five physical UMass campuses for undergraduate and graduate students.
Meehan said the current climate in higher education — "and in the life cycle of the University of Massachusetts" — calls for "resolute action."
"We must take bold and decisive steps to ensure we continue to fulfill our critical mission of access, opportunity and excellence, and that we remain the world-class public research university the Saxon Commission envisioned 30 years ago — the world-class public research university this Commonwealth needs and deserves," he said.
However, the future for local colleges without a $700 million endowment remains much more unclear.