Schools
Hampshire College announces incoming class of 15 students
"We're grateful for their trust."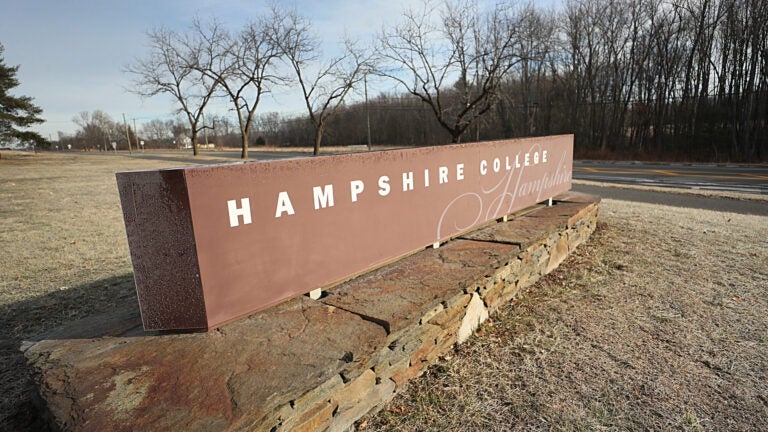 Hampshire College has always had relatively small class sizes, but never anything like this.
The financially struggling Amherst liberal arts school announced Wednesday that its incoming freshman class will be just 15 students, as it continues to look for a sustainable path forward. The number of fall 2019 enrollees amounts to a nearly 94 percent decrease from the college's 2018 class of 290 students.
"We're grateful for their trust, and we look forward to welcoming them at Orientation in the fall," Ken Rosenthal, the interim president of Hampshire College, wrote in a letter to the school's community.
Rosenthal said the college is projected to enroll a total of 600 students next year, down from 1,175 this academic year.
Hampshire College's former president, Miriam Nelson, resigned last month amid discord over its financial restructuring.
In January, the 49-year-old Western Massachusetts school — known for its unconventional, student-led curriculum — abruptly announced that it was struggling to address the larger trend of declining college enrollment and was seeking to merge with another institution. A number of similarly-sized colleges, particularly in New England, have been forced to close or merge with larger schools in recent years due to decreasing enrollment, which experts say will only worsen over the next decade.
Hampshire College officials have maintained that the school has no plans to close, but the incoming freshman class had previously been in doubt. The school announced in February that it would only admit 77 students this fall (those who had already been accepted at the time). Apparently, only 15 ultimately decided to commit.
Last month, the college announced it was laying off 24 staff employees and that 58 faculty members were voluntarily taking leaves of absence, reducing their roles, or retiring to help deal with the budget crisis. The cuts — roughly 45 percent of the faculty salary budget — decreased the number of teachers and advisers available to students from 114 to 73, according to MassLive.com.
School leaders have also embarked on an "unprecedented" fundraising campaign, spearheaded by some of Hampshire College's most well-known alumni, to raise $20 million in cash by June 2020 and $100 million over the next five years. Their current endowment is $52 million, according to the college's website. Rosenthal wrote Wednesday that the fundraising effort has "a tremendous amount of momentum."
Hampshire College's Board of Trustees voted in February to not enroll any additional applicants for fall 2019 or spring 2020, but Rosenthal and other school leaders have hopes of welcoming a small freshman class next spring. On Wednesday, Rosenthal said the admissions office is working to let visitors come to the Amherst campus this summer, "a preliminary step" toward potentialy resuming recruitment "in the near future." He also noted in the letter that there are "many accredited colleges across the country that successfully operate with fewer than 600 students" — and do so without the support of anything like the Five College Consortium.
"Hampshire is committed to operating successfully as a smaller college while we restructure and rebuild for a long, sustainable future," Rosenthal wrote.