Schools
MIT reveals how much money they got from Jeffrey Epstein, and pledges to donate it to charity
"No apology can undo that."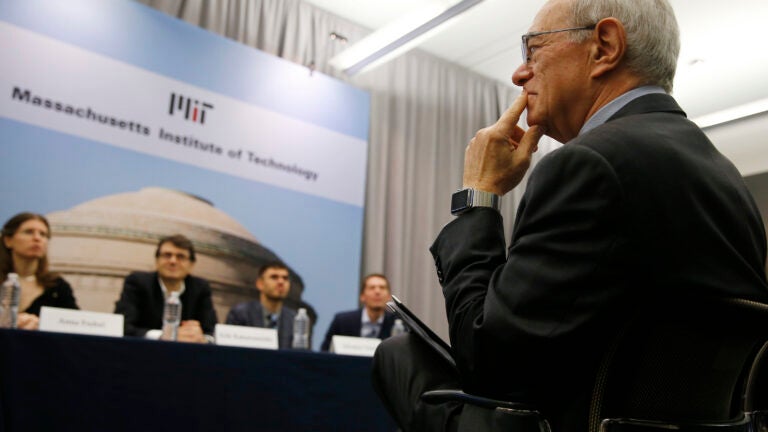 MIT President L. Rafael Reif says the university owes more than an apology for the amount of money it received from Jeffrey Epstein, the since-deceased Florida billionaire accused of running a sex ring.
In an open letter to the MIT community Thursday evening, Reif revealed that the renowned Cambridge university had received a total of $800,000 over the last 20 years from foundations run by Epstein.
The 66-year-old former hedge-fund manager, who was first arrested on sex charges in 2006, was found dead from an apparent suicide in his jail cell earlier this month while awaiting trial on new charges of sexually abusing and trafficking dozens of underage girls.
A self-described "science philanthropist," Epstein had donated millions to Boston-area initiatives — mostly related to Harvard. However, the $800,000 figure that Reif revealed he had contributed to MIT was more than had previously been disclosed.
In his letter, the MIT president offered "a profound and humble apology" to Epstein's victims. And unlike Harvard (which says it has no plans to return the money Epstein donated), he announced the university would donate the same amount of money they received from Epstein's foundations to a charity to benefit his victims or other victims of sexual abuse.
"With hindsight, we recognize with shame and distress that we allowed MIT to contribute to the elevation of his reputation, which in turn served to distract from his horrifying acts," Reif said. "No apology can undo that."
According to Reif, all of Epstein's financial gifts went to the MIT Media Lab or psychics professor Seth Lloyd. Joi Ito, the director of the Media Lab, and Lloyd both apologized this week for previously meeting with Epstein and accepting his money.
At least two Media Lab professors have announced their resignations in the wake of the revelations, citing what they felt was Epstein's irreconcilable involvement with the research center.
Ito, in particular, has faced calls for his resignation. However, Reif looked to shift the blame away from individual faculty members.
While MIT gives it faculty "great freedom in conducting and building support for their research," he said decisions about gifts "are always subject to longstanding Institute processes and principles."
"To my great regret, despite following the processes that have served MIT well for many years, in this instance we made a mistake of judgment," Reif said.
MIT will also launch an inquiry into Epstein's donations to identify lessons for the future, review their current processes and to look for ways to improve them.
Reif encouraged faculty members to come forward with questions or uncertainties in the future about particular funders and asked for the community's understanding as some staffers perhaps grapple with the ethical dilemma of benefitting from Epstein's contributions — "unknowingly or without full understanding."
"Because the accusations against Jeffrey Epstein are so shocking, it can be difficult to maintain a fair understanding about what individuals at MIT could have been expected to know at the time, but I hope we can offer these members of our community the reassurance of our compassionate understanding," he said.