Schools
Emerson College is considering a 'merger' with a small Vermont college. Here's how it would work.
Emerson's president says it would be "extraordinary." Marlboro College's president calls it "bittersweet."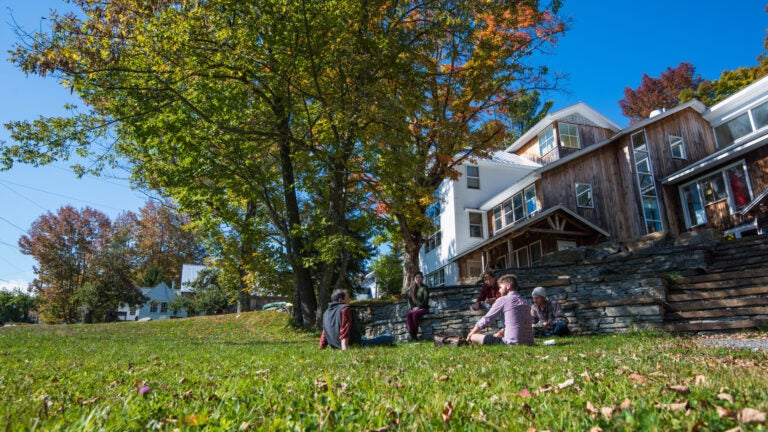 Emerson College is exploring a merger with Marlboro College, a small liberal arts school in southern Vermont.
But according to Emerson President Lee Pelton, it might be easier to think of the prospective agreement more like a $40 million donation to the Boston school.
Officials from the two colleges announced Wednesday morning that they plan to explore a "merger" between Emerson and Marlboro, which is among a number of small Vermont colleges that have struggled financially due to the growing crisis of declining college enrollment.
Under the preliminary deal, Emerson would effectively absorb Marlboro, which would close its scenic Vermont campus next spring and continue on under the Boston college's liberal arts program.
Beginning next fall, the 150 students currently enrolled at Marlboro would have the option of finishing their degrees at Emerson at their current tuition rates (unless they switch majors or transfer to one of the college's campuses outside of Boston).
The Vermont college's tenured and tenure-track faculty would also be able to move and teach at the Boston campus, which Marlboro President Kevin Quigley characterized Wednesday as "a significant commitment by Emerson." In a letter to the Marlboro community, Quigley said the administration was working to develop severance packages for the rest of the staff.
"While this announcement is bittersweet, we do look forward to the many opportunities that the alliance with Emerson will provide for our students," he wrote.
In return, Marlboro would give Emerson its endowment and its campus real estate, valued at more than $30 million and $10 million, respectively. Emerson would then rename its liberal arts and interdisciplinary studies program in Boston as the Marlboro Institute for Liberal Arts and Interdisciplinary Studies.
Pelton compared the outlined deal to an individual making a $40 million donation to endow one of Emerson's existing programs.
"The gift will permanently fund the institute and increase Emerson's endowment by 17 percent," he said in an announcement video Wednesday.
The "extraordinary alliance," Pelton said, would "keep the Marlboro legacy alive — on our campus." Under the deal, the Emerson president said that Marlboro students would "benefit from enhanced educational programs," while the college's staff would be able to "continue to teach in an environment that supports intellectual creativity, innovation, and experiential learning."
Still, it's unclear what percentage of Marlboro students — or faculty — would decide to make the switch from a small school in rural Vermont to a 4,570-student college in downtown Boston.
Similar to Hampshire College (which has also recently experienced dire financial hardships), Marlboro is known for allowing its students to design their own course curriculums. Emerson officials say the college has a similar self-directed program in its current Institute for Liberal Arts and Interdisciplinary Studies.
Quigley said the alliance would afford Marlboro students the benefits of Emerson's strengths in the liberal arts, theater arts, and communications, as well as the "numerous opportunities offered by the city of Boston." But those who would rather continue their studies elsewhere will "receive Marlboro's full support in their transfer process," he said.
It also remains unclear what exactly would happen with Marlboro's 360-acre hillside campus in the Green Mountains. Quigley said school officials are "committed to working with Emerson" to discuss its future, including the role of an annual summer music festival held on campus, which he expressed hope would continue.
There are other details still left to be worked out, and the proposed merger with Emerson isn't the first time Marlboro has entered such discussions.
The college had previously explored merging with the University of Bridgeport in Connecticut, in which it would have retained its Vermont campus. However, the two schools cut off talks in September, citing "insurmountable barriers" to developing a sustainable financial and academic model.
While the negotiations this time around are still in their early stages, Quigley said Wednesday that he is "highly optimistic that a final agreement will be reached." The two sides are hoping to finalize the alliance by July 1.
"The decision to partner with Emerson and move to their campus was not easy for anyone, and it comes after years of seeking ways for Marlboro to remain independent on Potash Hill," Quigley wrote.
According to the college president, Marlboro's accreditors have expressed concern about the school's sustainability since 2015 and had stepped up scrutiny in recent years. Despite its relatively sizable endowment, the college has seen enrollment drop more than half since its 350-student peak in 2004.
Marlboro is hardly the only school facing such a problem. Vermont alone has seen three colleges announce plans to close this year, amid a nationwide decline in college enrollment that some have characterized as an "existential threat." Experts say the crisis will hit New England particularly hard, due to the region's rich history of small liberal arts colleges.
While the possible cross-state merger between Emerson and Marlboro is unique, the proposed agreement isn't unprecedented in the current climate.
In a similar 2017 merger, Boston University absorbed its smaller, struggling neighbor, Wheelock College, along with its students and some of its staff. In Newton, Mount Ida College and Lasell College explored a merger in 2018, before talks faltered and the former ended up closing and selling its campus to UMass Amherst. Hampshire College also reportedly discussed merging with UMass Amherst.
In his letter to the Marlboro community, Quigley said it had been "sobering to watch a number of our neighboring schools make excruciating decisions to close." And though he recognized there would be mixed reactions to the news Wednesday, Quigley said the potential merger with Emerson would at least allow the 73-year-old college to live on — if not in Vermont.
"We hope everyone will come to share our genuine optimism for the real future that the Marlboro Institute at Emerson offers and continue to support our mission," he said.