Schools
This small Vermont college plans to merge with Emerson. Local residents say it would be 'devastating.'
"This isn't a merger; it's a closure."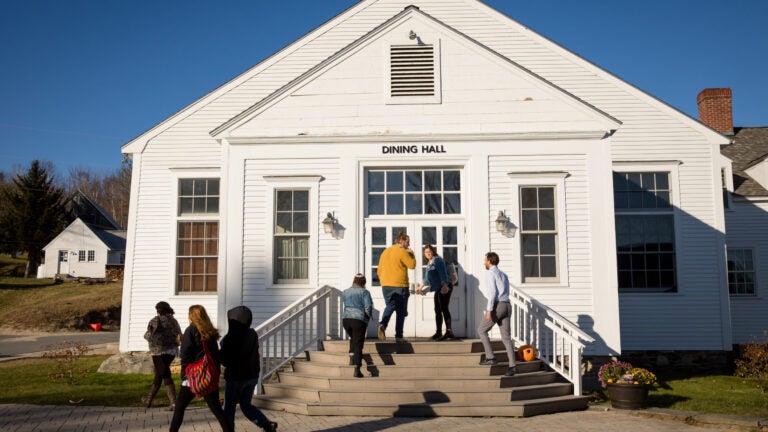 Marlboro College community members are protesting the plan to fold the small southern Vermont school into Emerson College. And they're making a last-ditch effort to keep the scenic campus in the Green Mountains open, citing the potentially crippling economic effects of its closure on the college's eponymous town of less than 1,000.
"This isn't a merger; it's a closure," T. Hunter Wilson, a Marlboro resident and former literature professor at the college, said in a statement. "It would be a devastating blow to the town."
The proposed merger plan calls for Emerson to effectively absorb Marlboro College — one of the many small New England liberal arts colleges hitting a financial wall amid declining enrollment — into its Boston campus.
In an announcement last month, Emerson President Lee Pelton said the college would acquire Marlboro's endowment and campus real estate, which are valued at more than $30 million and $10 million, respectively. In return, Emerson would rename its liberal arts and interdisciplinary studies program after Marlboro, which would close next spring. The shrinking Vermont college's roughly 150 students and its tenured and tenure-track faculty members would also have the option of continuing their studies and work at Emerson — a dramatic switch from pastoral New England to the heart of Boston.
The two colleges are hoping to finalize the deal by July 1.
"It's a very expensive way to save 20 jobs," Adrian Segar, a former Marlboro professor spearheading the effort with Wilson opposing the merger, told Boston.com in an interview Friday.
Segar, a resident of Marlboro for more than 40 years, noted that upwards of 60 other nontenured college staffers would still lose their jobs. But his primary concern is the lasting impact of the rural town losing its biggest employer. In addition to the direct and indirect job losses, Segar says the closure could result in the loss of the town's post office and undercut its elementary school, which had benefited from serving the children of college faculty and persevered against a tide of school consolidation in Vermont.
Furthermore, Marlboro would lose a 73-year-old core piece of its cultural identity. While college officials are hopeful about continuing the renowned music festival held on its campus each summer,  Segar says his understanding is that Emerson plans to sell the school's 366-acre property, which he fears.
"This will impact us forever," Segar said.
Like several small Vermont colleges, Marlboro has faced scrutiny from accreditors due to its financial challenges. However, Segar and Wilson are hoping to mirror other alumni-backed efforts, such as at Hampshire College and Sweet Briar College in Virginia, to raise funds and keep their schools afloat in the face of impending death.
Segar says a request for action he posted Tuesday received "close to 100" offers of tangible help, from legal to financial assistance. And while they aren't currently collecting any petition signatures, he counted their supporters in the "hundreds," estimating that the "vast majority" of Marlboro College alumni and town residents support their effort. Segar organized a town meeting focusing on the subject last month that he says was attended by 75 to 80 people.
The coalition of supporters also released a plan Friday to "reboot" Marlboro College, developed by Dr. David Williamson, a Miami University in Ohio professor of business management, who is also a Marlboro alumnus and town resident. Williamson's plan calls for adding "revenue-generating, career-track programs" to Marlboro's foundational student-directed curriculum.
"This new approach will allow liberal arts students to graduate with the mix of research, writing skills, and critical thinking for which the College is currently known, together with the opportunity to major or minor in cutting-edge vocations in the arts and sciences," the group said, stressing that Williamson's plans wouldn't require any additional endowment funds.
An Emerson spokeswoman said Friday that she was "just learning about this," and a Marlboro College spokesman said the school was declining comment until after a scheduled meeting with Segar's group next week.
But so far, alternative outside proposals haven't gained much traction. Segar says the previous offers of assistance from alumni and others during a since-abandoned merger plan with the University of Bridgeport in Connecticut were "met with radio silence" from Marlboro officials.
"We are fighting to keep this unique and beloved school open, and we intend to persist," Wilson said.
Marlboro College recently invited a group of Emerson students to tour the Potash Hill campus over the long Thanksgiving weekend, and, according to Marlboro student Aaron Pilarcik, the 10 visitors were "enamored" by its "magic."
However, the school's financial realities and larger trends in higher education put its leaders in a difficult situation.
Marlboro College reportedly ran a $2.7 million deficit in the 2018 fiscal year, and one of its strategic task force members told local residents last month that, besides Emerson, there are "no other institutions in the wings." Earlier this week, The Brattleboro Reformer posted a letter to the editor from Marlboro College's tenured and tenure-track facility, who have the option of moving to teach at Emerson and support the Emerson merger — even if isn't their preferred option.
"Our first choice would be for Marlboro College to remain an independent and vital institution on our beloved Potash Hill, continuing to engage students in this beautiful rural environment and community," they wrote. "But we recognize that this model — though cherished by all of us — is no longer sustainable without an unprecedented infusion of money to our endowment."