Schools
Some Massachusetts high schools are turning graduation into a drive-thru parade
"This is definitely the cherry on top," said Danny Harrington, Franklin High School's senior class president.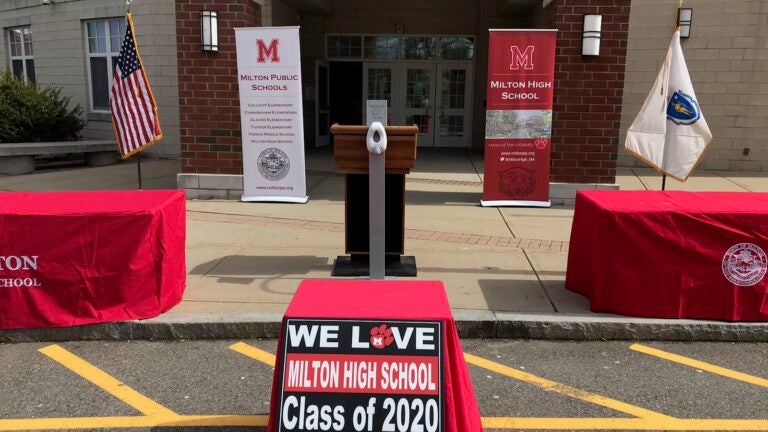 Despite the coronavirus pandemic, some high school seniors across Massachusetts will be able to line up to receive their diplomas, ceremoniously turn their tassels, and toss their caps — at a drive-thru parade.
Over the past few weeks, several Massachusetts high schools have announced they will be holding graduation parades as a socially-distanced alternative to traditional ceremonies.
The idea first came to James Jette, principal of Milton High School, which is scheduled to graduate its senior class on June 7.
"I have a number of students at the senior class who have chronic health issues, whether it's asthma, diabetes, a heart condition, some battle cancer — and that's not even counting the immediate parent or guardians who would then have to make a decision not to come, if we [tried] to put everybody together in one one area," said Jette. "We're not forcing people to choose between their health and this."
Jette shared Milton High School's graduation plan with a group of high school principals across the Bay State — and the idea took off. Ashland, Needham, Norwood, Dover-Sherborn, Walpole, Stoughton, and Franklin high schools among several others, all adapted the idea for their own ceremonies.
Although the details vary from school to school, drive-thru parades will generally involve seniors and their families – who are encouraged to decorate their cars — driving on a designated route to the high school where they will pull up to a table and podium. Teachers and administrators will announce their names and provide diplomas. To avoid large gatherings, some drive-thru graduations, like at Franklin High School, will also air the ceremony and speeches on TV the same day, along with sharing submitted videos of seniors and their families for those who cannot make the trip.
"It's fitting for the class of 2020," said Danny Harrington, Franklin High School's senior class president, who helped plan his school's graduation parade on June 5. "This class was different than the other ones; there was something special, and this is definitely the cherry on top. This is what is going to make our class unique and leave a mark on Franklin High School."
There was interest from families to consider postponing a traditional in-person graduation for later in the summer, but administrators wanted to avoid scheduling conflicts and playing a waiting game in uncertain times.
"We don't want to over promise and under deliver," said Franklin High School principal Paul Peri. "We also have people who are heading to the military, who are moving out of town, who are going to their colleges and universities early, and they need that diploma."
Still, both Peri and Jette said most students, parents, and community members are excited for having graduations amid the pandemic — however unusual they may be.
"It's definitely…more than reasonable," said Harrington of the upcoming graduation parade. "I think it's exciting, it's new, and it's fun."