Schools
'This is not a political game to us': President of Boston Teachers Union says negotiations aren't holding up district's reopening decision
"We will NOT be the scapegoats for the failure of the district and city to do what is right, expeditiously."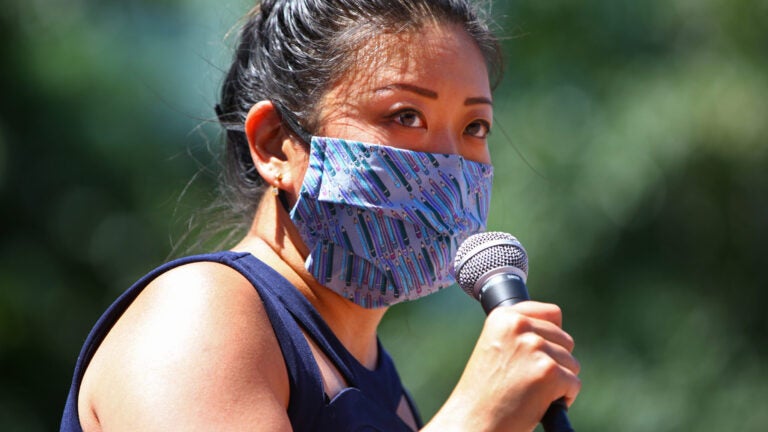 The president of the Boston Teachers Union issued a statement over the weekend seeking to dispel any notion that union negotiations with the district are keeping school officials from announcing their plan for starting the school year amid the coronavirus pandemic.
Jessica Tang posted her statement first on Facebook around 2:30 a.m. on Saturday and then shared the post on Twitter, saying she was "so troubled by the state of things" she couldn't sleep.
"I want to be extra clear about something…The failure of the district and city to quickly and decisively make a decision about how to start the school year has NOTHING to do with negotiations!" she wrote. "If you thought that 'the union' was holding up the decision somehow, please know that we at the BTU are not. We only negotiate the impact of the decision on working conditions…which we have made very little progress on because there is no decision and we have been given no proposals thus far."
I wrote a post last night ar 3am, not expecting many ppl to see it…apparently it resonated w/ folks so I'm sharing it here, too. I was troubled to see that some folks thought our negotiations were holding up a decision on the BPS school start. Not true: https://t.co/XouhkcLkwv

— Jessica Tang (@JessJTang) August 15, 2020
On Saturday, Boston Public Schools released its latest reopening plans, saying the district still would take "the time we need" to choose between a hybrid learning model and an all-remote start to the year.
"Boston Public Schools will either: (a) reopen school in a hybrid learning model through which students alternate between returning to school buildings and continuing to learn remotely; or (b) reopen school remotely for all students," the plan reads. "We will continue to monitor local health data and will be guided by the advice of our public health officials as we get closer to our anticipated start date."
The first day of school has been pushed back to Sept. 21.
According to The Boston Globe, the updated plan could allow parents to choose how their children learn in the fall. Depending on public health metrics and the virus, parents have the option of selecting all-remote or two different hybrid options for fall learning.
"There is no one solution that will work best for every student, every family, or every person who works with Boston Public Schools," the plan reads. "Recognizing and respecting that fact, the BPS Reopening Plan provides several learning model options for families to choose in order to best meet the educational needs of their children."
The updated plan from Boston Public Schools came a day after the deadline for districts to file their plans for the start of the school year with the state Department of Elementary and Secondary Education.
In early August, the Boston Teachers Union released its own plan to start the school year fully remote, with a phased-in return to in-person learning. Last week, the union held a series of actions and rallies to advocate for their proposal.
"We have been advocating for months now for BPS to start planning and make a decision, which more recently we have said must be all remote—with exceptions only when and where it is safe for those who most need in-person services—because it has become abundantly clear that BPS is not ready and we have gotten no assurances of safety in our dilapidated buildings that have no air ventilation (and have historically lacked basic things like soap and warm water)," Tang wrote in her early Saturday statement on the district's planning process. "We will NOT be the scapegoats for the failure of the district and city to do what is right, expeditiously… just like they tried to blame us in the spring, too. For the record, we offered to meet any day, any night, even on weekends to get it all done as quickly as possible in the interests of all impacted. That offer continues to stand today and always has. This is not a political game to us—it is a life or death fight for what is right and best for our students, families, educators and community."
In a statement to the Globe following the release of the district's latest plan for the start of the school year, Tang called the new iteration an improvement but said outstanding issues need to be addressed.
"The district needs to immediately announce that we will be returning remotely first, with a phased-in return for students most in need of in-person services," Tang told the newspaper. "The decision is long overdue and parents, students and educators need to be able to plan and prepare for the restart. We hope to continue to work with the city and district to get this restart done well and provide the highest quality education possible during this pandemic."
The union leader isn't the only official expressing frustration that the district hasn't settled on an approach.
"We still don't have a decision on BPS reopening but instead an 80+ page doc w/ no decisive plan," City Councilor Andrea Campbell wrote on Twitter. "I absolutely think the year should begin remotely, and every day the district delays this decision, we lose opportunities to prepare our students for success."