Schools
Black girls in Massachusetts are almost 4 times as likely to be disciplined in school than white girls, report finds
"The school-to-prison pipeline is very much alive in Massachusetts."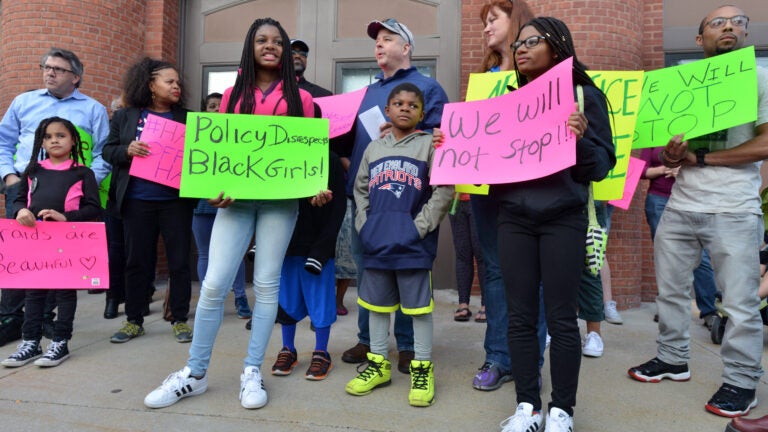 Black girls in Massachusetts are roughly 3.9 times as likely to be disciplined in school than white girls, a year-long research project found. 
The Appleseed Network, a nonprofit group comprising independent organizations dedicated to social and legal justice, released a report last week detailing the findings of the project, which examined the disparity in school disciplinary treatment of Black girls in Massachusetts, Alabama, and Kansas. 
The network examined data collected by the U.S. Department of Education's Civil Rights Data Collection in 2015 pertaining to in-school suspensions, out-of-school suspensions, expulsions, referrals to law enforcement, and school-related arrests. Taking into account the five areas of discipline, the disparity in Massachusetts was slightly higher than that found in Alabama — where Black girls are roughly 3.7 times more likely to be disciplined — and lower than Kansas, where Black girls are roughly 6.2 times more likely more likely to be punished, according to the report, "Protecting Girls of Color from the School-to-Prison Pipeline." 
Across the three states, the nonprofit found that Black girls are consistently disciplined at a higher rate — roughly 5.2 times more likely — than their white female classmates.
"Often, discipline is incurred more or to a greater extent by Black girls than their white peers for similar behavior," the group said in a statement. "The findings also emphasize the significant change needed in school district disciplinary policies and data collection methods in order to protect girls of color from being funneled into the school-to-prison pipeline by means of excessive school discipline."
While there were 40,132 Black girls enrolled for the 2015-2016 school year in Massachusetts compared to 278,310 white girls, Black girls disproportionately received punishment across the five discipline areas in the Bay State. According to the Appleseed Network, compared to their white female classmates, Black girls in Massachusetts are roughly three times more likely to be given at least one in-school suspension, five times more likely to receive at least one out-of-school suspension, five times more likely to be expelled, one-and-a-half times more likely to be referred to law enforcement, and four times more likely to have a school-related arrest.
"It demonstrates the devastating impact that the intersection of gender and racial discrimination is having on Black girls in Massachusetts schools, and the indisputable need to include our classrooms in the ongoing dialogues about systemic racism currently sweeping the country," Deb Silva, executive director of Massachusetts Appleseed, said in a statement. "The school-to-prison pipeline is very much alive in Massachusetts, and this report is an important step forward in our work to advocate against the unjust school discipline policies that target and punish girls of color and promote a more inclusive and supportive vision of education."
The nonprofit network urged that more data is needed to highlight the urgency for addressing the reforming of school discipline, saying mandating more consistent data collection at the state and federal level is needed.
The network also pointed to the need for more legislation like the "PUSHOUT Act" introduced by Rep. Ayanna Pressley at the end of 2019, which would establish $2.5 billion in new federal grants to assist states and school districts that commit to banning discriminatory school discipline practices. 
"When we unfairly discipline our girls, we rob them of their childhood by treating them as if they need less protection, nurturing, and comfort than other children," Pressley wrote in a 2019 op-ed in the Boston Globe with Dr. Monique Morris. "We fail to see their humanity and we fail to respond to the adverse childhood experiences that so many of us experience in our youth. These disturbing discrepancies are the result of a failure to cultivate schools as locations for healing so that they can be locations for learning."
Information from the Associated Press was used in this report.