Schools
Charlie Baker's administration is pushing 16 school districts to resume in-person classes
Teachers are pushing back.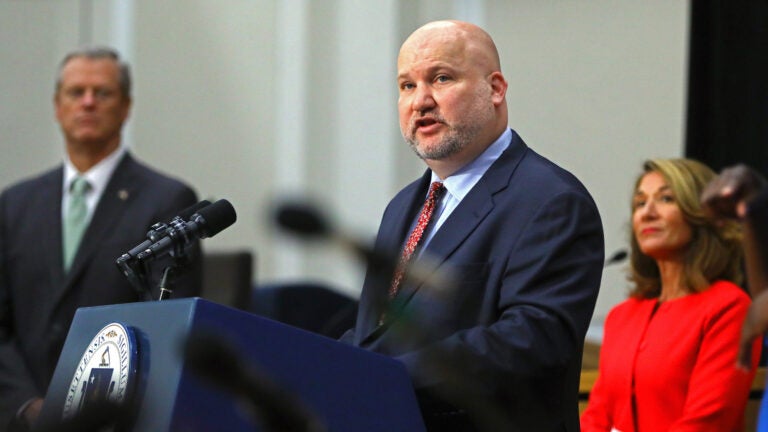 Sixteen school districts in Massachusetts have resumed the academic year with entirely online learning programs even as COVID-19 levels remain generally low in their communities.
Gov. Charlie Baker's administration is pressing to know when that will change.
In a letter Friday to the 16 districts, Education Commissioner Jeff Riley said he was "concerned" by local officials' decisions to continue with remote learning models, given their communities' consistent green or gray designations on the state's color-coded coronavirus risk map along with "the known challenges and consequences of keeping students out of school" in terms of equity, educational development, and mental health.
Riley wrote that the administration had generally only recommended remote learning for communities that had been in the "red" category for high COVID-19 risk for three weeks in a row.
His letter was sent to 16 districts, according to a spokesperson for Riley's office: Amesbury, Belmont, Berkshire Arts and Technology Charter Public, Bourne, Boxford, East Longmeadow, Gardner, Gill-Montague, Hoosac Valley Regional, Manchester Essex Regional, Mohawk Trail, Mohawk Trail/Hawlemont, Pittsfield, Provincetown, Watertown, and West Springfield.
"In light of the stark discrepancy between local public health data and your reopening plan, I am requesting a timeline by which you anticipate providing in-person instruction for the majority of your students including in-person instruction for vulnerable populations, such as students with disabilities, if these students have not already returned to in-person school," Riley wrote.
He also warned that each district's response "may trigger an audit" of their efforts to provide in-person instruction and to ensure their remote learning program is consistent with state learning time regulations. The districts were given 10 days to respond.
"We just feel like we have a moral obligation to families and students to look under the hood and see how are these decisions being made and are they the appropriate ones," Riley told WBZ in an interview Monday, noting that there is "a lot of fear out there."
The letter comes as Baker himself has repeatedly pushed for communities in the green or gray categories to bring students back for at least part-time in-person classes, under the state's social distancing, face covering, and hygiene guidelines. According to the state's most recent community-level report, 320 cities and towns in Massachusetts are in those low-risk categories.
Riley's letter also noted that the state's positive test rate of 0.9 percent, as of last week, was "well below" the 5 percent standard established by the World Health Organization for reopening schools.
Still, the letter provoked strong criticism Monday from the Massachusetts Teachers Association, which defended the 16 districts' right to make their own decisions, even if they "have lower rates of COVID-19 than others."
"It is naive at best and reckless at worst to assume that the coronavirus somehow does not travel across municipal borders," MTA President Merrie Najimy said in a statement. "The infection rate of any one community is irrelevant, as a school typically employs educators and staff from multiple cities and towns, and in some instances from out of state."
The state's teachers unions have called on the Baker administration to provide more support to ensure schools have proper ventilation and COVID-19 testing capacity. And in her statement, Najimy attributed the lack of guidance and support from the Republican governor and Riley for the "chaotic start" to the school year, as several districts in communities with low infection rates have delayed in-person learning due to evidence — or even simply fear — of COVID-19 clusters.
"The Baker administration's strategy of seeking to bully communities into adopting more in-person learning or facing 'audits' by the Department of Elementary and Secondary Education is one more example of the failed leadership the state has shown in handling public education during the pandemic," Najimy said.
"Communities with low rates of COVID-19 have drafted school reopening plans precisely to keep those rates low" she said. "Riley and Baker need to respect the decisions made at the local level and support districts that are successfully navigating this pandemic."
Riley's office didn't immediately comment Tuesday in response to Najimy.
Baker himself has criticized some of the unions' demands. And during a press conference Friday, the Republican governor acknowledged that he wished his administration could do more to get localities to resume in-person classes.
"At the end of the day, that decision here in Massachusetts, under state law, gets made by the locals," he said. "If I could make it, I would, but I do not have the authority to do that. And I wish I did."
Get Boston.com's browser alerts:
Enable breaking news notifications straight to your internet browser.