Schools
Sorry, kids. Snow days are probably over.
"A working parent's worst nightmare is a snow day, and now every day is a snow day."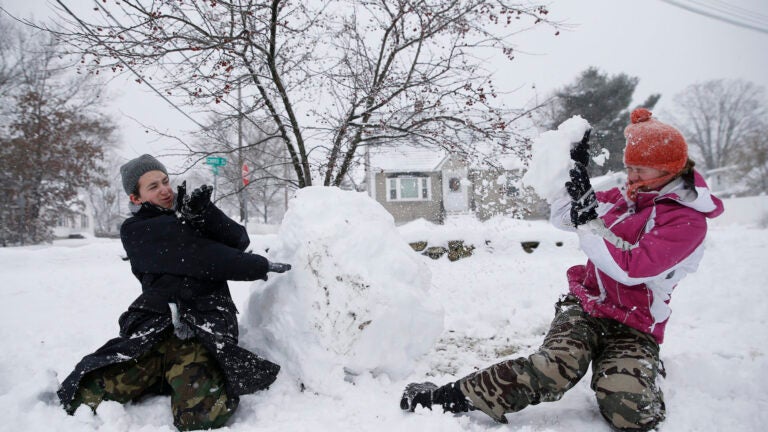 For generations, snow days meant sleeping in, loafing in front of the TV with hot cocoa, and hours of sledding and snowball fights.
Now, they are likely to mean logging into a laptop for a Zoom lesson on long division.
As the weather cools and winter looms, many school leaders in snow-prone states are preparing teachers, parents and students to say goodbye to snow days. This month, New York City, the nation's largest school system, canceled them for the year, citing the pandemic, which has forced districts everywhere to look for ways to make up lost days.
New York's decision followed moves that other administrators have been making since March, when schools were forced to transition to online learning and officials realized they could do the same during hazardous weather.
"We said, 'Wow, this could really be a solution for us for snow days in the future,'" said Robb Malay, a school superintendent who oversees seven districts in southern New Hampshire, where a new policy will replace snow days with virtual learning.
For many teachers, the end of the snow day looks inevitable, said Denis Anglim, 31, who teaches high school English and history in Philadelphia.
"For the sake of continuity of the curriculum, it's a good thing," he said. "But not in terms of hanging on to the nostalgia of waking up at 5 a.m. and looking at the ticker at the bottom of the television to see if your school will be closed."
And the nostalgia remains strong for some. Snow days growing up were like a "pause on real life and a chance to let kids be kids," said Lauren Higgins, the mother of a 5-year-old boy and 3-year-old girl in Hingham, Massachusetts.
"I can imagine a situation where kids no longer cross their fingers watching the weather late at night," she said. "And it's a bummer."
Trading snow for summer
The question of whether to shut down school has always been a thorny one for community leaders, who are often criticized for either canceling class too rashly or for not taking a forecast seriously enough. So well before the virus forced schools to shut down, many administrators had been looking for alternatives to snow days.
In 2018, Mike Redmond, the superintendent of Shakopee Public Schools in Minnesota, said his district started "connected learning days" that allowed for virtual instruction when the weather forced closures.
The decision to do away with snow days followed particularly grueling winters when the district had to cancel classes eight to 10 times a year, he said.
Taking away snow days seemed like a better solution than tacking on days at the end of the school year, which meant forcing students into hot classrooms and disrupting summer plans, Redmond said.
For rural districts, cutting out snow days also had an economic incentive, he said. In Minnesota, parents often count on their children help out on family farms when school lets out for the summer, he said.
In recent years, states like Pennsylvania, Ohio and West Virginia have allowed schools to redefine snow days as virtual learning days to avoid delaying the end of the school year, said Daniel A. Domanech, executive director of the Schools Superintendent Association, a national group.
The changes have also given more flexibility to states that deal with other types of weather-related emergencies like hurricanes, flooding and excessive heat, he said.
"There is no question that you can see the snow day come to an end," Domanech said. "If not this year, certainly in the future."
The benefits when 'every day is a snow day'
Jen Kalember, 48, a sales executive, recalled the frustration she felt every time her daughter's classes in Bethlehem, Pennsylvania, were canceled. School closures created stressful conversations with her former boss, who believed everyone should be in the office, even on snow days.
"He was like, 'You don't live far from the office. You can make it in,'" she said. "Well, what am I supposed to do with my daughter? Leave her at home?"
Kalember, who now lives in Ellicott City, Maryland, said the pandemic had forced many employers to embrace working from home, perhaps permanently. It stands to reason that schools should follow suit, she said.
"A working parent's worst nightmare is a snow day, and now every day is a snow day," Kalember said. "I think tradition made people forget what they could do with technology. Now we've changed from what we do in a work environment and a school environment irreparably."
Jessica Tang, the president of the Boston Teachers Union in Massachusetts, said that any changes to teachers' working conditions would have to be negotiated. But she agreed that the pandemic had shown that virtual learning could be a practical solution to a variety of problems.
"It would be a huge mistake if we tried to just go back to what we were doing before," she said.
Still, Tang said, there are unintended consequences to canceling snow days that administrators must consider, like the continuing challenge of making sure every student has access to a computer and internet.
And online teaching could be extremely stressful for faculty members with older parents whose home health aide could not come to work because of a storm, Tang said.
Marci J. Swede, dean of the School of Education and Health Sciences at North Central College in Naperville, Illinois, said many students in college are parents themselves. A snow day that disrupts day care could put those students behind if they have to skip online class to care for their children.
"We have to have some compassion for the complexity of the students' and the teachers' lives," Swede said.
Mourning the 'birthright' of a snow day
Kalember's daughter, Ava Kalember, a high school senior, said she felt like the last of a generation to experience the unexpected treat of snow days.
"I do understand the other perspective of parents: 'If they have assignments, they will be kept busy and won't bother me,'" she said. "But you have to consider whether that will outweigh the fun memories that kids have of snow days."
Those days were also a respite from the stress of schoolwork, Ava Kalember, 17, said.
"A lot of schools are pushing the amount of work they're putting on students," she said. "Now, more than ever, it's important to give some students a break."
Swede, the dean in Illinois, said that in her field, snow days were the rare time when everyone — students, faculty and their supervisors — felt comfortable taking a sudden break.
"It's kind of nice sometimes, when we all kind of have that pause button and we all can just take a moment and breathe a little bit and not feel guilty about it," she said. "There are very few times in our lives when we have enforced down time."
Redmond, the superintendent in Minnesota, said that after he did away with snow days, it was parents, not teachers, who mourned the loss.
"My kid might never have a snow day" was a common refrain, he said.
The district responded by scheduling one designated snow day. Teachers would have the time to readjust the curriculum and children would have a break, even if it was not as spontaneous as the kind their parents enjoyed.
Redmond said: "In Minnesota, it's like a birthright you should have a snow day."
Is it time to get rid of snow days? Take the poll below.
Get Boston.com's browser alerts:
Enable breaking news notifications straight to your internet browser.