Schools
Boston schools delay phased-in reopening as citywide coronavirus rate rises
The city's COVID-19 positivity rate hit 4.1 percent as of Oct. 3, officials said.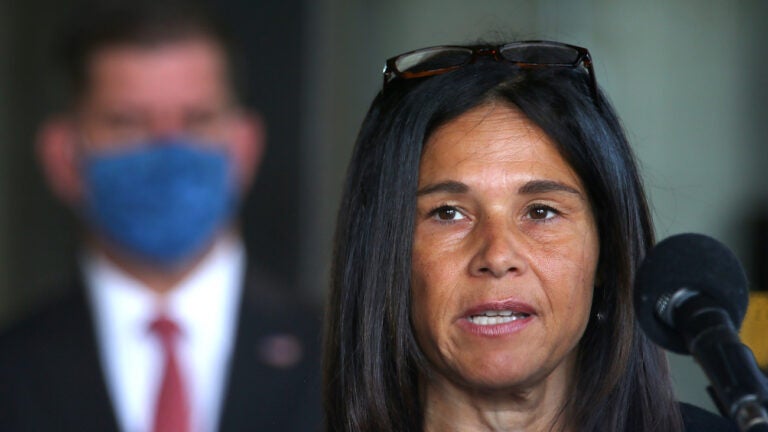 Boston Public Schools have delayed the return of in-person learning for the district's youngest students by one week under its hybrid leaning plan after the citywide coronavirus positivity rate rose to 4.1 percent, officials announced Wednesday.
The latest data, which encompasses metrics for the week that ended Oct. 3, puts the city just over the 4 percent threshold Mayor Marty Walsh said would trigger a change to the district's plans for gradually getting students back to brick-and-mortar classrooms. The rate reflects the number of people who tested positive for the virus out of the total number of tests conducted.
"These are difficult decisions," Walsh said during a press conference outside City Hall. "There is a young man here that you don't see at home, and he's holding a sign (that reads), 'We need school.' I understand the importance of having school for our young people."
But Walsh said the move falls in line with the city's cautious reopening process, emphasizing the need to continue to make decisions based on the available science behind the contagious illness and local case numbers.
Under the new approach, students in grades K0, K1, and K2, whose families opted in for the hybrid model, will now begin the return to school on Oct. 22, at the earliest, in Phase 3 of the plan, instead of Oct. 15 as initially scheduled, according to the mayor. The following wave of students returning in Phase 4 will start in-person classes on Oct. 29 as planned, although city officials are continuously monitoring virus data to inform decision making.
The change comes less than a week after students who were prioritized for in-person learning started returning to physical classrooms on Oct. 1, including those experiencing homelessness; in the care of the Department of Children and Families; in special education public day schools; in English language learner programs; and with disabilities who require specific needs, among other demographics.
Those students will continue to be able to attend classes in person two days a week, officials said.
Walsh and school leaders emphasized Wednesday that public health guidance allows for the 1,300 students on average who attend those classes each day to keep doing so, even as the district holds off on plans to bring back more students.
Across the school system's 125 buildings, the numbers break down to an average of a little more than 10 students in each school on a given day, although some schools have more attending pupils than others, officials said.
The highest-needs students stand to lose access to critical resources and regress in their education even more so than some of their other classmates without an in-person education, they said.
"Some of our children have regressed and decomposed so much in those six months when there was no in-person learning or access to the services that they require to thrive," said Roxann Harvey, chair of the district's Special Education Parent Advisory Council.
Walsh said the decision to keep schools open for these students "came down to me realizing that our highest-needs students need the district as their choice."
"We are their chance for success to help them move forward," he said. "We cannot take this away from them right now or so soon after they started last week — not now when there's an opportunity, backed by public health, to have them in schools."
BPS Superintendent Brenda Cassellius said schools remain "safe and ready" to welcome students back, and underscored a months-long preparation process that included repairing and upgrading everything from windows to bathrooms and securing personal protective equipment, among other efforts.
"I think we can handle 1,300 (students) honestly, safely, because those families believe that the school district can keep their children safe," Harvey, a mother of two students with disabilities, said. "That's why they sent them in. We don't send our children in to be unsafe. We wouldn't do that."
Last week, after the citywide positivity rate bumped up to 3.5 percent, Boston became a "red zone" for the coronavirus — the state Department of Public Health's designation for communities at high-risk of COVID-19. With the positivity rate only on the rise, officials said the city would likely remain in the red zone when the DPH releases its latest metrics Wednesday evening.
Marty Martinez, the city's chief of Health and Human Services, said the question now is whether the recent rise indicates a new trend or a one-off "bump in the road."
The last time the city's rate was above 4 percent was in early June, he said. On Tuesday, officials logged 63 new coronavirus cases and zero deaths, bringing totals to 17,712 cases and 764 deaths since the pandemic began.
Asked at what point the city would be forced to suspend all in-person school again, Walsh said he couldn't answer the question.
"If we're canceling school completely, we're in a whole different situation here in the City of Boston, in the commonwealth. We're in a situation where our restaurants are shutting down again, our businesses are shutting down again," he said. "We're not at that point, and we have a way to go until we get to that point."