Schools
It's official: No admissions test at Boston exam schools for incoming fall class
The controversial decision was voted in at nearly 2 a.m. after committee members listened to over 100 different testimonies.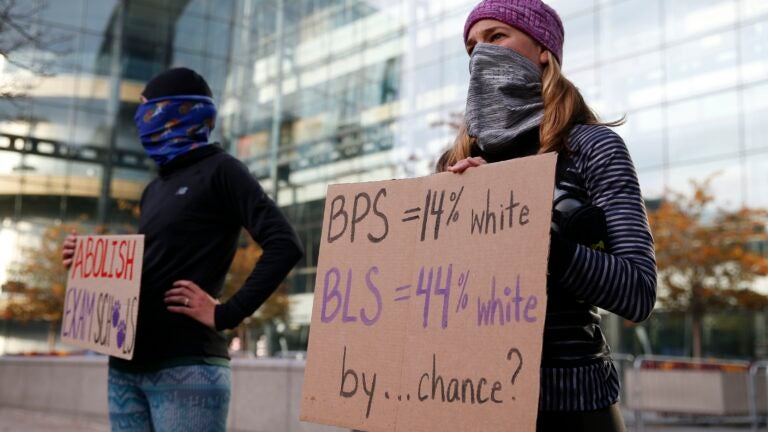 After more than eight hours of public comment and discussion, the Boston School Committee early Thursday morning unanimously voted to approve a controversial proposal to suspend the admissions test for the city's three esteemed exam schools for the incoming class next fall, in part to address racial disparities in the district's decades-old testing policies, and in response to the coronavirus pandemic.
The meeting, which was held via Zoom, began at 5 p.m. Wednesday and reportedly ended with the 7-0 vote just before 2 a.m. Thursday morning. Over 100 parents and former students spoke in favor of and against the plan, which drops the admissions exam and instead decides eligibility based on grades, 2019 MCAS scores, and students' zip codes. 
BOSTON SCHOOL COMMITTEE VOTES YES!
This historic moment made possible by YOU!
—Who sent almost 500 emails to Mayor & every School Cmte Member & City Councilor in 24 hours
—Who have been fighting to #SuspendedTheTest since July
—Who fight for equity everyday!
THANK YOU!#bospoli pic.twitter.com/9avoKrC2UY

— Boston Coalition for Education Equity (@BosEdEquity) October 22, 2020
Under the approved proposal, zip codes will be ranked based on median household income, and eligible students from the lowest-income ZIP codes will be given first choice on which school they would like to attend — whether that be the O'Bryant School of Mathematics and Science, Boston Latin Academy, or the Boston Latin School. 
The change spurred plenty of debate on Boston's exam schools' reputation for exclusion and upholding merit, coming just days after parents held dueling rallies that called for both support and reconsideration of the plan. 
Since Thursday night, competing petitions on Change.org have still been gaining traction, showing a lingering divide as signatures continue to stack up: at the time of publication, 5,309 people said they wanted to keep the test, and 5,347 called on the School Committee to discard it.
The final decision was backed by many public officials — from Mayor Marty Walsh, to Superintendent Brenda Cassellius, to Congresswoman Ayanna Pressley. 
"In this moment of national reckoning on systemic racism and racial injustice, we must continue to be unapologetic in our efforts to examine and address the ways in which our institutions contribute to and exacerbate our gravest inequities and disparities—our education system is no exception," Pressley said in a statement Thursday. "For too long, many of our most entrenched inequities have been fueled by an education system that continues to limit opportunity based on a child's privilege and access to resources. Here in Boston, these inequities are made clear by the barriers faced by many Black, brown, immigrant and non-English speaking families in accessing our city's most prestigious exam schools."
Pressley praised the committee for the temporary suspension of the test, but said "we must continue to push for permanent reforms that will truly ensure equity for all students, informed by a robust and continued community engagement process to center the voices of students and families."
Many city councilors said the nine-member working group behind the new recommendations didn't do enough to seek families' input on the proposal, specifically in households that don't speak English, though local officials largely echoed Pressley's thoughts. 
Boston City Councilor At-Large, Julia Mejia, took to Twitter to detail her own experience growing up attending Boston Public Schools and never knowing that exam schools existed until she began working in education later in life. 
When talking about the #BPS #exam schools we need to have uncomfortable conversations about the haves and the have not. We also need to be honest that when in comes to education issues Boston still seems stuck in the 70s. Let's seize this moment to create equity for #ALLMEANSALL pic.twitter.com/9nABZ205Hd

— Julia Mejia (@juliaforboston) October 17, 2020
Boston City Council President Kim Janey, alongside other councilors including Mejia, Ricardo Arroyo, and Andrea Campbell, also supported the measure. 
Shared this letter at @BostonSchools meeting. Joined by Councilors @RicardoNArroyo @LizBreadon @andreaforboston & @juliaforboston. Students deserve equal and fair opportunity to apply and be considered at Boston's exam schools, now more than ever. #SuspendTheTest #bospoli #mapoli pic.twitter.com/Op9NgHXIrm

— Kim Janey (@Kim_Janey) October 22, 2020
T:1

On the Selective Admission Taskforce (a thread):

I support suspension of the exam for this year & the taskforce's recommendations.

I believe standardized exams serve institutional racism because they test advantages ones had more than intelligence or ability to succeed.

— Ricardo Arroyo (@RicardoNArroyo) October 21, 2020
Ibram X. Kendi, a Boston resident, parent, and the recently appointed director of the Center for Antiracist Research at Boston University, also offered a testimony of support to approve the "antiracist policy proposal." 
"We know a policy is creating more equal opportunity if it is closing racial and economic inequity. We know a policy is not creating equal opportunity if it is maintaining racial and economic inequity," Kendi wrote. "And the data is indisputable on the effects of this plan: it will close racial and economic gaps."
Standardized tests, Kendi also noted, "have become the most effective racist weapon ever devised to objectively degrade Black and Brown minds and legally exclude their bodies from prestigious schools."
The NAACP Boston branch also commended the committee for taking "a big step toward a more just, fair and equitable BPS." 
This is the sensible and equitable choice for Boston students. https://t.co/rApHZ88joi

— ACLU Massachusetts (@ACLU_Mass) October 22, 2020
"We have much more work to do to make BPS work for all kids," the organization added, "but tonight we celebrate."
Get Boston.com's browser alerts:
Enable breaking news notifications straight to your internet browser.