Schools
Live school updates: The latest on COVID-19 and education in Mass.
Here's the latest news on schools during the coronavirus pandemic in Massachusetts.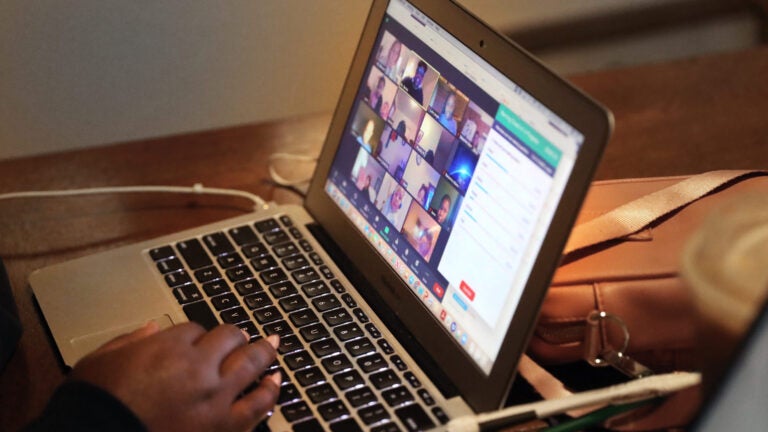 Assumption University is locking down to mitigate the spread of COVID-19 on and off its campus (Oct. 30)
Assumption University is locking down its campus Friday in an effort to control the spread of COVID-19 after the school saw an increase in the number of coronavirus cases among students. 
The measure, which is in place from 8 a.m. Friday until Friday, Nov. 6, was "mutually agreed" upon by the school and the Worcester Department of Public Health, college president Francesco Cesareo wrote in a statement.
During the week of lock-down, students are being ordered to shelter-in-place, meaning they should not leave their residence hall, floor, or apartment except to pick up meals at designated drop-off and pick-up locations, twice a week COVID-19 testing, and medical emergencies. 
All classes will be held remotely for at least a week, and all in-person activities, including athletics, are suspended. 
"The shelter-in-place status will significantly decrease interactions amongst members of the community and the potential spread of the virus," Cesareo wrote. "All commuter students will be remote for the remainder of the semester. All faculty and staff, except for essential personnel, will teach and work remotely during the shelter-in-place. Campus offices will remain open to serve students, but remotely. Supervisors will inform staff this afternoon if they are classified as essential personnel."
As of Friday, there are 10 new students who have tested positive for COVID-19 and are considered "active" cases, according to the university's COVID-19 dashboard. Twenty-one students are in isolation on campus and 92 students are in quarantine related to the cluster of cases. 
The president said at the end of the week, the school and city public health officials will "reassess the situation" and provide an update on next steps. 
Any students wishing to return home can do so, the president wrote, but they would not be permitted to return to campus until January.
"Students will be sent home for any instances of non-compliance with the shelter-in-place," the president wrote. "I realize the inconvenience that the shelter-in-place will cause students, faculty and staff, however this mutual decision by the Worcester Department of Public Health and the University is a necessary step to promote the health and safety of the campus and Worcester communities."
All athletic activities halted at Boston schools (Oct. 28)
Along with Boston schools going completely remote, officials have also stopped all athletic activities.
GBH reports that the district has not indicated when athletic activities may resume, but said officials may consider allowing them to continue once the city's positivity rate has dropped to 5 percent or below for a couple of weeks straight.
Boston Latin had both its cross country and golf teams practicing, according to GBH. With the suspension, one of the coaches, Chris Blondin, said the cross country season has essentially come to an end for the team.
"We were very grateful for what we did have," Blondin told GBH.
Milton High School goes remote after quarantines cause staffing shortage (Oct. 27)
After some staff members had to go into quarantine, Milton High School has switched to fully remote learning due to a staffing shortage.
NBC10 Boston reports that the school's fully remote period should last about two weeks with in-person classes planned to resume on Nov. 10.
Two parents charged, Wilmington High School goes fully remote after alleged underage drinking party (Oct. 26)
Wilmington High School has gone completely remote after roughly 25 to 30 students attended a party held in the basement of a home in town, and a couple of parents are being charged.
Officers were called to a different home for a juvenile female who "had consumed an unknown quantity of alcoholic beverage and was in need of medical attention," police said in a press release. The teenager was treated by the Wilmington Fire Department EMS.
Police learned that the teenager had attended a party, and officers then went to the home where it was said to be held. Though many of the attendees had left before police arrived on scene, officers saw "obvious signs of an underage drinking party," the release said.
As a result, a 47-year-old man and a 45-year-old woman are both being charged with furnishing alcohol to someone under 21, according to the release.
High school students — except those with high needs — will stay remote until Nov. 6, NBC10 Boston reports.
The Wilmington news comes as Marblehead High School officials announced that it, too, was switching to fully remote learning after a house party that didn't include masks and during which people shared drinks.
Seekonk reports positive COVID-19 case within elementary school community (Oct. 26)
Seekonk school officials reported that someone within the Aitken Elementary School community has tested positive for COVID-19, according to a news release.
The school's fifth grade has switched to remote-only learning for the current school week as a precautionary measure, the release said.
All close contacts of that person have been notified, according to the release.
Last week's live education updates can be found here.