Schools
The BPS superintendent said some students could return to buildings Thursday — comments that were quickly walked back
Boston Teachers Union President Jessica Tang said she was "completely thrown off and stunned" by the statements.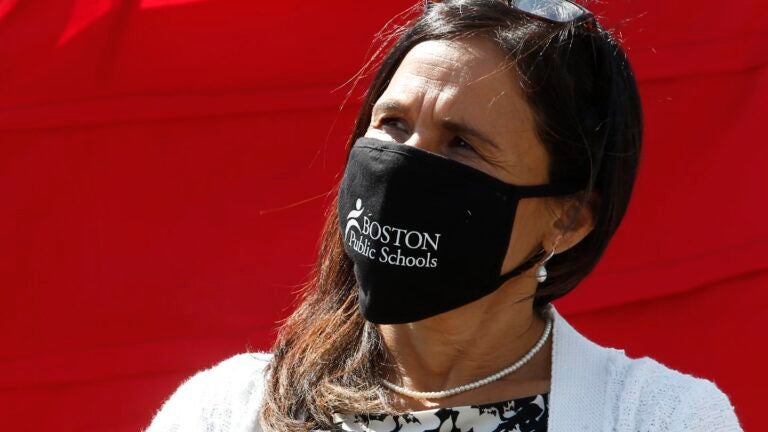 Boston Public Schools Superintendent Brenda Cassellius said Tuesday that certain high-needs students could be back in school buildings as soon as Thursday — remarks that stunned the teachers' union and were swiftly walked back.
During a City Council hearing discussing the school system's plans for reopening, Cassellius said the district was looking at opening the Horace Mann School for the Deaf and The Carter School, which serves students with complex health conditions, this week.
Other students prioritized for in-person learning could return as early as next week, she said.
"Currently we are working on plans right now for students to come back, our day school students to come back, this Thursday because we think that we can do it safely and we're going to put in additional safety precautions for them to be able to do so," Cassellius said.
She added, "We will be working with the (Boston Teachers Union) and are currently working with the BTU to devise those plans in buildings that we believe are safe, have large capacity rooms for social distancing, as well as any additional PPE or HEPA filter fans and other precautions, testing our staff more regularly, so we can ensure that it's a safe environment."
Boston schools suspended all in-person learning on Oct. 22 after the citywide coronavirus positivity rate — which reflects the number of people who tested positive for the virus out of the total number of tests conducted — hit 5.7 percent. Buildings had previously only been open to students prioritized for in-person learning, who went back to classrooms two days a week starting Oct. 1.
"It's extremely heartbreaking for us not to be able to provide these (services) to our students, and it's been very challenging and difficult to speak with the parents who are just really desperate for this care for their children, and ensuring that they have what they need," Cassellius said Tuesday.
But the news that students — and teachers — could return to classrooms as early as Thursday left BTU President Jessica Tang "completely thrown off and stunned," she said.
"I'm a little taken back because I heard the superintendent say that the day schools are coming back on Thursday and that's the first I have heard that being said publicly, and I don't think that our educators in those schools even know that right now," Tang said during the virtual meeting, later adding that the union had no agreement with the district on such plans. "So that's of concern to me."
Tang explained how the union continues to have safety concerns with the district's current reopening and operational plans. Throughout the fall, teachers have been vocal in sharing their worries about how ineffective open windows and fans to increase airflow in buildings are in combatting virus spread.
"We want to be in person with our students," Tang said. "But (our position) has always been that we need a better, safer plan."
Mary Dillman, BPS's chief of staff, later in Tuesday's meeting, said that the district is "operationally ready" to reopen Thursday, but said officials know they still need more collaboration with teachers and families on the plan.
"Obviously we know it's far more complex and requires, to the superintendent's point, close collaboration with the staff, and leaders, the families of those school communities before we would have those students return to buildings," Dillman said.
"So those foundational operational pieces are ready but we are not intending to have students in buildings two days from now," she added.
Last week, school officials said that the positivity rate will need to drop to 5 percent or lower for two consecutive weeks before families of children prioritized for in-person learning are given the choice to return to buildings. The rate would have to hold steady at 4 percent or below that threshold for two consecutive weeks before the phased-in reopening can start for other students.
For the week of Oct. 18 through 24, the rate hit 7.8 percent, according to the Boston Public Health Commission.