Education
Over 100 education unions issue vote of no confidence against Commissioner Jeffrey Riley
In response, a spokesperson for the state Executive Office of Education said the unions are promoting "baseless attacks."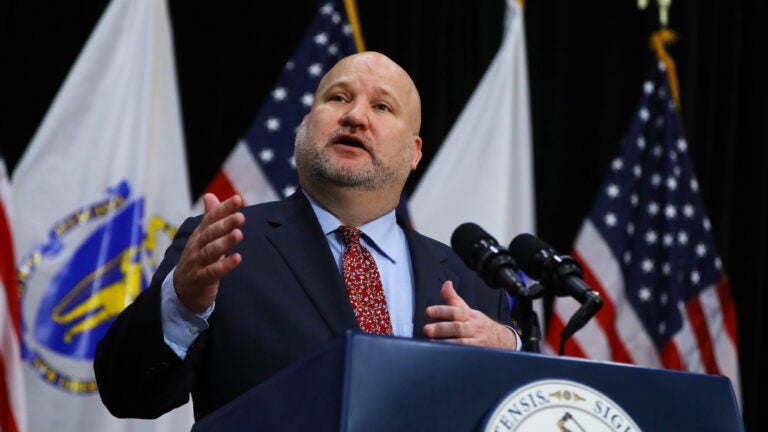 Over 100 unions representing educators have supported a vote of no confidence against state Education Commissioner Jeffrey Riley, according to an announcement from the Massachusetts Teachers Association.
The vote stems from educators "citing concerns about his lack of leadership, failure to heed data on in-school transmission of COVID-19, and failure to demonstrate 'the impartial judgment needed to support students, faculty and families,'" the announcement said.
In addition to the 104 unions that supported the petition of no confidence, three education groups that aren't unionized also supported the measure.
The announcement of the no confidence vote against Riley comes just after the Boston Teachers Union passed a similar vote against Boston Superintendent Brenda Cassellius. Union members cited concerns that safety protocols used for four Boston schools that reopened in November were not guaranteed for 28 additional schools that reopened on Monday.
Haverhill Education Association President Anthony Parolisi said school officials were not spoken to before policy changes were issued, including the Nov. 6 announcement on the state's measurements of transmission risks, the announcement says.
"We worked with local health officials and elected leaders for months to develop an education plan that met DESE guidelines and addressed conditions in our community, only to have the rug pulled out from under us when the commissioner changed the metrics and reopening guidance," he said in the announcement.
Malden Education Association President Deb Gesualdo cited the lack of frequent COVID-19 testing and not canceling the MCAS standardized tests.
"There are a few wealthy districts, including Wellesley, that have implemented frequent surveillance testing so they can identify asymptomatic carriers of COVID-19 and limit transmission in schools," Gesualdo said in the release. "This program should be available across the state regardless of family income, paid for with tax dollars. Why hasn't the commissioner advocated for the resources to do this?"
Gesualdo noted that preparing for the MCAS, which has been delayed, eliminates educational time and support for students.
"I doubt you will find one educator in 100 who believes that administering the MCAS this year is a good use of our precious time with students," she said in the release. "Most school committees agree with us and so do the majority of the parents we talk to."
In Worcester, Roger Nugent, president of the Educational Association of Worcester, said he's concerned about proper ventilation in school buildings.
"Many schools in our district are old and do not have adequate ventilation," he said, adding that Riley has pushed the district to allow more in-person education rather than address the concerns. "The district is purchasing technology to improve air quality, but until that happens it isn't safe to put large numbers of students and staff together in these buildings."
However, state officials say there hasn't been much transmission of the virus in schools, according to a statement obtained by WBUR.
"While unions engage in baseless attacks, we remain committed to children's education and the best interests of staff, students and families and continue to believe that in person learning is best for the academic and emotional health of our students," Colleen Quinn, a spokesperson for the state Executive Office of Education, told the radio station in a statement.