Schools
'I am deeply disappointed': The Boston School Committee's student rep. resigned citing 'blatant disrespect' towards him
Six other students have resigned from a student union group after feeling ignored, among other issues, they say.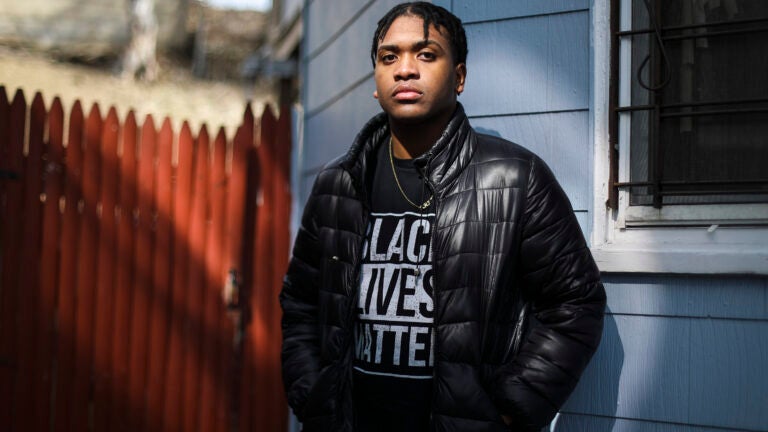 The Boston School Committee's student representative resigned Thursday night, describing disrespect he said he's received while on the committee, deep concerns over how student voices are heard in the district, and frustration with leadership.
Khymani James, a senior at Boston Latin Academy, submitted his resignation from both the committee and the Boston Student Advisory Council (BSAC), an elected student union, just before 8:30 p.m.
In a thread of tweets explaining his decision, he pointed to "blatant disrespect + adultist rhetoric used towards me in public meetings."
1/ I wanted to inform the public, and my constituents, that I have officially resigned from the Boston Student Advisory Council as well as the Boston School Committee.

I sent in my letter of resignation several minutes ago.

— Khymani James (@KhymaniJames) March 5, 2021
"These past several years, including this past year, has been full of adultist, racist, ignorant situations with people who do not want to see students be progressive and win," James wrote in his resignation letter to the committee, which he provided to Boston.com on Friday. "The fact that students have been, and continue to be, left out of so many conversations that have to do with their very own education is deplorable and distasteful."
James's resignations came among a total of six resignations submitted Thursday from BSAC representatives, several of whom, on a Zoom call with a reporter, expressed their own frustrations over how the group is administered, concerns with the conduct of its leadership, and frequent feelings of being ignored when raising issues and questions.
James said he was informed prior to this week by BSAC leaders that he would have to resign from his School Committee seat should he resign from the BSAC, and therefore his two resignations are linked, he said.
Still, he said that during his time on the School Committee, his questions and input were not given the same consideration as those raised by other, non-student members.
"Go to any School Committee recording, and you're going to find that any question or concerns that I have are immediately shut down," James said in an interview. "They're either shut down, or they're not even answered, or … they answered a question that wasn't even asked."
He added: "My questions are completely dodged, completely disrespected, and therefore I'm disrespected and the students are disrespected because they're not being given the information that they need and the responses and policy that they need to really thrive."
In his resignation letter, James wrote that he could not remain in his positions "without compromising my mental health and possibly reciprocating the disrespect," and added "there have been lies, excuses, emotional manipulation, blackmail, and so many other forms of egregious actions that I simply cannot be a part of."
"Every single year, community members come together to discuss the same systemic issues we're constantly trying to tackle; it's both repetitive and tiring," he wrote. "If we're constantly coming together to talk about the same exact issues that have been prevalent in our communities for decades, then there needs to be a complete overhaul of leadership. More specifically, it needs to be replaced with progressive leadership who is willing to be bold through their actions and policies."
The BSAC, which consists of elected members from most high schools in the district, is co-administered by the district's Office of Engagement and Youth on Board, a youth organizing program, according to the latter's website. 
Ajanee Igharo, a junior at Boston Latin Academy who resigned from the BSAC on Thursday, said the group is supposed to learn about district policies and practices and provide advice from a student perspective.
But students are given little prior notice of what will be presented at meetings, making it difficult to prepare beforehand, she said. And ideas students raise often are not put into practice, she said.
"Even when there is a presentation and we have concerns and questions, we're given looks to like not ask anything too inflammatory or are cut off or dismissed, things like that," Igharo said. "That's a big problem that happens."
Several students recalled a BSAC meeting on Monday where they said their questions were quickly dismissed after they were informed of a district practice involving students' personal mental health they were not previously aware of.
Students often have their inquires quickly shuffled past or looked over leading some to not speak up at all, they said.
"It's not that they're not engaged, but because they understand that no matter what they say, the questions they ask, they're going to like, be cut off for it, like they're going to be attacked for it — like there is no adults in the Zoom meeting that are going to support us in doing so," said Charlene Adames-Pimentel, a senior at Boston Latin Academy who also resigned from the BSAC this week.
While only a fraction of the approximately 30 students who make up the BSAC's total membership had resigned as of Friday morning, several students who spoke to Boston.com said more of their peers were considering whether to follow suit.
Naesoj Ware, a junior at the John D. O'Bryant School of Mathematics and Science in Roxbury who also resigned, said the BSAC needs to be reconstructed so its "almost 100 percent student-led."
"There needs to be claws that really give students the freedom and the ability to do the work that we've been doing without limitations from School Committee or BSAC," Ware said.
In a joint statement Friday, Boston Public Schools and the Boston School Committee said they each "deeply value the voice of our students and work to offer opportunities for them to be heard."
"The Boston Student Advisory Council is one of the many ways students speak on behalf of their peers and inform school district policy. We strive to create environments where young people can bring their unique student experiences to every conversation, to ask challenging questions, and to co-create solutions," the statement says. "Working alongside Youth on Board, our staff will take steps to engage BSAC members and determine how we work together to move forward. The Committee and district will continue conversations with BSAC members to hear their concerns and honor and amplify their voices in our decision making."
A district spokesperson did not respond to questions regarding what was presented to students at Monday's BSAC meeting.
James's committee resignation announcement was met with support for him and appreciation for his tenure on the committee.
"I am so proud of @KhymaniJames & the young people working w/ him," Suzie McGlone, an eighth grade civics teacher in the district wrote in a tweet Friday. "They've dealt w/ this pandemic and education inequity w/ more honesty & force than most adults. What I have witnessed from them in the past months has been the CIVICS lesson we all need. & they will continue!"
I am so proud of @KhymaniJames & the young people working w/ him. They've dealt w/ this pandemic and education inequity w/ more honesty & force than most adults. What I have witnessed from them in the past months has been the CIVICS lesson we all need. & they will continue !

— Suzie McGlone (@MsMcGlonesClass) March 5, 2021
I'm so sad about the loss of @KhymaniJames on the Boston School Committee. It was cathartic to see someone finally hold this board & district accountable, and now we don't even have him. I'm totally bummed to lose him, but eternally grateful for his leadership & bravery. #bospoli

— Kristin Johnson (@KrissyCabbage) March 5, 2021
City Councilor At-Large and mayoral hopeful Michelle Wu, in a tweet, said that she supports James and "all the (BSAC) student leaders who have stepped down to speak truth to power."
"They're putting themselves on the line to fight for a better system & drive change," Wu said. "Thank you for your leadership."
I stand with @KhymaniJames & all the @BSACbuzz student leaders who have stepped down to speak truth to power.

They're putting themselves on the line to fight for a better system & drive change. Thank you for your leadership. https://t.co/BisnZwsqv7

— Michelle Wu 吳弭 (@wutrain) March 5, 2021
James wrote on Twitter that despite his resignations he remains committed to being engaged in issues facing the district and its students.
I want to say that I do not *want* to leave but I *have* to leave. I was raised to prioritize my morals and beliefs over everything else and that's what I am doing.

Message to my constituents: Never be restrained or silenced. Break out of those chains and speak your truth!

— Khymani James (@KhymaniJames) March 5, 2021
"All in all, I am greatly disappointed to say the least and students must be given the opportunity to run the district and create equitable structures," he wrote in his resignation letter. "If not, the district will never truly thrive."
Get Boston.com's browser alerts:
Enable breaking news notifications straight to your internet browser.