Education
'Enough is Enough!': Boston school bus drivers to picket over a lack of in-yard COVID-19 testing and vaccinations, union says
"There can be no safe school bus transportation while the pandemic continues to rage and vaccinations are unavailable to our largely Black, Brown and elder members."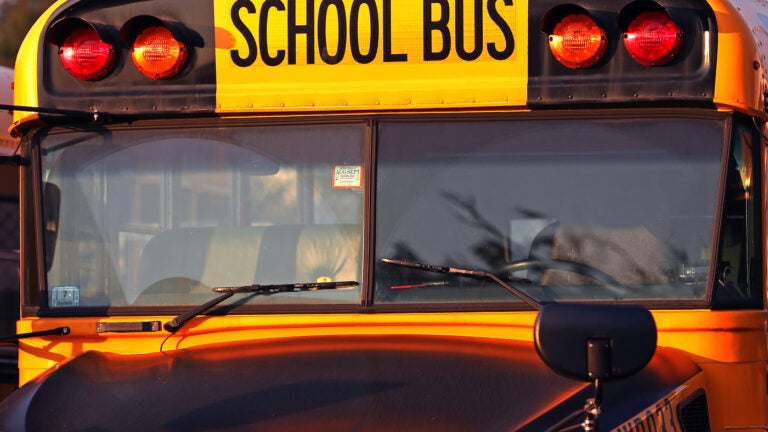 The Boston School Bus Drivers' Union says it plans to host a "picket and car caravan" on Tuesday over what it alleges is a lack of adequate COVID-19 safety procedures for drivers, especially regular virus testing and vaccination offered in bus yards.
United Steelworkers Local 8751 plans to hold the demonstration from 10 a.m. to noon outside the Transdev headquarters on Freeport Way in Dorchester to voice demands that include providing testing and vaccination in the yards, transparency around the number of positive cases and notifications among personnel, and the restoration of full pay and benefits to all school bus workers.
Masks and physical distancing will be required for participating union members.
"While the pandemic continues to infect our families and communities at high rates, it is an OUTRAGE that political misleaders are forcing us – under threat of termination – to reopen BPS and load thousands of more students onto our busses in the winter without offering us frontline school workers regular COVID-19 Testing and Vaccinations at the yards, a guaranteed trained monitor, and other Emergency Safety Operating Procedures per agreements," the union wrote on its website.
The union's demands
The move comes after students in kindergarten through the third grade returned to schools last week, with children back in-person for class two days a week, divided into two groups: one that attends on Mondays and Tuesdays and another on Thursdays and Fridays.
While most high-needs students who were prioritized for a return to in-person instruction have attended classes in brick-and-mortar schools since December, the vast majority of the district's 51,000 enrolled students have been completely remote for almost a year since the onset of pandemic protocols.
School officials had eyed a phased-in return beginning in October, but plans were dashed amid a citywide spike in coronavirus cases.
The bus drivers' union says since Oct. 1 — when students prioritized for in-person learning first returned to classrooms — there have been "nearly 40 COVID-19 infections" among bus drivers, monitors, mechanics, and safety dispatch workers, according to a flyer advertising Tuesday's demonstration.
There have been seven positives in solely the Readville bus yard in the two weeks before Feb. 25, and one driver was taken out of the yard in an ambulance, the union says. Four members died from the virus last spring, according to the flyer.
"There can be no safe school bus transportation while the pandemic continues to rage and vaccinations are unavailable to our largely Black, Brown and elder members," the union says.
Leaders also say Boston Public Schools and Transdev, the district's transportation operator, "unilaterally implemented across-the board pay, benefit, and budget cuts on school bus drivers already facing severe pay cuts and dangerous working conditions" on Feb. 1.
"To add insult and disrespect to injury, authorities have failed to provide even one test or vaccine to over 2,000 Boston school transportation workers while throwing Safety Protocols like required adult monitors and physical distancing on school buses out the window and under the bus in their reckless and negligent speed to reopen their economy," the union says.
A union representative could not be reached for comment Monday and Tuesday morning.
According to the flyer, the union is seeking a "trained, adult monitor on every bus with six-foot distancing;" personal protection equipment, or PPE, onboard buses; and a twice daily disinfecting of vehicles, among other demands.
BPS and Transdev respond
In a joint statement on Monday, BPS and Transdev said the health and safety of "our employees, passengers and the communities we serve remain the highest priority."
The district and bus operator worked together to put in place new policies surrounding COVID-19 last March, including increasing the frequency of cleaning and additional sanitization and social distancing on buses, according to officials.
"We have maintained standards and protocols throughout the pandemic and updated practices in accordance with evolving guidance," the statement says.
BPS has provided weekly testing to all Transdev employees on Tuesdays at a centralized location and alerted workers to the option via robocalls and notices posted in bus yards, though turnout for testing has been low.
"Last week, BPS notified bus drivers about ways they can receive a vaccine and signed workers up for vaccination appointments on the spot," the statement says. "We are excited that vaccinations are being distributed and will continue to prioritize keeping staff informed about the district's vaccine rollout to further promote the health and safety of our workforce."
The district hosted vaccine information sessions at each of its bus yards in English and Haitian Creole and issued a bilingual flyer on how to book an appointment when kindergarten through grade 12 workers become eligible for a vaccine on Thursday, and for those who are currently eligible.
BPS also intends to host virtual information sessions this week and have staff at bus yards to help workers schedule appointments beginning on Thursday. Workers have also been provided a phone number to call to receive help in booking an appointment.
Health and safety protocols issued by BPS and Transdev during the pandemic include providing PPE for employees and students, temperature checks twice daily and health questionnaires once a day, cleaning and sanitizing buses twice each day by a third-party vendor, and reminders to socially distance, among other procedures.
"We are extremely proud of our employees and what they have been doing to ensure essential services for our region," the statement says.