Schools
Charlie Baker's administration is ordering K-8 public schools to reopen next month. Here's what you need to know about the plan.
"Families should expect that districts may need to make challenging tradeoffs to accommodate the full in-person instructional mode."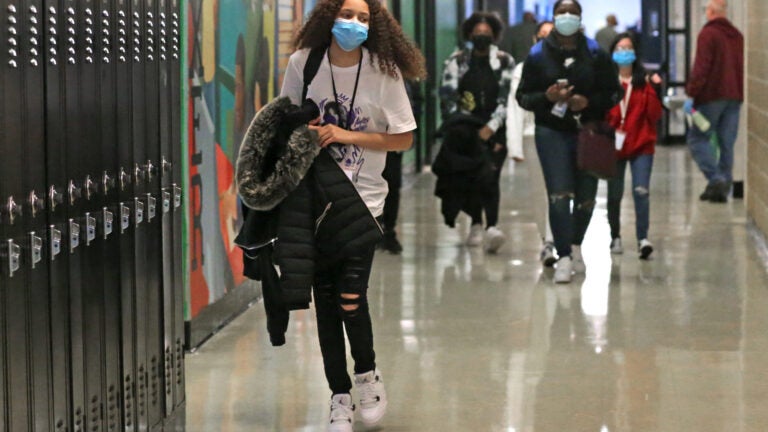 Gov. Charlie Baker's administration is moving ahead with its plan to order all K-8 public schools in Massachusetts in hybrid or remote learning models due to the COVID-19 pandemic to resume in-person classes five days a week next month.
After officials gave Education Commissioner Jeff Riley the authority last week to order elementary schools to reopen by April 5, the state's Department of Elementary and Secondary Education released more detailed guidance Tuesday afternoon outlining the roadmap for the return of additional grades and other logistics of the plan.
The controversial move to override local school officials' decision-making power comes amid the Baker administration's continued push to reopen schools, citing the adverse academic and mental health impacts of remote learning, as well as research suggesting that in-school transmission of COVID-19 is rare when safety measures are implemented.
"The rates are going down, and our vaccine rollout is going up," Riley said during a meeting last Friday. "Those are good numbers for us to begin to think about what does returning our kids back more robustly into school look like."
Here's what we know about the plan so far:
What's the timeline of the reopening plan?
Under the phased plan, districts are required to resume full-time in-person learning for grades K-5 by Monday, April 5.
Pre-kindergarten grades are not subject to the reopening plan, though state officials are encouraging them to open "as soon as possible."
According to the guidance released Tuesday, the reopening of elementary schools will be followed by middle schools (grades 6-8) on Wednesday, April 28, at the latest.  That's the week after April school vacation in Massachusetts. The new guidance also says that districts can ask students who traveled to a state subject to Baker's travel restrictions to learn remotely for the week of April 26-30.
What about high schools?
A specific date hasn't been announced for the reopening of high schools — but the new guidance suggests that state officials are planning to order them to resume full-time in-person learning this spring as well. Officials say they will announce the details and timing of the high school plan in April.
"Districts will be provided with at least two weeks advance notice of the specific date requirement for high school students but should start making such plans now," the guidance says.
Does the order force students to return?
No. Parents still have the option to keep their children learning remotely through the end of this school year. According to Riley, superintendents will send out a survey to families this week asking if they want their children to return to class or continue learning remotely.
"Parents who choose to stay remote are welcome to do so," he said.
But if they change their mind, Riley said parents will be asked to give their local school officials "a little time" to logistically prepare. State guidelines say the transition period should be no more than four to six weeks.
The rules also allow students who opt to return to in-person classes to temporarily shift to remote learning if they have to quarantine due to a COVID-19 diagnosis or close contact.
Are there other exceptions?
There's also a waiver process for districts that feel they cannot reopen five days a week for all elementary students on April 5.
For example, districts that have been fully remote can apply to take a more incremental approach, moving to the hybrid model in April before reopening full-time.
Additionally, schools districts where the split between elementary school and middle school is between fourth and fifth grades wouldn't be required to bring back fifth graders.
"They can put in a waiver to say, 'We'd like to just do K-4,' because we recognize that changing the schedule for fifth graders only in a 5-8 school might be incredibly complicated," Riley said.
That said, districts with school building configurations of grades K-6, K-7, or K-8 do not have the option of delaying the resumption of in-person elementary class. The guidance released Tuesday suggests they instead accelerate the implementation of full-time in-person middle school classes, or keep those grades in hybrid or remote models until April 28.
Riley said Friday that waivers will also be available for operational or feasibility constraints in "very limited circumstances."
How many districts will be affected?
State officials have said 20 percent of public school districts in Massachusetts — accounting for 400,000 students — remained in fully remote learning models as of mid-February, in addition to those in hybrid models. However, that was before Boston Public Schools, which accounts for more than 50,000 students, began its phased return on March 1.
How will schools manage the full return of all these students five days a week?
More than half of the state's school districts have opted into the Baker administration's surveillance pool testing program, which is intended to catch any outbreaks quickly.
Still, officials acknowledge that the plan will result in a "substantial programming shift mid-school year" for many districts.
This April will be the first time many students return to class since the onset of the pandemic last March. The guidance released Tuesday suggests extra support measures to ensure a smoother transition, such as virtual student-teacher meetings and additional training on deescalation and trauma-sensitive practices for school staff.
They also noted that the physical nature of classes may need to be changed.
"Families should expect that districts may need to make challenging tradeoffs to accommodate the full in-person instructional mode," the new guidelines released Tuesday say, adding that it may require "changes in classroom learning spaces and, in some cases, teacher-student assignments."
The guidelines also suggest repurposing school spaces, like cafeterias, gyms, and art and music rooms, at times during the day. In addition to reconfiguring class spaces, state officials say that some specialist teachers may need to use mobile carts to free up their classrooms.
As the weather gets warmers, districts are also encouraged to "maximize" outdoor space, including tents. They're also advised to consider community centers and business spaces if the school footprint isn't big enough to accommodate the full return of students with social-distancing measures.
What are the social-distancing measures?
Officials say the most "critical constraint" districts face is physical distancing in classes.
While elementary classrooms typically consist of tables with groups of students facing each other, the guidelines says the default setup for all grades should be desks spaced at least three feet apart facing in the same direction.
Though less than the federally recommended six-foot minimum distance, officials have noted that the three-feet distancing guideline is consistent with World Health Organization standards and has been endorsed by several hundred local medical experts. Riley cited research last week indicating there was a "negligible" difference in COVID-19 rates between schools with the three-foot and six-foot minimum distancing protocols, including at schools in Massachusetts.
If districts aren't able to set up individual desks, the DESE guidelines suggest having some students at the table sit somewhere else, like on a rug, for half of class and then switch with the students at the table midway through the day. Alternatively, the guidelines say students could take turns facing away from the table and using a clipboard or lap desk instead.
Districts are also encouraged to stagger lunch breaks and transition periods to reduce risk of transmission.
Will students always be required to wear masks?
Most of the same safety guidelines released before the beginning of the school year last fall remain in place, though state officials did reveal Tuesday that they're updating their face-covering rules to require masks at all grade levels (previously, they encouraged — but did not require — mask-wearing below the second grade).
The mask guidelines, which also apply to school staff, say that students should be allowed breaks when they're at least six feet apart — "ideally outside or at least with the windows open." The rules also require students to be seated at least six feet apart during meals, when they are also allowed to remove their masks.
What about ventilation?
Ventilation, often noted as an important mitigation strategy, isn't mentioned in the guidelines released Tuesday. Previously, officials have said schools could keep classroom windows open, "if feasible, as much as possible throughout the school year."
How will buses handle the return of students with social-distancing measures in place?
Simply put, they won't. With the exception of communities with high COVID-19 prevalence rates, DESE recently revised its bus transportation guidelines to remove distancing rules and capacity limits to buses for all students through high school. The rules say that students still have to wear masks while aboard and that bus windows should be cracked two inches.
"Districts should develop a rain plan to keep students dry when riding the bus in rainy conditions," the guidelines say.
In communities with high prevalence rates, middle and high school students are limited to up to two individuals sharing a single bus bench.
The state guidelines also suggest using assigned seats and volunteer bus monitors to make sure the rules are followed.
Anything else?
The guidelines released Tuesday note that studies have found that adult-to-adult transmission of COVID-19 in schools may be more common than student-to-adult transmission. As a result, officials stress that teachers should "remain vigilant" and adhere to face-covering and social-distancing rules even during breaks when students aren't present.
"We recognize that planning for these configurations and protocols is not simple and that building configuration vary," the guidelines say. "At the same time, many communities have already returned to full-time in-person learning at the elementary level, demonstrating that it is possible."
Will teachers be fully vaccinated by then?
Probably not.
Educators in Massachusetts became eligible to get the vaccine at pharmacies last week, and will be able to sign up at any of the state's vaccination sites this Thursday.
However, officials have said they expect it will take at least a month before all teachers and school staff are able to sign up for their first dose, due to the limited vaccine supply.
Get Boston.com's browser alerts:
Enable breaking news notifications straight to your internet browser.