Schools
'It is sad at every level': Becker College in Worcester announces it will permanently close
School officials called the decision "exceptionally painful," but the pandemic's impact on the small college left them with no better options.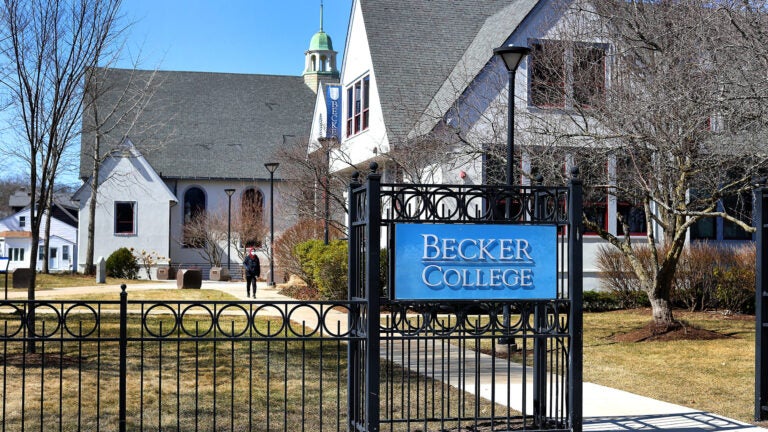 The COVID-19 pandemic's devastating financial impacts on the higher education sector have been too much for one small Massachusetts college to bear.
Becker College, a 1,500-student private college in Worcester known for its video game design program, announced Monday that it will permanently close at the end of this academic year, citing the pandemic's "accelerating" effects on the small school's already challenged financial outlook.
"This was an exceptionally painful decision for the Board to come to, but one that followed many months of striving for a viable, sustainable, and responsible path to address the increasing financial pressures on our College," Christine Cassidy, the chair of the Becker College Board of Trustees, which voted Sunday to close the institution, announced Monday.
Officials say the college, which traces its roots back to the 1700s, will provide academic support and transitional services to students through August 31, but classes will not resume in the fall. This spring's graduation ceremonies, scheduled for May 8, will be the college's last.
"Closing the College is not the path we wanted to pursue," Cassidy said. "It is sad at every level. We have sufficient resources to complete this academic year, but not beyond that in a way that is fiscally responsible and in the best interest of students."
Becker College has reached various agreements with 18 other college in the New England region to allow their students to continue their studies. Some colleges will accept all Becker students in good standing, while others will offer acceptance to those in specific programs. Students can apply to transfer to those schools, and others, through the standard admissions programs.
Clark University, located just over a mile away in Worcester, also announced Monday that it would absorb Becker's game design program and associated concentrations into a newly created Becker School of Design & Technology at Clark University.
Students who were accepted to Becker College for next fall will get their tuition deposits refunded, and officials say they'll work with them on "potential admissions pathways" at other schools. Cassidy also said the school will do "everything possible" to help staff find new opportunities.
The announcement Monday wasn't a complete surprise; it comes after the Massachusetts Department of Higher Education raised alarms in early March that Becker College's declining enrollment and relatively small endowment made its future "sufficiently uncertain." Like many small colleges in the region, Becker was already making spending cuts before the pandemic in response to a large drop-off in college-aged students.
"We were keeping a watchful eye on the trends indicating a vulnerability among small colleges, including the declining number of college age students, the heightened level of student subsidy and the increased competition for a smaller pool of students," Cassidy said.
The pandemic simply exacerbated those challenges.
"In addition to a greater investment in technology – remote learning comes at a cost – there was an unanticipated and significant drop in the number of students who, due to the uncertainty surrounding the pandemic, chose not to live on campus, never registered, took a leave of absence, or dropped out," Cassidy said. "This loss of revenue had a dramatic impact on the ability of the College to continue to maintain financial day-to-day college operations."
Becker College officials also sought mergers with other institutions, as other struggling colleges have done to preserve their legacies. Cassidy said they hoped such a move would be "transformational" and optimize the college's resources.
"When this affiliation did not happen earlier this year, the continuing pandemic and its obvious impact on the College's financial condition caused a sudden and significant shift in our position," she said.
Get Boston.com's browser alerts:
Enable breaking news notifications straight to your internet browser.