Education
Meet Xyra Mercer, the new student representative on the Boston School Committee
"That is what I am here for, to include the students' voices that need to be heard."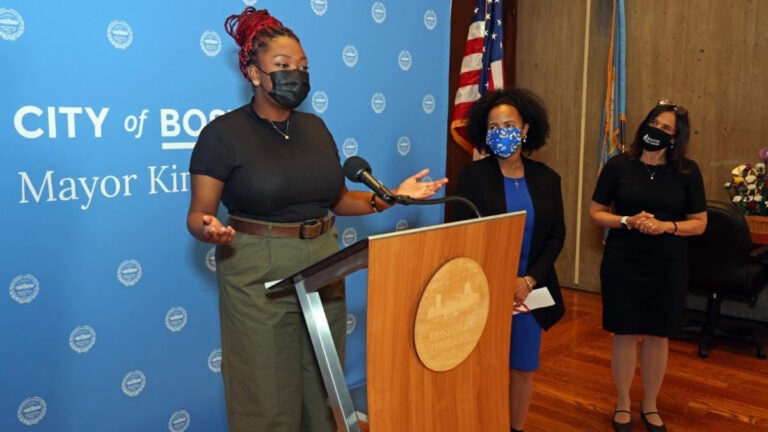 The Boston Public School Committee has a new student representative and she is ready to get to work.
Xyra Mercer, a junior at the Dr. William W. Henderson K-12 Inclusion School in Dorchester, was elected in late April by her peers on the Boston Student Advisory Council to serve on the committee for the rest of the school year and for the 2021-2022 academic term.
In a statement at her swearing in ceremony before her first committee meeting, the 17-year-old said she is grateful for the opportunity her peers have entrusted her with, adding that students should be looped-into and part of the change occurring within the district.
"Education is the key to the future," she said in her statement. "Schools provide many students a safe space, and when sudden changes are made without students' knowledge, that safe feeling can be violated. That is what I am here for, to include the students' voices that need to be heard."
Mercer's election to the school body comes after the previous student representative, Khymani James, resigned in early March, citing disrespect he said he received while on the committee, deep concerns over how student voices are heard in the district, and frustration with leadership.
James's departure from both the school committee and the Boston Student Advisory Council came with the resignations of six other BSAC representatives. The students cited frustration over how the group is administered, concerns with the conduct of its adult leadership, and frequent feelings of being ignored when raising issues and questions. Remaining members of BSAC have demanded change, and in the wake of the allegations raised by students, Boston Public Schools suspended its partnership with Youth on Board, the nonprofit organization that has helped lead the BSAC.
The district has said it plans to launch an outside probe into allegations raised by students, including that YOB staff were emotionally manipulative and pressured them into participating in group counseling sessions known as "Re-evaluation Counseling," a controversial counseling method where students would share personal experiences and emotions.
On its own, BSAC is undergoing a reform and re-examination of its bylaws.
In an interview with Boston.com, Mercer said the issues and concerns raised by James with his resignation are not new to students within the district, so his departure has not changed or directly affected her approach to the student representative position.
"We already see that our voices are not something that is typically heard or even seen as something that is important," she said.
Mercer said that like James and BSAC, she wants to see the student representative on the school committee be given voting powers. Currently, the student representative is the only non-voting member of the committee while being the only elected individual on the board. The other members of the school committee are mayoral appointments.
The lack of a vote is effectively silencing student voice, the 17-year-old said.
Student representatives do the same amount of work, go through the same meetings, see the same topics, and answer the same questions as the appointed, voting members of the committee, Mercer said.
"It makes sense that we have a vote," she said. "But for some reason we don't. Common sense is to give the student rep a voice, a vote. Because the purpose of the student representative is so that students can have a voice. But when you don't have a vote, your voice is not being heard."
Mercer is no stranger to being engaged with the student and school community. She's been heavily involved at Henderson since she began attending in 7th grade. She's captain of the debate team, a member of the student council, a founding member of the Black Student Union, a voting member of school's governing board, and an active member of the Berkshire Partners Blue Hill Boys & Girls Club. She's also involved in Vanguard, the Henderson women's empowerment group.
In Mercer's words, she's "always" around her school.
Outside of school, the 17-year-old is passionate about music, dance, and art.
"I like to sing and dance a lot," she said. "That comes a lot from my mother's side of the family. My mom, she comes from Jamaica and so going back-and-forth between America and Jamaica, just being involved in my culture and the music around it is always exciting, it was always fun."
She learned to play the piano at 4, played the clarinet in an elementary school band, and records her own music here and there when she can at home or at the Boys and Girls Club. She also always has a sketchbook with her, ready to draw whenever she can as she goes about her day.
But her interest in becoming involved and advocating for her peers was sparked in 8th grade when she was introduced to the debate team.
"I could see the importance of how fun it is to just research things and saying how you feel about a topic and bring in evidence with it," Mercer said. "And then what brought me even deeper was my 9th grade year, I joined the Teacher Cadets, formally known as high school teacher program. It's a district-wide program in BPS that encourages young students of color to learn the education field. And that's really what got me started."
She said participating in the cadet program opened her eyes to teaching and the importance of having "more teachers who look like [her]." The experience cemented her goal to pursue a career in education. She knows she wants to be the educator who young students can see themselves in.
While there are many issues she said she's passionate about, Mercer said as the student representative, she is focused in particular on expanding inclusivity throughout the district, modeled on Henderson's inclusion structure to empower students to speak up about how they feel within their schools and connect with peers.
And with the COVID-19 pandemic, Mercer said she is particularly concerned about addressing student mental health.
"When you're isolated in one area, surrounded by four walls 24-7, not going outside, it's kind of hard," she said. "Also I think we need to be educating people more on the pandemic on the whole from a student standpoint."
The biggest obstacle in her path, she knows, is "adultism."
"Especially for a young person, it's always hard when adults are like, 'Oh you're too young, you don't know about this, you don't know about that,'" Mercer said. "When I'm the one who is living this truth, who is living this issue, that's going through this. I'm not technically too young because I'm living this."
She said she's determined not to let any "negative energy" she encounters in her mission to represent student voices on the school committee devalue her passion for education.
It's advice she offered for the public in general as she presses forward in her own advocacy.
"Don't let people try to hold you back or take you down," she said. "Embrace who you are as a person whether it is culturally who you are as a person or your identity … When someone comes at you with negative energy, accept that negative energy and then give out positive energy. Don't let others bring you down."
Newsletter Signup
Stay up to date on all the latest news from Boston.com