Schools
Boston School Committee members resign over racially charged texts sent during October meeting
The two members texted one another during public testimony on the controversial proposal to drop admissions tests to Boston's three exam schools.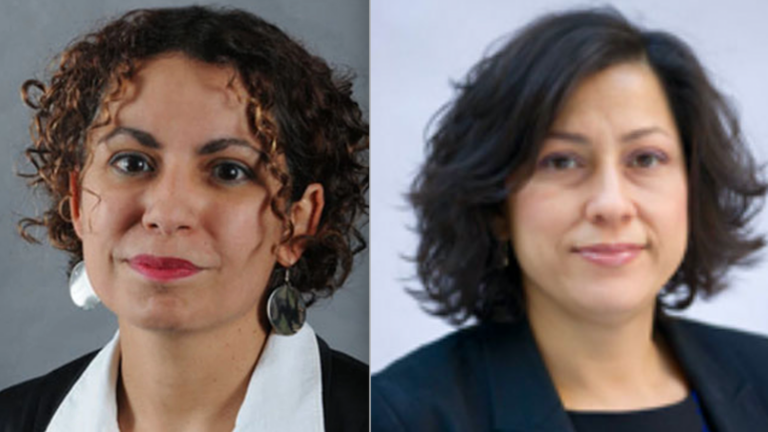 Two Boston School Committee members have resigned over racially charged text messages they sent one another in October, as the board heard from families about the district's exam school admissions process.
Committee member Lorna Rivera and Chairwoman Alexandra Oliver-Dávila are the second and third committee members, respectively, to step down over comments made during the lengthy meeting after former Chairman Michael Loconto resigned for being heard seemingly mocking names of people who signed up to speak.
"Sick of Westie whites," Rivera texted, referring to the city's West Roxbury neighborhood, according to a transcript obtained by Boston Globe columnist Marcela García.
"Wait until the white racists start yelling at us," Rivera, who is Latina and a professor of women's studies at the University of Massachusetts Boston, texted in another moment.
"Whatever," Oliver-Dávila replied. "They're delusional. I hate WR [West Roxbury]."
What happened
According to the Globe, the texts did not appear in materials provided to the newspaper last fall when it requested all texts and emails among committee members about Boston Public Schools matters during the Oct. 21 meeting.
That night, the committee voted unanimously to back a controversial proposal to drop the admissions test for students seeking to attend the city's exam schools for one year due to the coronavirus pandemic.
Students were instead admitted to attend this fall based on MCAS scores, grades, and ZIP codes.
Data released last month showed the change resulted in more Black, Latino, and low-income students being accepted to Boston Latin School, Boston Latin Academy, and the O'Bryant School of Math and Science.
The text exchange came as the committee heard public comments supporting the proposal:
Oliver-Dávila: "Best school committee meeting ever. I'm trying not to cry."

Rivera: "Wait until the white racists start yelling at us."

Oliver-Dávila: "Whatever. They're Delusional. I hate WR [West Roxbury]"

Rivera: "Sick of Westie whites"

Oliver-Dávila: "Me too. I really feel like saying that."
Still, as of Monday, it was unclear why the messages were omitted.
"Whenever there is a request for records held on a private device, we have to analyze whether the records pertain to public business," Xavier Andrews, Boston Public Schools director of communications, wrote in an email to the Globe. "That analysis was done and records responsive to the request were provided."
Questions from the news outlet regarding the decision to omit the texts were referred to the city's legal department, which did not respond to a request for comment from the Globe.
Also unknown is why the messages are now surfacing eight months after the meeting.
Both Rivera and Oliver-Dávila say the decision to release the texts now was deliberate.
"This is a right-wing coordinated effort to derail [the] BPS exam school vote," Rivera texted the Globe, in reference to upcoming votes on permanently changing the admissions policy. "The timing and leak of these texts were intentional and an inside job."
Oliver-Dávila said she "felt like it was strategy [to leak the texts] at this moment in time."
"That means someone had [those texts] for a long time," she told the newspaper. "I do feel it's being weaponized against the equity work that we're doing."
Rivera, Oliver-Dávila apologize and provide context
Both Rivera and Oliver-Dàvila "apologized profusely" in an interview with García, the Globe columnist wrote.
Ahead of the vote last fall, committee members received letters with "racialized discourse" opposing any changes to the admissions policy, according to García's column.
Oliver-Dávila explained her texts were written "in a moment of so much negativity about our children of color."
Though she said this is not an excuse for her remarks, Oliver-Dávila said the worst year of her life was attending seventh grade in West Roxbury where she was bullied for being Latina.
"It was constant bullying, calling me [a racist slur], following me home, and trying to beat me up," she said.
Oliver-Dávila also provided context in a lengthy statement included with her letter of resignation Tuesday that sought to provide background information about what happened.
The statement highlighted the committee's work over the past year, including policies that aim to bridge achievement gaps between Black and Latinx students and their peers.
Oliver-Dávila emphasized the texts were sent "in the heat of the moment." The statement also explained how she was "personally targeted in school" in the neighborhood as an immigrant and English language learner, and how Rivera was "attacked online and targeted for her comments on racial reckoning, and
has received death threats during her service as a School Committee member."
"None of this background information is meant to excuse the comments that were made," the statement says. "Both Ms. Oliver-Dávila and Dr. Rivera chose to disclose the comments and apologize as part of their own process of accountability, personal reflection and their desire to make amends. However, the context is an important consideration about the challenges and environment in which the private comments were made."
What their resignation letters say
Rivera resigned on Friday before the texts were published on Monday. Oliver-Dávila resigned Tuesday following mounting calls for her resignation from local officials, including West Roxbury City Councilor Matt O'Malley and state Rep. Edward Coppinger.
In her letter of resignation, Rivera did not mention the text exchange but said she has received "racist, threatening emails and social media personal attacks" from people who do not agree with the committee's recent policy changes centered on advancing racial equity.
"Nationally and locally, there are white supremacist groups that are coordinating efforts to ban the teaching of ethnic studies, diversity and inclusion activities, and other racial equity work in our public schools and universities," she wrote. "I am being targeted as a Latina gender studies professor who teaches about racism, patriarchy, and oppression. Because of the harassment and overwhelming stress from School Committee-related work, my mental and physical health has deteriorated, so I need to resign and recuperate."
Oliver-Dávila, in her letter, wrote how she felt transported back to her childhood as she heard public testimony "that was in many instances directly racist in nature, comments that were meant to portray students like me, like my daughter, as 'other' or as someone not worthy of the exam school seats."
"It was painful," she wrote. "And in the heat of the moment it caused me to vent by sending inappropriate personal text messages to one of my colleagues. I regrettably allowed myself to do what others have done to me. I failed my own standards in this private exchange. These messages matched the sharpness of what was being delivered via public testimony that night.
"I apologize for my comments and the hurt they have caused," she continued. "I own what I said just as I own the pain I felt that night and have felt far too often as a woman of color leading an organization committed to racial justice."
Oliver-Dávila also wrote that while she regrets the texts, she is not ashamed "of the feelings from history that made me write those words."
"My lived experience of growing up fearing people from certain neighborhoods, the neighborhood I lived in, is real and is what helped shape who I am today," she wrote. "As part of my commitment to antiracist work, I am looking into my past, into the ideas and experiences that have shaped my worldview, and am working to understand and manage my biases and focus instead on the work at hand."
Additionally, Oliver-Dávila said "constant racial undertones and personal attacks" at committee meetings and in emails have been "overwhelmingly stressful."
The polarization is so personal that the committee is unable to have an open dialogue about equity and racial justice issues, she wrote. The problem also detracts from time and energy that should be used to focus on students, she added.
"I would have liked to stay on and have this moment be a catalyst for conversations that need to happen in this city around racism and the inequality that has played out in our schools for decades," Oliver-Dávila wrote. "I am stepping down from the Boston School Committee because I do not want my actions to distract from the important work at hand."
Read the full letters:
Letters and Background by Christopher Gavin on Scribd
What Acting Mayor Kim Janey and Boston schools Superintendent Brenda Cassellius said
Boston Public Schools Superintendent Brenda Cassellius told the Globe Monday the texts were "disappointing and hurtful to the Boston Public Schools community, and to our larger efforts to combat racism in all forms."
Acting Mayor Kim Janey released a lengthy statement on the matter Tuesday, after Oliver-Dávila resigned, in which she said she respects and supports the decisions of both committee members to resign.
"Ms. Oliver-Davila and Dr. Rivera have been dedicated stewards of the committee and passionate advocates for Boston families," Janey said. "Their private remarks, which were recently made public, were unfortunate and unfairly disparaged members of the Boston Public Schools community. As women of color who advocate for racial equity in our schools, I also understand their comments were made in the wake of death threats and unacceptable racist attacks that were frightening, offensive, and painful. As their time on the school committee ends, their work to lift up equity in Boston Public Schools must continue."
Janey went on to thank both women for their service to the city and said they "leave an important legacy of temporary and permanent polices adopted by the School Committee that create more equitable approaches to advanced work courses, attendance, grading, graduation, student information sharing, grade promotion, and exam school admissions."
"The shared experience of Ms. Oliver-Davila and Dr. Rivera, and their decision to step down, amplifies the need for meaningful dialog and important work we must do as a city to address racism," Janey said. "Sadly, their departure also leaves a void in Latina leadership on our school committee that I am determined to address."
Janey said she is comitted to advancing the "equity agenda that is now udnerway," including through proceeding with the vote on permanently changing the exam school admission process this summer.
"I am also committed to preserving Latinx representation on our school committee," Janey said. "I am working to immediately begin the application process for new school committee members to lead the next chapter of equity and opportunity in our schools."
According to the Globe, it's unclear whether an acting mayor has the authority to appoint new School Committee members.
A School Committee meeting scheduled for this week was canceled.
Newsletter Signup
Stay up to date on all the latest news from Boston.com