Politics
Here's what Elizabeth Warren said about the expected resignation of CFPB Director Richard Cordray
The Bay State senator says her brainchild agency is "no place for another Trump-appointed industry hack."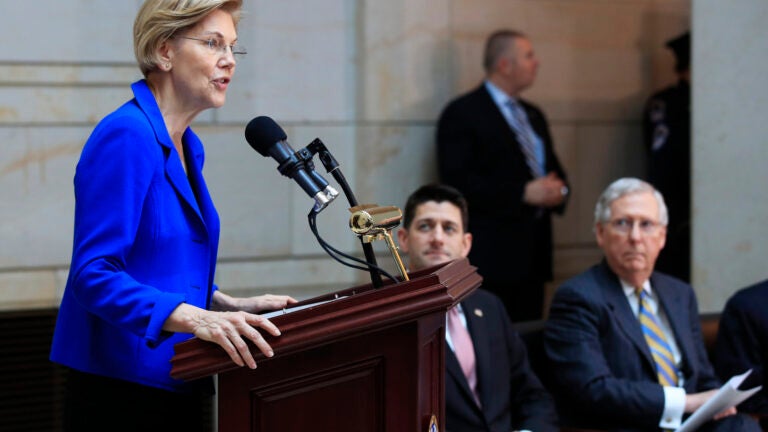 Sen. Elizabeth Warren is raising concerns over President Donald Trump's expected appointment to her brainchild agency, the Consumer Financial Protection Bureau, following the news that the director of the federal watchdog plans to resign.
According to multiple reports, CFPB Director Richard Cordray sent an email to the agency's staff on Wednesday announcing that he will resign at the end of the month.
In a statement, Warren championed the CFPB's accomplishments under Cordray's leadership. His five-year term as director would have expired in July 2018. However, the 58-year-old Democrat is speculated to being planning a 2018 campaign for governor in his home state of Ohio.
"He held big banks accountable," Warren said. "He is a dedicated public servant and a tireless watchdog for American consumers – and he will be missed."
Since Trump's inauguration, Republicans have tried to roll back the power of the CFPB, an independent consumer watchdog agency Warren originally proposed and helped establish under President Barack Obama. In her statement Wednesday, the Massachusetts senator worried the next director, who will be appointed by Trump, would not serve the public's interest.
"The new Director of the CFPB must be someone with a track record of protecting consumers and holding financial firms responsible when they cheat people," she said. "This is no place for another Trump-appointed industry hack."
According to the CFPB's website, the agency supervised and enforced $11.8 billion in financial relief to consumers, including monetary compensation, principal reductions, and canceled debt. The agency played a central role in the crackdown on Wells Fargo last year for the bank's fake accounts scandal.
Last month, the CFPB also enforced new restrictions on payday lenders. It also recently implemented a new rule to allow consumers to file class-action lawsuits against financial institutions, which was repealed last month by Republicans, who accused Cordray of overregulation.
Warren defended the CFPB in a press conference Wednesday afternoon:
Elizabeth Warren Press Conference on the CFPB

Watch live as I discuss today's breaking news that Director Richard Cordray will be stepping down as director of the Consumer Financial Protection Bureau, and the crucial role the agency plays in holding big banks accountable and protecting American consumers.

Posted by U.S. Senator Elizabeth Warren on Wednesday, November 15, 2017
Read the senator's full statement on Cordray's expected resignation below:
"At the CFPB, Rich Cordray forced the biggest financial institutions to return $12 billion directly to the people they cheated. He held big banks accountable.  He is a dedicated public servant and a tireless watchdog for American consumers – and he will be missed. The new Director of the CFPB must be someone with a track record of protecting consumers and holding financial firms responsible when they cheat people.  This is no place for another Trump-appointed industry hack."