Politics
'Impolite arrogant woman': Elizabeth Warren turns John Kelly's insult into a rallying cry
Trump administration critics have already seized on #impolitearrogantwoman, as has Warren herself.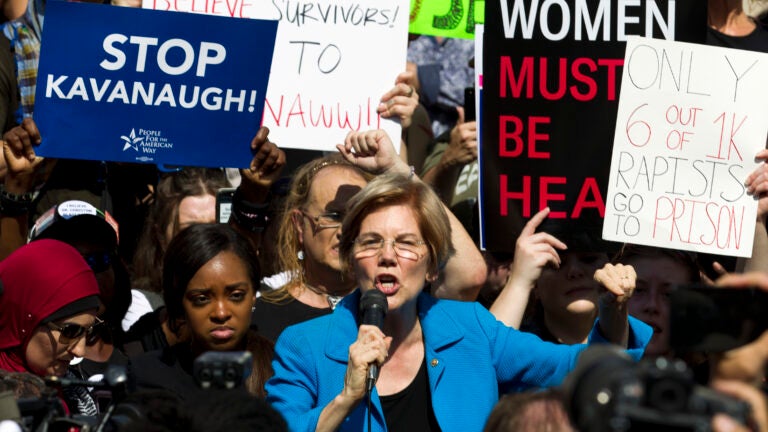 The Japanese martial art of jujitsu operates under a tested philosophy: The force of your opponent can be used as a weapon against them.
That idea has been harnessed numerous times since the 2016 election campaign. Think "deplorables," "nasty woman" and "nevertheless, she persisted" becoming rallying cries by political opponents after they were first uttered by the opposition.
Now another one appears primed to enter the lexicon – "impolite arrogant woman."
That is how White House Chief of Staff John F. Kelly described Sen. Elizabeth Warren, D-Mass., in the days following the Trump administration's 2017 travel ban, according to emails obtained by BuzzFeed news under the Freedom of Information Act.
That disclosure means the White House may have inadvertently gifted a potent catchphrase for Warren, a 2020 Democratic front-runner, to use as a blunt political instrument.
Warren had demanded answers about the ban from Kelly, then homeland security secretary, after travelers were detained at Boston's Logan International Airport.
"Absolutely most insulting conversation I have ever had with anyone," Kelly wrote to Kevin Carroll, then his senior adviser at the agency, according to an email written on Feb. 8, 2017. "What an impolite arrogant woman. She immediately began insulting our people accusing them of not following the court order, insulting and abusive behavior towards those covered by the pause, blah blah blah."
Shannon Fx Watts tweeted "Retweet if you're proud to be an impolite, arrogant woman. #BlahBlahBlah"
Retweet if you're proud to be an impolite, arrogant woman. #BlahBlahBlah https://t.co/7IXQH9adaG

— Shannon Fx Watts (@shannonrwatts) October 11, 2018
White House press secretary Sarah Huckabee Sanders did not return a request for comment on the email.
Trump administration critics have already seized on #impolitearrogantwoman, as has Warren herself.
Someone thought enough of the phrase to reserve the domain impolitearrogantwoman.com and direct visitors to a CNN recording of President Donald Trump's lewd "Access Hollywood" tape. The website was registered on Thursday evening after the BuzzFeed story was published, according to WhoIs.Icann.org.
"Impolite arrogant woman" may be poised to join other insults and attacks that were quickly transformed into badges of honor for the other side.
Trump supporters proudly call themselves "deplorables" after Democratic nominee Hillary Clinton used the term to describe some of his voters. Women in support of Clinton adopted "nasty woman" after Trump insulted his rival during a debate.
And last year, when Warren was admonished for criticizing attorney general nominee Sen. Jeff Sessions, R-Ala., Senate Majority Leader Mitch McConnell, R-Ky., lectured her using a phrase that Democrats and supporters then used as shorthand for feminist resilience: "Nevertheless, she persisted."
The tense 2017 discussion between Kelly and Warren arose from her frustrating bid to open communication lines with Kelly, she wrote on her campaign website Friday. Kelly's and Warren's staffs could not connect over the issue, she said, and Kelly provided only a general Homeland Security phone number when she asked for a direct line.
Warren said Kelly accused her of fabricating claims of her efforts to speak with him. "I happened to be looking at all the emails between his staff and my staff when he said this, so I started reading them to him. He accused me again of making it all up," she wrote.
Warren, who clearly understands the power of syntax and viral messaging, connected the moment back to that other political moment.
"So what happened next? You guessed it – I persisted," she wrote. "I asked again for his number. He hemmed and hawwed . . . Let's just say that's when the conversation really started getting awkward – and that I persisted longer than he did."
He then gave Warren his cell number, she said.
Was I tough on John Kelly in that phone call? You bet I was. Apparently he thought I was an "impolite arrogant woman." "Blah blah blah" – that's all he had to say when he was called out for breaking the law and destroying lives.

— Elizabeth Warren (@elizabethforma) October 12, 2018
There are some men who can only hear "blah blah blah" whenever a woman's talking. But there's nothing impolite about people's right to speak out and hold their government accountable. And sometimes, people are right to be angry.

— Elizabeth Warren (@elizabethforma) October 12, 2018
In the original email exchange obtained by BuzzFeed News, Kelly's then-adviser Carroll also referred to the Senate incident.
"Too bad Senate Majority Leader McConnell couldn't order her to be quiet again! Warren is running for president so early, trying too hard, and chasing bad pitches," Carroll wrote.
Now, it appears the White House may have given Warren a pitch to work on.