Celebs
The reaction to the story about a woman's sexual encounter with Aziz Ansari has been mixed
"That all women have had this experience says less about whether Ansari is a good or bad guy and more about how men see sex in general, and how women see it at the same time."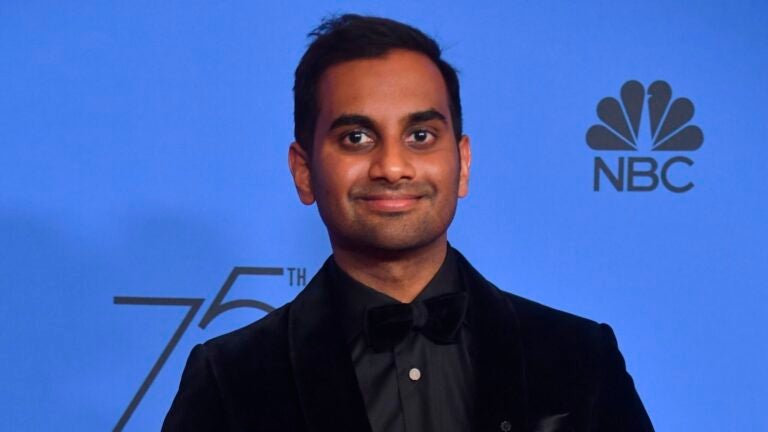 A woman's anonymous account of a sexual encounter gone wrong with Aziz Ansari has stirred a debate over whether the story is muddling the #MeToo movement or whether "ordinary" stories like these illustrate the need for a deeper introspection of our cultural attitudes.
The story, which was published Saturday on Babe.net, detailed how a then-22-year-old Brooklyn photographer — named Grace in the article but whose actual identity was not revealed — met Ansari at an Emmys afterparty last year and subsequently went on a date with the 34-year-old actor and comedian.
After a seemingly rushed dinner, Grace said things escalated quickly back at Ansari's apartment and that she was repeatedly pressured into sexual acts despite "verbal and non-verbal cues" that she was uncomfortable.
"I remember saying, 'You guys are all the same,'" Grace said she told Ansari shortly before leaving the apartment and texted him afterward to tell him such.
This is the text Grace* sent Aziz Ansari after their date which left her feeling "violated". She tells Ansari how uncomfortable he made her feel, saying "you ignored clear non-verbal cues" and "kept going with advances."

Read the full story on https://t.co/FyMMG6uO1j. pic.twitter.com/lPOvW6tFTr

— babe (@babedotnet) January 14, 2018
In a statement Sunday, Ansari said he believed their sexual interactions were "completely consensual" and said he " took her words to heart."
The story has drawn mixed reactions and questions about where Grace's account falls within the growing body of stories about sexual harassment in the industries of entertainment, media, and politics.
The Atlantic's Caitlin Flanagan wrote Sunday that older generations of women were taught how to more assertively rebuff a sexual advance they didn't want:
Twenty-four hours ago—this is the speed at which we are now operating—Aziz Ansari was a man whom many people admired and whose work, although very well paid, also performed a social good. He was the first exposure many young Americans had to a Muslim man who was aspirational, funny, immersed in the same culture that they are. Now he has been—in a professional sense—assassinated, on the basis of one woman's anonymous account.

…

I thought it would take a little longer for the hit squad of privileged young white women to open fire on brown-skinned men. I had assumed that on the basis of intersectionality and all that, they'd stay laser focused on college-educated white men for another few months. But we're at warp speed now, and the revolution—in many ways so good and so important—is starting to sweep up all sorts of people into its conflagration: the monstrous, the cruel, and the simply unlucky. Apparently there is a whole country full of young women who don't know how to call a cab, and who have spent a lot of time picking out pretty outfits for dates they hoped would be nights to remember. They're angry and temporarily powerful, and last night they destroyed a man who didn't deserve it.
Bari Weiss, an opinion editor and writer for The New York Times, wrote that Ansari was indeed guilty — "of not being a mind-reader":
Aziz Ansari sounds like he was aggressive and selfish and obnoxious that night. Isn't it heartbreaking and depressing that men — especially ones who present themselves publicly as feminists — so often act this way in private? Shouldn't we try to change our broken sexual culture? And isn't it enraging that women are socialized to be docile and accommodating and to put men's desires before their own? Yes. Yes. Yes.

But the solution to these problems does not begin with women torching men for failing to understand their "nonverbal cues." It is for women to be more verbal. It's to say: "This is what turns me on." It's to say "I don't want to do that." And, yes, sometimes it means saying piss off.

The single most distressing thing to me about Grace's story is that the only person with any agency in the story seems to be Aziz Ansari. Grace is merely acted upon.
Others, however, said that while Grace's experience might be common, that wasn't a reason to dismiss it. The Washington Post's Molly Roberts wrote it would be more constructive to use the account to look at prevailing sexual attitudes:
That all women have had this experience says less about whether Ansari is a good or bad guy and more about how men see sex in general, and how women see it at the same time.

…

We don't know what was going on in Ansari's head that night, but if his accuser's account is accurate, either alternative is unsettling. In one, a man manipulates the system to win his reward with minimal risk. In the other, the system is so rigged that a man, socialized to expect sex and to receive it, pulls strings without even realizing.
Vox.com reporter Anna North concurred, writing how Grace's account illustrated how even some like Ansari, who has addressed the subject of sexual harassment on his show, is not immune to pervasive ideas about when men expect from women:
Perhaps what is especially threatening about Grace's story is that it involves a situation in which many men can imagine themselves. But this is a reason to discuss it more, not to sweep it under the rug. Listening to Grace doesn't mean deciding all men should go to prison, or should lose their jobs. It does mean admitting that many men behave in exactly the ways their culture tells them to behave. It means asking men to recognize that and do better, and it means changing the culture so that badgering and pressuring women into sex is deplored, not endorsed. None of this will happen if we refuse to reckon with stories like Grace's.
Joshi Herrmann, editor-in-chief of Babe's parent company Tab Media, told CNN on Monday that his outlets had no regrets about publishing the story and said the suggestion that reporters shouldn't investigate stories that don't involve law enforcement "patently ridiculous."
"We would publish this again tomorrow," Herrman said.