Entertainment
What critics think of 'Don't Look Up'
The star-studded Netflix satire filmed in the Boston area may not be an Oscar frontrunner after all.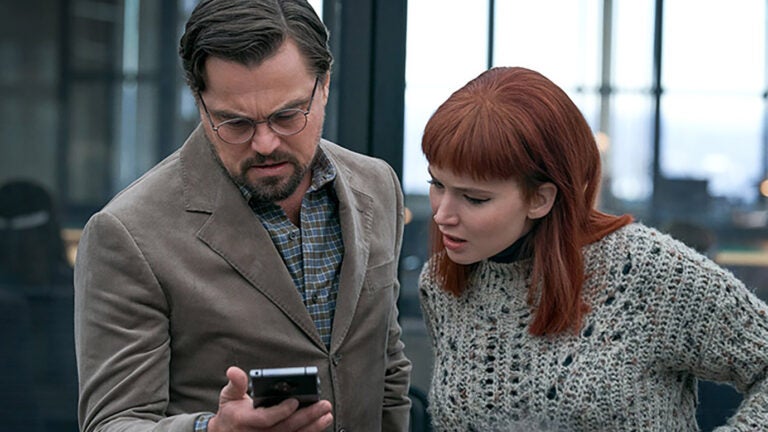 Following the world premiere of "Don't Look Up" in Los Angeles, awards prognosticators took to Twitter, predicting that the star-studded satire filmed in the Boston area would rake in the Oscars come awards season.
When the Twitter hype died down and the first full-length reviews came out earlier this month, however, the critical reception to the film was decidedly mixed.
Starring Jennifer Lawrence and Leonardo DiCaprio as astronomers who must convince the world to pay attention to the comet that has a "100 percent chance" of destroying the planet if no action is taken, "Don't Look Up" landed in select theaters Dec. 10 and is headed to Netflix on Dec. 24.
Some reviews — including Boston.com's own — found director Adam McKay's movie amusing and perfectly in tune with the endless parade of calamities currently pervasive in everyday life. Others, however, were not so fond of the film.
At the time of this article's publication, "Don't Look Up" had earned a 56 percent freshness rating on Rotten Tomatoes, leaving it just short of the freshness threshold (60 percent) and far away from the type of score typical of Oscar frontrunners.
That said, a single number can't adequately capture the range of critical response, and many of the reviews coded as "fresh" or "rotten" by the critical aggregation site have a bit more nuance. To help you judge whether to add the big-budget satire to your Netflix queue, here's what some of the top film critics are saying, both good and bad, about "Don't Look Up."
The Good
Washington Post critic Ann Hornaday wrote that "Don't Look Up" "bristles with the combustible elements of absurdity, observational humor and seething outrage that give the best political satires their edge."
"Not content with simply stoking rage and self-righteous superiority, McKay dares to infuse 'Don't Look Up' with an authentic, unironic sense of grief. Sincerity might be the most daring move of all in a film that, at its angriest and most amusing, doesn't mind tacking perilously close to real life."
Clarisse Loughrey of the Independent praised Jennifer Lawrence's performance, and thanked McKay for "letting us laugh at our own doom."
"If anyone's the right person to deliver the news that the world is ending, it's Jennifer Lawrence. There's always something firm and direct about her performances – free of florid mannerisms, or the impulse to romanticise suffering. In short, Lawrence doesn't bulls***. Neither does her character in Adam McKay's punchy, funny satire 'Don't Look Up.'"
Boston.com's review of the film singled out DiCaprio and Jonah Hill's performance, and called the film "darkly funny."
"Hill, in particular, plays the part of a proudly uninformed power broker to perfection, peppering Kate and Randall with sneering put-downs at every turn. As Mindy, DiCaprio is asked to do the heaviest lifting, and he succeeds 90 percent of the time, believably portraying the astronomer's transformation from a nebbish, panicky stargazer into a bonafide celebrity."

The So-So
Jocelyn Noveck of the Associated Press gave "Don't Look Up" two-and-a-half stars out of four, calling the film both "exceedingly watchable" and "funny," but also "chaotic."
"While I enjoyed the mix of humor and emotion (and out terror), some might find the tonal shifts a bit jarring. Perhaps a more valid nit to pick is that the the jampacked script doesn't quite do all these movie stars justice."
Siddhant Adlakha of the Observer gave "Don't Look Up" two-and-a-half stars out of four, criticizing its frenzied style but acknowledging that it hits its stride in the final third of the film.
"For a film to find glimmers of beauty amidst such bleakness is nothing if not commendable, but 'Don't Look Up' also doesn't achieve this until well into its 145 minute runtime. Ironically, it may be too little, too late."

The Ugly
Mark Feeney of The Boston Globe called the actor's roles "cartoons" and said that "Don't Look Up" provided a helpful reminder as to why "Saturday Night Live" skits don't last two-plus hours.
"With so many really good actors up on the screen, you keep waiting for really good things to happen on that screen, and then hoping for just good things, and then just looking for . . . things. Nothing much does, other than astronomically, of course."
David Rooney of the Hollywood Reporter panned "Don't Look Up," calling the performances caricatured, the humor nonexistent, and the observational satire "cartoonishly obvious."
"A cynical, insufferably smug satire stuffed to the gills with stars that purports to comment on political and media inattention to the climate crisis but really just trivializes it. 'Dr. Strangelove' it ain't."
Peter Debruge of Variety offered similar criticisms as Rooney, saying he hoped that audiences don't "hate the characters as much as I do."
"Humans are stupid and can't be expected to agree on anything, even if their existence depends on it. That's the "hilarious" insight Adam McKay wants to impart with 'Don't Look Up,' a smug, easy-target political satire."
Newsletter Signup
Stay up to date on all the latest news from Boston.com