Entertainment
'Redneck hippie' Woody Harrelson talks about being 'purple' in SNL monologue
Musical guest Jack White makes his fourth solo appearance on the show.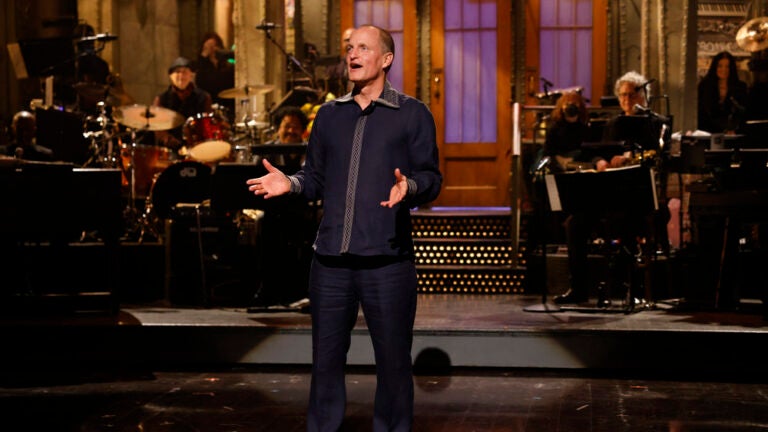 Emmy-winner Woody Harrelson hosted "Saturday Night Live" for the fifth time last night, joining the storied five-timers club. The veteran's first time hosting was in 1989.
Other members of the five-timers club include Tom Hanks, Danny Devito, Bill Murray, and Scarlett Johanson. However, some of these members have hosted more than five episodes (Alec Balwin, the current record holder, has hosted 17 times).
Jack White also made his fifth appearance on SNL last night as musical guest — his fourth-time solo — since his first appearance in 2002 as a member of the White Stripes.
Cold Open
James Austin Johnson's spot-on impersonation is back as Trump visits East Palestine, Ohio, in the wake of their recent train derailment that released toxic chemicals into the environment. He hands out campaign merch and speaks to the community that's been "abandoned by Biden." The talk derails to topics like Rihanna's Super Bowl performance and Pete Buttigeg's nickname, "Pete Butt." Then Trump brings out Emily Kohrs (Chloe Fineman), the foreman of the Georgia Grand Jury. "She's either 7 or 40. We can't tell," said Trump.
Monologue
Woody Harrelson gives a rambling monologue where he calls himself a "redneck hippie," saying that the red and blue in him makes purple. He tells a story about reading a crazy script while high in Central Park the day after the last time he hosted SNL, and says that he's quitting smoking pot "until after the show." He shouts out his manager Jeremy in the audience and mentions that Jeremy would like him to talk about his upcoming film "Champions," which comes out in a couple weeks. Harrelson also recently starred in the dramedy "Triangle of Sadness."
Jail Scene
Harrelson is an inmate in this short and sweet sketch — his wife Carla Jean (Fineman) visits, and he says he will give Carla Jean everything she's ever wanted when he gets out, including that house with the white picket fence. But the prison guards (Ego Nwodim and Kenan Thompson) know that Fineman and Harrelson's characters are telling each other stories. "I can't even buy a house, and I'm not in jail!" says Nwodim. When Fineman says she'll always wait for Harrelson no matter how long he's in jail, Thompson knows she's lying — her baby looks more like the man waiting for her in the car than Harrelson.
Please Don't Destroy – The Stakeout
One member (Ben) of the Please Don't Destroy trio thinks the other two are hanging out without him. Harrelson suggests they stake out the house to figure out what's going on, and they find out that the guys are together — and they have children. It turns out everyone at SNL knows about it except Ben. Uncle Kenan comes over, and the guys proceed to audition other red-haired men to replace Ben.
Submarine Launch
Harrelson plays the caption of a submarine recently renamed Mr. Dingleberry Goochballoon ASDFGHJKL;6969, because the name was decided by an Instagram poll they didn't take seriously until it was too late. Harrelson and his crew remain stoic and committed as they discuss the ridiculous new name, including how to pronounce the ASDFGHJKL;6969. Harrelson also remains stoic as his wife calls to tell him she's leaving him because she doesn't want to be Mrs. Dingleberry.
Jack White
Harrelson mentions that it's Jack White's fifth time on SNL, too, and the musician performs a mashup of "Taking Me Back" and "Fear of the Dawn," both off his first 2022 album, "Fear of the Dawn," plus "A Tip From Me to You" off his second 2022 album, "Entering Heaven Alive."
Weekend Update
This week's "Weekend Update" takes on President Biden's trip to Ukraine to meet President Zelenskyy, Trump's visit to East Palestine, Ohio, Pete Buttigeg's leather dress boots, and the new "crisis team" at this year's Oscars (in case anyone else gets slapped).
Heidi Gardner comes on as Gina Bianchi to discuss the joys of motherhood. Her four daughters are "fine," she says. "But my son, oh my God. I love my son," says Bianchi. Her daughters are doctors who "aren't pretty enough to be this irritating," but her son, who she adores, comes over to take food and write himself checks with the memo, "for putting up with Ma."
Cologuard
Harrelson was prescribed Cologuard by his doctor to screen for colon cancer. It turns out the Cologuard boxes are anthropomorphic, creepy, and hound Harrelson relentlessly. His neighbors look on, and worry about Harrelson's drug usage.
Newsletter Signup
Stay up to date on all the latest news from Boston.com