Entertainment
A peek inside the Kowloon wedding
The "Duke and Duchess of Route 1" got married on a boat in the Boston Harbor, then celebrated with a Kowloon afterparty, where the dress code was Boston jerseys.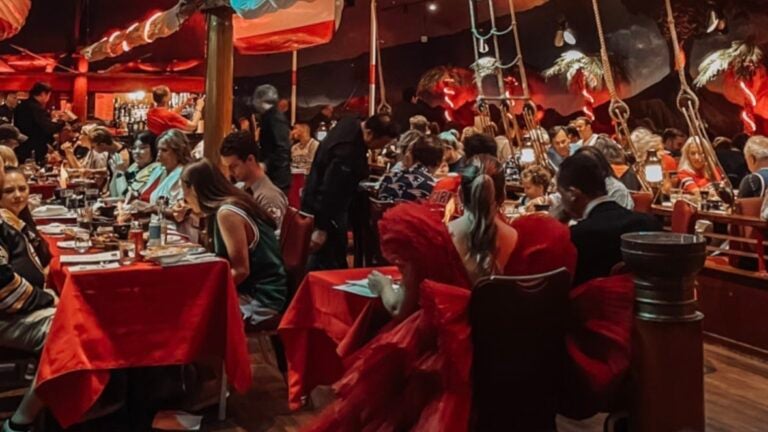 Kowloon Restaurant hosted a wedding party on Saturday, and it was everything you could have hoped for.
The Saugus restaurant's announcement that it would close for a private event for the first time in 73 years to host "Kayla and Jon's Wedding" sent Bostonians into a frenzy, garnering more than 500,000 views on X (formerly Twitter).
"I cannot emphasize enough how upset I am that I'm not friends with Kayla and Jon," one X user lamented.
As images and videos of the nuptials emerge online, social media spectators have commended the couple for an "absolutely legendary" party, dubbing them the "Duke and Duchess of Route 1."
The bridal designer CassB By Design, who created two wedding looks for Kayla, documented the couple's big day in an Instagram Reel.
It appears Kayla and John's actual wedding ceremony took place in the Boston Harbor on a boat. The bride wore a custom Barbie-pink mini dress with a dramatic train.
As with any high-profile wedding, there were outfit changes involved. Kayla donned a voluminous red number for the afterparty, a perfect complement to Kowloon's decor.
Filmmaker Harrison Hodson shared fly-through drone footage of the Kowloon party on Instagram. Guests can be seen sporting their favorite Boston jerseys while enjoying dinner inside the restaurant, while outside, strings of paper lanterns cast a red glow over the open-air dance floor.
One X user posted a video of the party, deriding it as a "cheezy bro wedding," but theirs was clearly the minority opinion.
"Watch your mouth. This is royalty," another user responded.
Sorry. This form is no longer available.
Newsletter Signup
Stay up to date on all the latest news from Boston.com